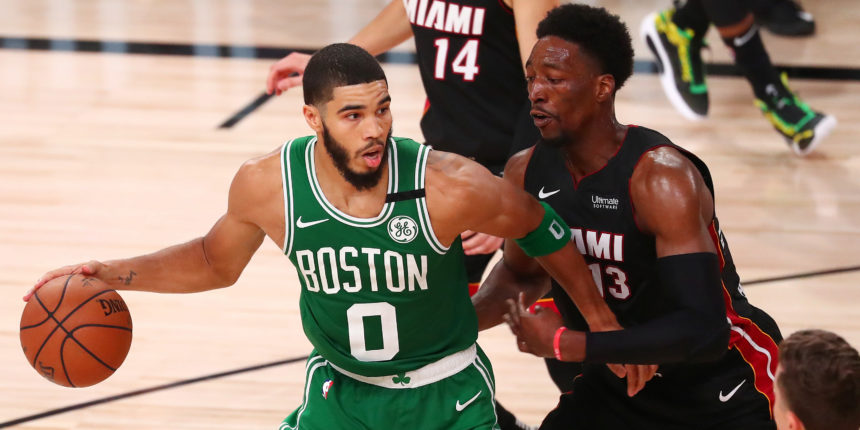 NBA Roundtable: Which player will make the leap to superstar next?
LeBron James. Kevin Durant. Stephen Curry. Giannis Antetokounmpo. James Harden. Anthony Davis. Luka Doncic. Joel Embiid. Damian Lillard. Nikola Jokic.
These are some of the biggest superstars in the NBA. But which up-and-coming talent will make the leap to superstardom next? We asked our BasketballNews.com staff to weigh in:
Which player is poised to become a superstar?
Alex Kennedy: This is a tough one since superstar is a strong word, but give me Bam Adebayo. He wreaks havoc on both ends of the floor, he has ridiculous upside and, at 23 years old, he's already averaging 18.9 points, 9.0 rebounds, 5.4 assists, 1.2 steals and 1.1 blocks (on 56.7% shooting from the field). I can absolutely see Bam making the leap from star to superstar in the near future.
Nekias Duncan: I recently wrote about how Jayson Tatum has impressed me by doing the little things, which has him on the verge of making the NBA's toughest leap: going from star to bonafide, no-questions-asked superstar.
Ethan Fuller: R.J. Barrett is dangerously close to a full breakout. Moke Hamilton has detailed his second-year rise, and Julius Randle's massive year has overshadowed the marked growth from the future face of the Knicks. Barrett is a much-improved shooter, defender and decision-maker. I also think he still has untapped playmaking potential based on what we saw at Duke. Some team continuity and playoff experience could really help Barrett catapult himself next season -- or sooner.
Chris Sheridan: I am going to go with De'Aaron Fox of the Sacramento Kings, whose scoring average is up to 25.2 points this season, which is 15th in the NBA -- better than Nikola Vucevic, Jaylen Brown, Julius Randle, Brandon Ingram, and Paul George.
Yasmin Duale: I think OG Anunoby is rounding out into a two-way monster. His defense is excellent, his smart interior passing is emerging, and plays that used to result in clumsy falls and travels have transformed into intentional finishes. To top it off, Anunoby has demonstrated consistent off-the-dribble chops this season. When also considering his proficiency as a knockdown shooter, he has all the ingredients to become a star small forward in the future.
Spencer Davies: Brandon Ingram is right on the cusp, for me. Yes, Zion Williamson draws the eyes and headlines, but Ingram is showing what he's capable of doing. The consistency is not yet there, but his ability to drive to the hole when he has space (which the New Orleans Pelicans are currently lacking) and slither to the bucket, as well as being able to shoot the deep ball and the mid-range pull-up, is quite impressive. Remember folks, he's only 23 years old and he'll already be entering his sixth season next year.
Imman Adan: Michael Porter Jr. has been utterly spectacular in the wake of Jamal Murray's absence. In the last 10 games, MPJ is averaging 25/6/2 on near 56/50/80 splits. He's not only taken on a larger portion of the scoring, but he's doing so efficiently, which has allowed the Nuggets to remain in championship contention. Porter Jr. has been flat-out awesome filling in as the Nuggets' No. 2, and he may have already ascended to "star" status.
Jonathan Concool: Does Ja Morant count as an acceptable answer or is he already considered a superstar? Ja has at least one SportsCenter Top-10 moment in every game he plays in, and his impact on the court is undeniable. Since being drafted by the Grizzlies, Morant has Memphis overachieving in just about every way, as the franchise finds themselves in contention for a playoff spot for the second consecutive year, which isn't too bad for the youngest team in the NBA. Over the past week, Morant is averaging 29.8 points and 8.0 assists on 58% shooting from the field and 55% from behind the arc.
Check out our other Roundtable conversations on the NBA's biggest bargain contract, which player is the most untouchable, who is a dark-horse team entering the playoffs and more!