Some bask in the spotlight, while others prefer to hide in the shadows.
Attention is the friend of many; solitude the companion of choice for a few.
In today's day and age – particularly with the advent of social media and the 24/7 news cycle – it's difficult for a neophyte to maintain his anonymity. But, it's possible that, for a 20-year-old with promise, avoiding the radar may not be as difficult as we once thought.
All he has to do is play for the New York Knicks.
From Michael Sweetney to Channing Frye and Iman Shumpert to Jordan Hill, one of the few commonalities between the Knicks' first-round draft picks over the past 20 years have been dashed hopes and disappointment.
The theme actually persists throughout every facet of the organization.
But alas, even the Hudson River's tide turns twice a day, so in this instance, the failures of regimes past don't necessarily provide evidence of future performance. New York isn't given the benefit of the doubt, because just as it did with Kristaps Porzingis and his predecessors, somehow, the Knicks will find a way to ruin it.
At least, that's the prevailing sentiment.
So here we are, the 2020-21 season. Believe it or not, the Knicks have surpassed last season's win total, enter play on April 2 at .500, and have managed to not resemble a dumpster fire behind the raspy bark and serious demeanor of Tom Thibodeau.
On the court, Julius Randle has rightfully received the credit and praise for the Knicks arriving to this point. A playoff shot is not a fate that many would have predicted, and although the national media has slowly bestowed some credit on Randle and Thibodeau, it's been much slower to recognize the obvious — RJ Barrett has given the franchise something to hold onto.
Almost 20 years later, one would be hard-pressed to argue that the 2003 NBA Draft class isn't one of the best in history. But sometimes, we got so fixated with the cream that rises to the top that we don't pay enough attention to what lies beneath.
When you think of 2003, you think of LeBron James and remember Dwyane Wade. Carmelo Anthony and Chris Bosh also certainly come to mind, while scores of others — including former All-Stars such as David West, Mo Williams and Kyle Korver – aren't even thought of.
Obviously, three of those are unlike the others. But it's quite possible to walk away from the craps table a winner even without bankrupting the casino.
In other words, Barrett may not have had anywhere near as immediate an impact as Zion Williamson or Ja Morant, but in the case of Anthony and the 2003 class, in this case, there's no shame in bronze.
As a sophomore, Barrett has shown appreciable growth. A throwback big guard, the defining characteristic of his game — so far — has been an understanding of how to use his body, strength and girth to get to precisely where he wants to on the floor. A soccer player before he decided to focus full-time on basketball, his light footedness and agility, at least for a second-year player whose body is still developing, is world class. If you tried hard enough, you could poke holes in Barrett's offensive repertoire; his handle isn't elite, and for a big guard whose size is among his best attributes, his back-to-basket game is fairly weak.
Yet still, the inroads he's made in terms of his sheer effectiveness on the floor are impressive. Be that as it may, what's been equally impressive for the young Canadian has been the strides he's made from Year 1 to Year 2 in an area critical to success in the modern NBA — spacing the floor.
Along with Randle, Barrett completes an effective duo. Unsurprisingly, the pair are together in four of the team's top-five offensive units in terms of points per possession, with Barrett dramatically (yet somehow, quietly) becoming a much more credible mid-range threat.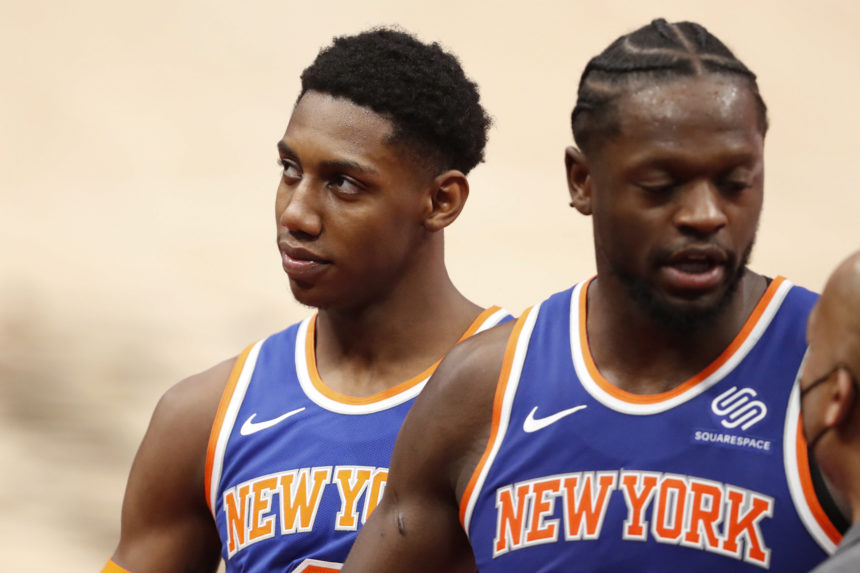 As a rookie, Barrett connected on just 28% of his shots from 10-to-16 feet, and just 29% of his looks from further. This season, he's shown marked improvement, improving those same percentages to 36% and 38%, respectively. In terms of the percentage of shot attempts from those areas, they have also increased, though marginally. Nonetheless, combined with his overall improvements across the board — his scoring, rebounding and assists are significantly higher along with his shooting percentages — the simplest conclusion to draw is that he's improved. That's pretty obvious.
What's even more important than an increase in numbers, however — and something you could never understand without actually watching the game — is an understanding of how to be effective when advanced scouts and opposing assistant coaches begin planning for you.
It's typical for an NBA team to employ three or four assistant coaches, with other members of the organization invited to assist with reviewing tape and offering input into how to stop a team's featured players. It's commonplace for the support staff to spend days analyzing their opponents and building game plans to take away strengths. That's where the phrase "appeared on the scouting report" derives.
Due to relatively small sample sizes in some instances or just a lack of time, it's not always possible for a team to go into every contest with a complete understanding of what their opponent has been up to the past week, so there's a necessary prioritization; the higher a player's profile, the more resources dedicated to getting him on the scouting report.
Knicks fans probably remember all too well the rude awakening that Jeremy Lin encountered at the hands of the Miami Heat, but if you have a long enough memory, you'd recall that this fate wasn't unique to him. There are a number of players who peak as rookies or sophomores, but it's not always due to any fault with the player.
As one's profile increases, so does the priority with which the opposition scouts him. Most often, it's a young player's ability to adapt his attack and improve his weaknesses that separate, say, Tyreke Evans and O.J. Mayo from Jayson Tatum and Donovan Mitchell.
A relatively small sample size it may be, but at a minimum, Barrett has already proven a few things: first, he's someone who takes his craft and the obligation of diligently improving seriously, and second, he at least hasn't peaked as a rookie.
If you were curious as to why the Knicks didn't approach the trade deadline with the type of urgency that one would have thought a newly installed front office would, aside from the team's favorable cap situation, at least some within the organization believe that the duo of Barrett and Randle have earned the opportunity to continue to develop together.
Together, Zion and Ja have lived up to the expectations, and then some. But when a young player such as Barrett improves in the way he has — and when those improvements yield wins — that means something.
In the case of Barrett, at a minimum, it means that we should continue watching.
The young Canadian is onto something, and it's only a matter of time before everyone else figures it out.