With the NBA six days into May and games winding down, the postseason is right around the corner. Teams are jockeying for position, and the competition is tightening up as we hit the home stretch in the Association.
In our latest Roundtable, we asked our BasketballNews.com writers the following question:
Who is your dark-horse team to watch entering the playoffs?
Nekias Duncan: I think it's Miami, almost by default. As uneven as their season has been — due to injuries, COVID or otherwise — it's still hard to discount the type of playoff pedigree they have. Erik Spoelstra, Jimmy Butler and Bam Adebayo is a big three nobody in the East wants to deal with.
Spencer Davies: The team that nobody believes can do it, and that's the current top seed in the Western Conference: the Utah Jazz. Although I like the Los Angeles Clippers to come out of the West, it's going to take a lot to slow these Jazz down from deep. Their playing style, similar to the Phoenix Suns, is half-court-based, something fit for the postseason environment when execution matters the most. You've got a number of All-Star talents such as Mike Conley, Donovan Mitchell and Rudy Gobert; however, Utah features a plethora of players that star in their roles -- Bojan Bogdanovic with his three-point barrages, Royce O'Neale defending with a purpose, Jordan Clarkson being a microwave off the bench, Joe Ingles looking to consistently make the right play and even Georges Niang and Derrick Favors producing when their names are called.
Chris Sheridan: The dark-horse team to watch going into the playoffs is the Atlanta Hawks, because they have needed an entire season to achieve some chemistry. They are a nifty mix of young and old, and Nate McMillan has them peaking at the right time. Their size will be a problem for every single team in the East.
Alex Kennedy: All season, the Miami Heat have dealt with injuries and COVID absences, so this team is much better than their record indicates. We just saw this same group shock everyone last year when they became the first No. 5 seed to advance to the NBA Finals. They have a terrific coach (Erik Spoelstra), multiple stars (Bam Adebayo, Jimmy Butler), solid depth and a terrific culture. James Posey recently wrote about why you can never count out the Heat, and I agree with the three-time NBA champion.
Kelsea O'Brien: Remember that guy at the beginning of the season who bet $10,000 on the Wizards winning the Finals (which would result in a $5 MILLION payout)? He's not looking so silly anymore.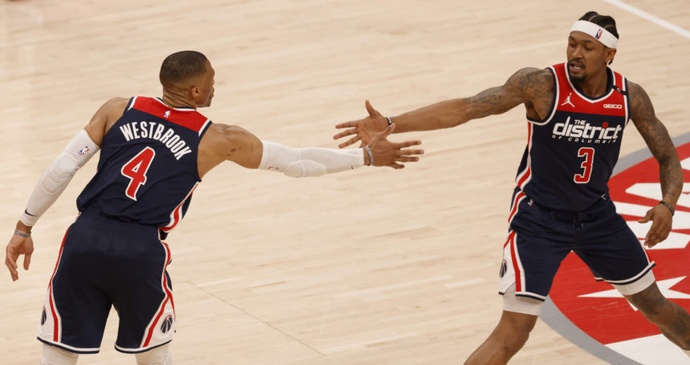 Imman Adan: Oddly enough, I'm picking a team that might not even make the playoffs, but what they're doing right now is hard to ignore. The Washington Wizards have won 13 of their last 17 games. At the time of this writing, over their last 10 games, they have the second-best offensive rating in the league (120.1), while also boasting the league's fourth-best net rating (8.3). The Wizards have been fantastic on both sides of the ball, playing their best basketball of the year heading into the play-in tournament. With Bradley Beal's scoring tear and point-GOAT Russell Westbrook activated, they are not a team anyone should want to see come playoff time.
Ethan Fuller: A lot of people crossed Denver off their contender lists when Jamal Murray tore his ACL. That is a brutal loss, but I sort of think people are sleeping on the rest of this roster. Nikola Jokic is the MVP frontrunner right now, and Michael Porter Jr. has quietly become a menacing three-level scorer. They'll need him and the rest of an extremely deep supporting cast to replace what Murray did last postseason. The Nuggets are a year removed from a Western Conference Finals appearance, and I fully expect them to make serious noise again.
Jonathan Concool: The Denver Nuggets. Since losing Jamal Murray, the Nuggets have won six of their last seven (and 10 of 12), and Michael Porter Jr. has been playing the best basketball of his young career over the past few games. We all know what we are going to get from MVP candidate Nikola Jokic, but Denver has a real supporting cast behind the Joker, so don't overlook the Nuggets just because Murray is lost for the season. They can still make some noise this postseason.
Yasmin Duale: My dark-horse team come playoff time is the Golden State Warriors. It feels weird to say, but if we end up seeing Steph Curry face off against the LeBron-led Lakers in the play-in tournament, I can't really say with certainty who'd come out on the other side. All it'd take is one possessed performance from the greatest shooter of all-time to usher in some chaos.
Jannelle Moore: My dark-horse playoff team to watch is Boston. Yeah, they have underachieved this season, but you can't underrate their experience and don't count out the possibility that they'll gain momentum as the season closes.