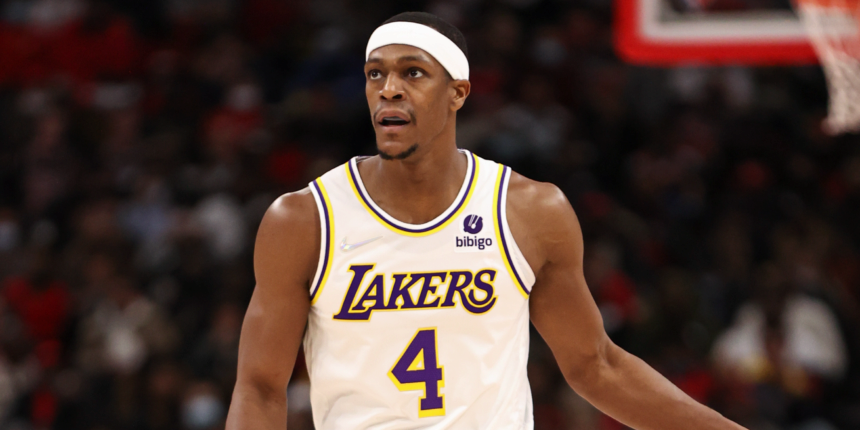 Cavs smartly and swiftly add a point guard, but is Rajon Rondo it?
Less than 48 hours ago, yours truly suggested that the Cleveland Cavaliers shouldn't sit on their hands regarding their vacant backup point guard position following the news of Ricky Rubio's season-ending ACL injury. General manager Koby Altman acted swiftly, entering discussions with the Los Angeles Lakers to acquire veteran set-up man Rajon Rondo on Thursday.
On Friday morning, the Cavs and Lakers struck an agreement, landing the two-time NBA champion in exchange for Denzel Valentine, league sources confirmed to BasketballNews.com. (Editor's Note: The trade expanded on Monday morning, as the New York Knicks jumped in to acquire Valentine.) Cleveland avoided having to give up draft capital or use its JaVale McGee trade exception, which in itself is a win.
Though Altman did not go for one of the five options suggested in Wednesday's article, he wasted no time in addressing one of the most important voids on the team. Going forward with only Kevin Pangos and Isaac Okoro to spell Darius Garland would've been risky business. Now, in Rondo, Cleveland has a sure thing behind its budding star in regards to organizing the offense.
With that said, there are two sides to every decision, and it'll be intriguing to see which version of Rondo we will see with the Cavs.
You can't question the man's basketball IQ. Despite what we've seen this season with the Lakers, Rondo is one of the smartest and headiest "old-school" 1s in the game. The 15-year veteran has the ability to dazzle with his passes and he's been solid in open-floor situations for the majority of his days. Rondo should have a field day with Jarrett Allen and Evan Mobley hovering around the rim, while Kevin Love and Lauri Markkanen wait for catch-and-shoot opportunities. And who knows, maybe what Garland has learned off the ball with Rubio can translate in similar fashion with Rondo handling the rock.
Where this deal could backfire is if Rondo doesn't buy in. ESPN's Adrian Wojnarowski has reported that the 35-year-old is looking forward to joining the upstart Cavs and playing a bigger role; however, there have been times in the past when Rondo has joined a team and refused to buy-in — at least over the course of a full season. Since spending nine seasons with the Boston Celtics, he has had stints with seven different teams and has been traded midseason three times now.
It takes a level of trust to gain Rondo's trust, it seems. Luckily for the Cavs, they have a Coach of the Year candidate in J.B. Bickerstaff who is clearly quite persuasive considering the team's 20-15 record in the top-half of the Eastern Conference. But even if Cleveland gets Rondo to seamlessly transition into its incredible environment, there are limitations to the veteran's game.
Firstly, he's a step slower. At 35, Rondo doesn't quite have that same agility on either end of the floor. Defensively, he's made his money by gambling for steals with his lengthy arms; staying in front of guys has been more difficult. Fortunately for him, Allen and Mobley will be a safety valve, so maybe he can be more aggressive with ball pressure.
Secondly, Rondo is a streaky type of shooter. Kudos to him on evolving his game to the point where defenses have to at least pay attention to him; with that said, if I'm a defender, I'm not going to race to close him out with two monsters in the paint and more threatening shooters out on the perimeter.
The Cavs' best-case scenario is clear-cut: Garland's minute load stays the same (or likely increases from the 34 he's getting now) and Rondo sees 15-20 minutes of action per contest. The former obviously has a lot of juice and stamina, so he should continue to run the show. The latter should play more of a backup role than Rubio, who soaked up over 28 minutes a night — both with Garland on and off the floor.
Rondo should slot in as more of a traditional second-unit maestro than as a faux "sixth starter" type; that's both due to his age and unfamiliarity with this group at the moment. That's okay though, because it will give Garland even more responsibility, which eventually would've happened anyhow.
Plus, we all know what Rondo's reputation is at this point: It's all about the postseason, "Playoff Rondo," a.k.a. when Rajon locks in and truly makes and breaks games. We're just about to break into the New Year, so that is a ways away (and isn't a guarantee for the Cavs — look at the East and you'll see that), yet experience-wise, it doesn't get much better than that. Particularly, for your young core to learn and get advice from.
Rondo has a knack for making a good first impression on the floor almost everywhere he goes. Can he sustain that level of play? And if things don't go exactly how he envisioned, will he remain engaged? These are the big questions. Attitude will be everything.
The most important aspect of all of this is that Cleveland acted promptly. With a little more than half of a season left to go, the Cavs are hoping that Rondo's impact will at least partly be a solution to the loss of Rubio.