Everyone who loves the NBA looks forward to filling out an All-Star ballot, and this particular columnist waited until the day after Groundhog Day because the same old, same old does not cut it this season.
Yes, there are names on my ballot that are there year after year. That list begins with LeBron James, who is finally back in Los Angeles following a two-week road trip in which he drew inspiration from hecklers at two stops -- in Cleveland from an overzealous Cavs' front-office employee, and in Atlanta from a woman whom he believes may have had more than a drop too much of alcohol.
This is a season unlike any other with all of the COVID-related restrictions and postponements, but the James Harden trade made January quite worthwhile, and we should expect a J.J. Redick move any day now as the Pelicans clearly look to go in another direction. His playoff experience will be valued by someone, as 20 teams (counting play-in games) are headed to the postseason. So stay tuned on that one.
Back to the ballot.
We shall start with the Western Conference. As has been the case for the past several seasons, voters are required to select two backcourt players and three frontcourt players – a nod to the positionless nature of the NBA in an era where the three-pointer is more valuable than ever. Just ask the Utah Jazz, who have three-balled their way into first place in the West. They only made nine last night in a victory over Detroit, but the Pistons do not require anyone's A-game on most nights.
So here we go...
WESTERN CONFERENCE STARTERS
Damian Lillard, Portland Trail Blazers: "Dame Dolla" has let us all know that Hulu has live sports. So props to that smart TV service for latching on to the best player folks on the East Coast rarely get to see. We have been watching him bury 30-footers for so long now that he has surpassed Steph Curry as Player Most Likely To Hit From 38 Feet. Lillard is third in the NBA in scoring at 29.1 points per game, and his 11-9 team is the second-highest scoring team in the West despite the losses of CJ McCollum (fractured foot) and Jusuf Nurkic (fractured wrist). Lillard ranks eighth in the league in assists (7.2) and seventh in minutes per game (36). He also is making 94.7 percent of his free throws, only behind Jordan Clarkson, Chris Paul and Irving.
Donovan Mitchell, Utah Jazz: The temptation here is to give this spot to Steph Curry of the Golden State Warriors, who is fifth in the NBA in scoring. But Mitchell is the best player on the West's best team, leading Utah with 23.3 points per game on a three-point-centric team getting double-figure scoring from six players. We all saw when Shaquille O'Neal interviewed Mitchell on TNT to produce one of the season's most uncomfortable moments, and we should expect the Jazz to continue to feed off that disrespect. They own the longest winning streak in the NBA this season at 11 games, and their 285 threes in January marked the most in a single month in NBA history. Mitchell has reached 600 career three-pointers faster than any player in NBA history...including Steph.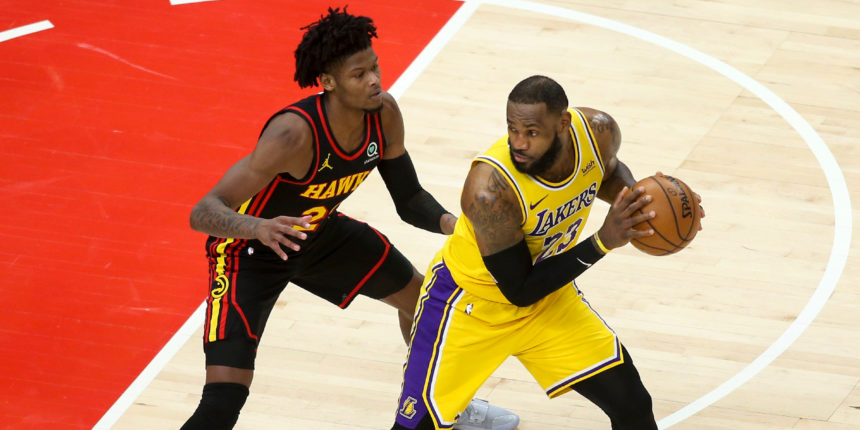 LeBron James, Los Angeles Lakers: He never ages, does he? Some of his stats are down just a little from last season (most noticeably his assists) but the guy is making threes at a career-best 40.9 percent clip, and nobody has advocated more vociferously for allowing fans back into the arenas, something we are seeing more and more teams do. The Lakers have played only eight home games as opposed to 14 road games, and 11 of their next 14 will be at Staples Center. Remember last February and March when LeBron was starting to make a run at Giannis Antetokounmpo for MVP consideration before the pandemic shut down the season? Well, he is currently the 7-2 favorite for the award, just ahead of Nikola Jokic, Luka Doncic, Joel Embiid and Kevin Durant. (Why the books have Lillard at 25-1 is perplexing.) Just as he never ages, it never gets old watching LeBron.
Kawhi Leonard, Los Angeles Clippers: He will never win any Most Quotatious awards, but his game does his talking, and he is at 26.3 points per game while also flirting with a 50-40-90 season. The Clippers are just a half-game out of first place in the West, and Leonard has played in 18 of 22 games as Ty Lue seems to be weaning the team's two superstars away from the load management that robbed them of team chemistry a year ago; they have used just seven different starting lineups after using 33 a season ago, and of Leonard's four missed games, two were for COVID protocols and two were for a mouth laceration. The Clippers lead the NBA in three-point shooting, with Kawhi hitting them at a 39.8 percent clip, his best in five years. He also is third in the NBA in steals, and get this: Leonard is the winningest player in NBA regular-season history with a 407-135 (.751) record.
Nikola Jokic, Denver Nuggets: The Joker went for 22 in the first quarter against the Jazz on Sunday and finished with a career-high 47points, and he is fifth in the NBA in assists at 8.6 per game. To put that in perspective, just behind him in the league-leader rankings are Ben Simmons, LeBron, Lillard, Kyle Lowry and Malcolm Brogdon. Slimmed down significantly after recovering from COVID-19, Jokic is the NBA's only player in the Top 10 in points, rebounds and assists, plus he is 11th in field goal percentage and 13th in minutes played a night -- a career-high 35.8. He also is averaging career-highs in field-goal percentage, rebounds, assists and steals. Jokic is currently on a streak of 11 straight games with at least 20 points, too.

West Reserves: Luka Doncic, Mavericks; Steph Curry, Warriors; Paul George, Clippers; Anthony Davis, Lakers; Rudy Gobert, Jazz; Deandre Ayton, Suns; Devin Booker, Suns.
West's Left Out: Christian Wood, Rockets; De'Aaron Fox, Kings; Zion Williamson, Pelicans; Brandon Ingram, Pelicans; DeMar DeRozan, Spurs; Ja Morant, Grizzlies.
EASTERN CONFERENCE STARTERS
Bradley Beal, Washington Wizards: Good to hear that he is not requesting a trade, which is what general manager Tommy Sheppard has been telling everyone who has asked for the past two seasons. The news that Beal is NOT seeking a trade is not really news. Beal is leading the NBA in scoring at 35.0 per game, which is 4.2 points higher than his closest pursuer. He failed to reach 30 points in just two of the Wizards' 10 games in January, and last night he went for 37 in his second consecutive game. It's a no-brainer pick despite his team having the league's worst record. His scoring average is up 4.5 points from last season, when it was up 4.9 points from the previous season.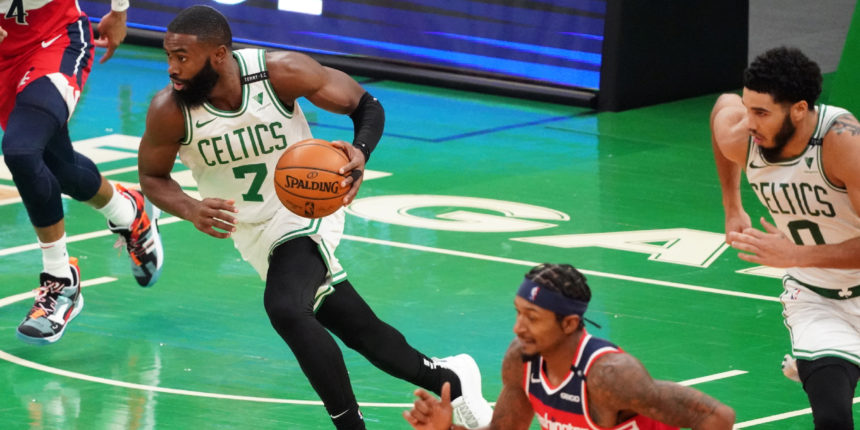 Jaylen Brown, Boston Celtics: This pick was not as easy, because despite his prolonged absence for personal reasons, Kyrie Irving may be the most talented point guard in the entire Eastern Conference (the dude went for 39 against the Clippers last night on 15-for-29 shooting, a season-high, and is well on pace for a 50-40-90 season). But Brown has produced more consistently for the Celtics without any of the Kyrie-esque drama that we all endured a couple of weeks ago. His 18-point game against Golden State last night tied his season-low, but he is at 26.6 points per game for the Celtics while shooting nearly 53 percent. Brown has played in all 19 games and is averaging career-highs in points, assists, blocks, steals and all three shooting categories.
Kevin Durant, Brooklyn Nets: With all due respect to Irving and Harden, the Nets are KD's team. He is averaging 30.8 points per game and is flirting with a 50-40-90 season himself, and his perseverance in pushing Sean Marks to make the Harden trade cannot be understated. Yes, the Nets are all-in on offense and still have to find an interior rotation defender (Iman Shumpert is not going to be that guy). But they are now the NBA's only team with a Big Three, and Durant has been remarkably efficient from the field. His 11-for-13 night against the Clippers marked the 10th time in 17 games that he has been well-above 50 percent from the field.
Joel Embiid, Philadelphia 76ers: We would prefer it if he dropped all references to The Process, which is sooooo Sam Hinkie. The Sixers are 14-2 with Embiid and 1-4 without him, and he has dropped 33 or more points in five of his last seven games. The seven-footer from Cameroon is a 41 percent 3-point shooter, more than three percentage points better than Nikola Jokic. Also, he has attempted the second-most total free throws (152) despite missing five games, and he is making them at a career-best 84 percent clip. If he can keep this up, he is going to be very much in the MVP conversation, which bettors in South Jersey and Pennsylvania have been wagering on quite heavily. He may drop 50 on Cody Zeller tonight.
Giannis Antetokounmpo, Milwaukee Bucks: The reigning two-time MVP is still a thrill to watch every time he takes the court, and tonight's game against the Indiana Pacers will be a test for the Bucks. It's too bad that we might not see Giannis test the shot-blocking prowess of Myles Turner, who is questionable with a shoulder injury. We all get to watch that game on ESPN, which is nice because the Pacers – like the Utah Jazz – are not on national TV enough given the relative strengths of their teams. The Greek Freak is in the MVP conversation, but not dominating it as he did the past two seasons, perhaps because his turnovers are at a career-worst pace and his free-throw percentage (59.3) is at a career-low. But Giannis has shot below 50 percent just once in his past 13 games, and he is tied for sixth in scoring and is 10th in rebounding.
East Reserves: Kyrie Irving, Nets; James Harden, Nets; Domantas Sabonis, Pacers; Trae Young, Hawks, Nikola Vucevic, Magic; Jayson Tatum, Celtics; Zach LaVine, Bulls.
East's Left Out: Julius Randle, Knicks; Collin Sexton, Cavs; Gordon Hayward, Hornets; Fred VanVleet, Raptors; Russell Westbrook, Wizards; Malcolm Brogdon, Pacers.