Myles Turner remembers the moment that he fell in love with blocking shots and dominating on the defensive end. He was playing in a youth-basketball league at his local YMCA in Bedford, TX, when he recorded 25 blocks in a single game.
Myles' father, David, watched as his son terrorized his peers and erased shot after shot. After the game, he told Myles: "You're one hell of a shot-blocker, and we can build off of this."
"From there, I just took pride in it," Turner told BasketballNews.com in an exclusive interview. "And it's a great feeling, knowing that you asserted your dominance on that end and that nothing was easy for the other team. The coolest part for me is when teams realize that they have to change what they normally do [because of my defense]. That's a great feeling, man."
These days, Turner continues to make shot-blocking look easy. Through 12 games, he has 50 blocks and is averaging 4.2 rejections per game (both of which lead the NBA by a wide margin). He has 21 more blocks than the runner-up (Rudy Gobert), and no other player is averaging even 3.0 blocks per game. The 21-block lead that Turner has over the second-ranked Gobert is equal to the gap between Gobert and the 50th-ranked shot-blocker.
Turner currently has more total blocks (50) and a higher blocks-per-game average (4.2) than six different NBA teams: the Chicago Bulls (40 blocks, 3.6 BPG), New Orleans Pelicans (39 blocks, 3.9 BPG), Washington Wizards (38 blocks, 3.5 BPG), Atlanta Hawks (35 blocks, 3.5 BPG) Orlando Magic (34 blocks, 3.1 BPG) and Miami Heat (34 blocks, 3.4 BPG).
When told about this insane stat, Turner downplays it.
"I didn't know that, but it's early," he said. "I plan on keeping this up for as long as possible, but it's nothing to call home about for now. I'm just going to keep pushing myself and keep showing what I'm capable of on the defensive end."
Turner's block percentage (11.5 percent) also ranks first among all players. That means he's blocking 11.5 percent of opponents' field goal attempts when he's on the floor. By comparison, Hassan Whiteside led the NBA in block percentage last season at just 8.4 percent. If Turner can continue at this pace, his 11.5-percent mark would be an NBA record (and he'd join Manute Bol as the only players in NBA history with a block percentage of at least 10 percent over a season).
During last year's playoffs, Turner led all players in blocks per game (4.0) and block percentage (11.1), providing a glimpse of what he'd become in 2020-21. Turner now has at least three blocks in 10 of 12 games this season, and he has three different 8-block performances in his last 30 games (and the Pacers were 3-0 in those outings)
"I didn't even know I had eight blocks the other night [against Houston]; I thought I had three or four," Turner said with a laugh. "Then, after the game, I realized I had eight. I was just being active and controlling everything and doing my job."
Turner is contesting 13.3 shots per game, which is his career-high and the fifth-most in the NBA. He's contesting 9.9 shots at the rim per game -- the most contested shots at the rim of any player in the last eight seasons (when the NBA started tracking this data) -- and opponents are shooting just 42.9 percent on these attempts. (For comparison, players shoot 52.6 percent at the rim against Gobert). For every shot that Turner blocks, there are multiple attempts that he alters. And his presence alone sometimes forces teams to avoid the paint altogether and attempt a worse shot.
"Teams make a concerted effort to get to the basket when I'm out of the game; I definitely notice a difference in a team's approach and schemes when I'm in the game versus when I'm out," he said. "I think teams are definitely a lot more conscious [of avoiding the paint] when I'm down there. Having an impact that shows up a lot more than just on the stat sheet, that's big to me. And changing up a guard's whole approach and mindset and mentality, where they don't want to come into the paint? I know my impact is being felt."
Over the offseason, the Pacers hired a new head coach in Nate Bjorkgren, who had been an assistant coach with the Toronto Raptors. Turner credits Bjorkgren's new-look defensive scheme for unleashing him.
"I'm being more aggressive defensively; I'm going after more shots and putting myself in position to be successful in that area," Turner explained. "But I think a lot of it is because we changed our defensive scheme; I'm pressuring the ball-handler more, picking guys up full-court, pressuring on in-bound plays and stuff like that. Inevitably, guys are going to get beat, so once these guards and teams start coming downhill, it gives me more opportunities to block shots. I think the change in our defensive scheme and my effort to be more aggressive is the recipe."
He's the Pacers' defensive anchor and while he's often patrolling the interior, he also gets opportunities to defend on the perimeter and crowd passing lanes in this scheme. Turner raved about Bjorkgren and the job he's done thus far.
"The biggest thing is he's establishing the way he wants us to play. We've been a good defensive team here in the past, but we want to be a great defensive team," Turner said. "Some of the stuff that he's been adding is new to me, so I'm learning on the fly. We're all learning on the fly and learning each other's personalities. But he's been a great fit so far. He's young and exuberant and has a lot of energy, and it matches our group and our morale, which we needed."
Last year, Indiana had the fifth-best defense in the NBA, allowing 105.1 points per 100 possessions. Turner believes the team should finish even higher this season once everyone gets acclimated. The Pacers currently have the NBA's seventh-best defense, allowing 105.3 points per 100 possessions. Indiana is now 8-4, which is the third-best record in the East.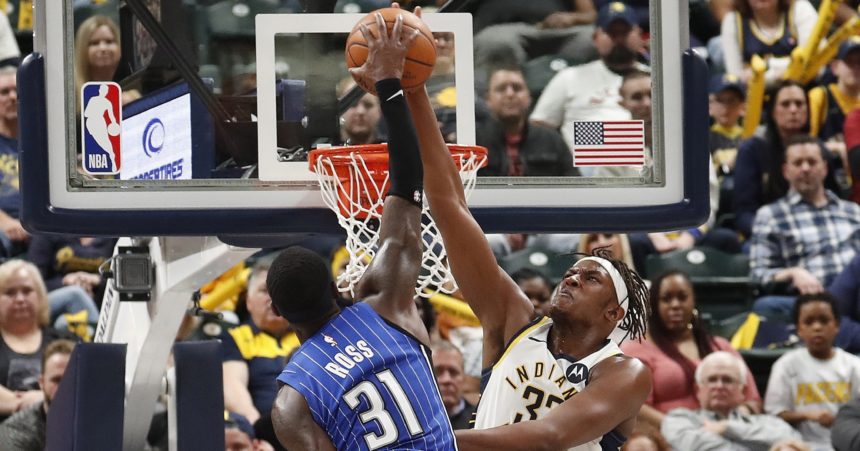 As Turner mentioned, his defensive impact extends beyond his shot-blocking ability. He's making his presence felt in a variety of ways on the defensive end, and all while playing exceptional team defense. In addition to leading the NBA in every block-related stat, Turner is averaging the 13th-most deflections per game (3.3), the 15th-most steals per game (1.5) and he has the 19th-best steal percentage (2.3 percent) in the league. That means 13.8 percent of opponents' possessions end in either a block or a steal when Turner is on the floor. The big man also ranks second in the NBA in Defensive Rating (98.7), second in Defensive Win Shares (0.8) and second in Defensive Box Plus/Minus (2.8). These are all career-highs for Turner, who is still only 24 years old and just cracking the surface of his potential.
"I've been blocking shots for years, but now there's so much more to my defense than just blocking shots," Turner said. "I think my rotations and being there to help earlier and just my positioning as a whole [have improved a lot]. And I've actually been able to guard the perimeter, which is one thing that I never thought I'd be able to do when I was coming out of college; I thought I'd strictly be in the post guarding 5s. But now, I feel comfortable guarding 3s, 4s and 5s. When I get switched on guards on the perimeter, I can keep them in front of me and block their shots. That's something that I've developed over the years as well."
When asked if honors like the Defensive Player of the Year award or an All-Defensive First Team selection are on his mind, Turner is refreshingly honest.
"Most definitely! I think the biggest goal for me is to get Defensive Player of the Year," Turner admits. "I want to continue to assert myself on the defensive end of the floor. My offense is not a major concern for me right now; I want to show the league what I'm capable of on the defensive end of the floor. All-Defensive First Team and Defensive Player of the Year are definitely my goals. But more than anything, I just want to be respected. I want to make sure that teams know they can't just come in the paint; I want them to know that it's not going to be easy and they need to switch up their normal gameplan. The biggest thing for me is establishing myself [as a top defender] for years to come, and I have to start somewhere."
Despite leading the NBA in blocks per game (2.7) and block percentage (8.4) in 2018-19, he didn't make either All-Defensive Team -- although he did receive a First-Team vote and 37 Second-Team votes.
Perhaps the fact that Turner plays in a smaller market hurts him a bit, as the Pacers aren't featured on national TV very often (which is unfortunate since this year's team is a lot of fun to watch).
"[We would like] more national coverage," Turner said. "When the casual fans just hear, 'Oh, the Pacers won a game,' they aren't seeing how we win. They're just seeing the stat sheet and the highlights and what not. It's different when you actually watch us play. When we get national coverage and we're playing on [national] TV, we have to play good basketball there.
"We have big goals, but we have to be able to get out of the first round in order to be taken 'for real' or seen as serious. I think we've had great regular-season success, but none of that means anything once you get to the playoffs. We need to fulfill our playoff aspirations."
Given everything that he's learned over the years, what advice would Turner offer to up-and-coming shot-blockers?
"I think the biggest thing is learning your positioning early," he said. "You aren't going to meet everybody at the rim; it's more fun when you do that and you're blocking dunks and stuff, but sometimes you can cost your team if you aren't in position early. And you can't jump for everything. Once teams know that you're a great shot-blocker, they try to get you in foul trouble and pump fake more and make a concerted effort to get you in the air. Also, you have to know that you're going to be targeted. Later in the season or in the postseason, teams are going to go at you more just to prove a point or to try to get you out of the game [with foul trouble]. I think keeping your composure, knowing your rotations and having the timing down all have something to do with being a great shot-blocker."