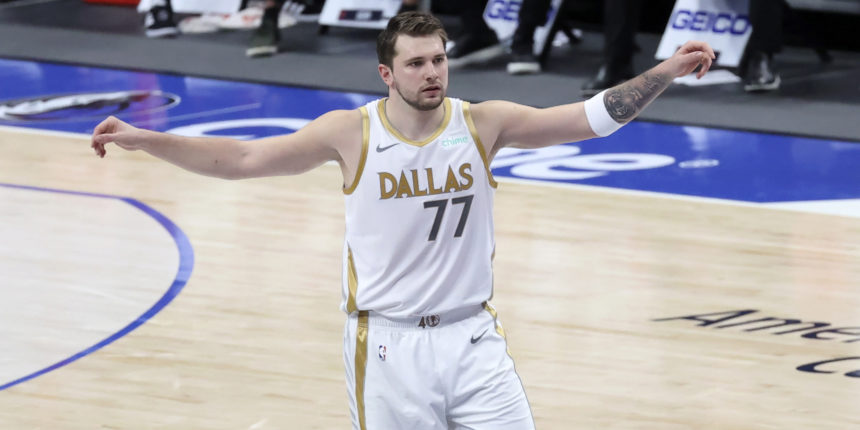 Luka Doncic doesn't take breaks in his quest for NBA title
Luka Doncic's summer break has been eventful, albeit short. He signed a $207 million extension with the Dallas Mavericks and nearly led the Slovenian national team to an Olympic medal in Tokyo. But Doncic isn't one to rest on his laurels.
"I had two weeks off and I'm back to practicing," Doncic recently told Marc Stein of The Stein Line in an interview.
Those close to the Mavericks organization have a right to be worried, as the COVID-19 pandemic led to a shortened offseason, too — meaning that Doncic will have experienced two consecutive offseasons with less rest than he would traditionally receive. And most experts agree that health and rest go hand-in-hand.
While no one would question Doncic for taking a longer break, his obsession with improvement is what sets him apart. Doncic was brilliant for the Mavericks in the postseason, but it ended similarly to the prior year — with a first-round loss to the Los Angeles Clippers.
The 22-year-old's career has been incredible so far. Doncic boasts an average of 25.7 points, 8.4 rebounds and 7.7 assists per game across three seasons. He's also been named to two All-Star games and two All-NBA teams. But if he's going to accomplish all of his goals, there is still work he has to do.
"Every time there's a new season, I'm excited," Doncic said. "Every time it's the same goal and that's what we're going to try to do about this year: Win a championship. I think that should be everybody's goal and I'm just hoping it happens one day."
While all great players want championships, success is predicated on more than just a superstar's output. Front offices' impact outcomes nearly as much as superstars' efforts, and unfortunately for Doncic, Dallas had a subpar 2021 offseason. (Basketball News' Jackson Frank went as far as to say Dallas had the worst one of all NBA teams.)
Dallas added Reggie Bullock, Moses Brown and Sterling Brown, while sending out Josh Richardson via trade. Nothing against those three players, but simply put: the team, and Doncic, needed more.
The Mavericks did shake up their front office and coaching staff, though. Dallas replaced general manager Donnie Nelson and head coach Rick Carlisle with Nico Harrison and Jason Kidd at those positions, respectively.
Harrison, a former Nike executive, is entering his first stint with an NBA team, meaning the rookie executive made a fan of owner Mark Cuban without any relevant experience. During his time at Nike, Harrison built strong relationships with several NBA players, including Doncic, which likely led to his hiring.
Kidd is more of a known commodity, with stops in Brooklyn and Milwaukee. Most recently, Kidd was on the Los Angeles Lakers staff as an assistant coach. Kidd still has supporters in Dallas, but his track record as a head coach is questionable at best, especially since news broke this past April about his now-infamous Christmas practice with the Bucks. (This goes without mentioning Kidd's off-the-court concerns too.)
Considering the Mavericks' lack of additions, it's clear that Doncic will have to do more to propel them deeper into the playoffs. But what more can he do? Doncic has averaged 33.5 points, 9.5 assists and 8.8 rebounds per game while shooting 39.2% on three-point attempts (compared to 33.1% in his regular-season career) through 13 games. He's literally been the focal point of the Los Angeles Clippers' defensive strategy in each of the past two postseasons, yet has still flourished.
But the rest of the Mavericks' roster hasn't. Tim Hardaway Jr. broke the 20-point mark in four of the seven games against the Clippers in 2021, averaging 17.0 points in the series. But is Hardaway really a championship contender's second-best option?
And even more importantly, beyond Hardaway (and obviously Doncic), the Mavericks got only one 20-point game out of their supporting cast in the 2021 playoffs. Kristaps Porzingis scored exactly 20 points in the Mavericks' Game 2 win. Not to place the brunt of the blame on Porzingis, but he did only average a mere 13.1 points per game this past postseason while on a $158 million contract.
Still, Doncic enters his fourth NBA season as the favorite to win the 2021-22 NBA MVP award, and while his supporting cast looks underwhelming in September, a lot can happen between now and the 2022 playoffs.
And Doncic is quickly proving himself to be the type of player you do not want to bet against.