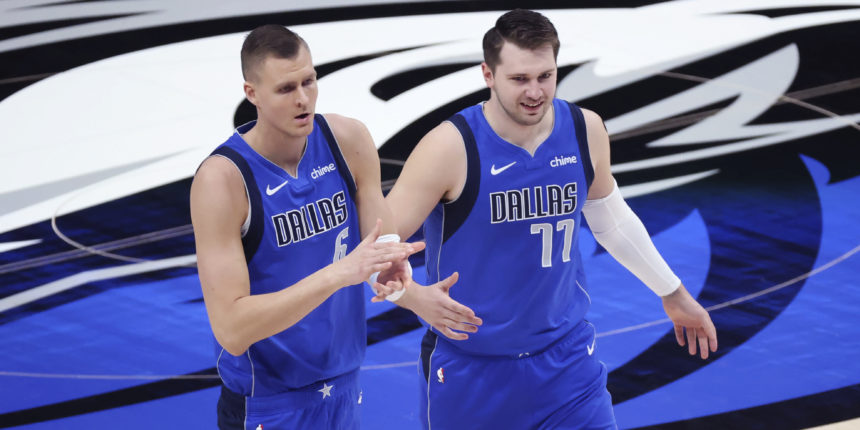 Will Mavs take leap from playoff team to Finals contender?
If you look around the loaded Western Conference, which team is poised to really take a big jump? There are teams already established as potential NBA Finals contenders — the Los Angeles Lakers, Phoenix Suns, Utah Jazz and Golden State Warriors (now finally healthy) come to mind — but there's an underrated option out there: the Dallas Mavericks.
Although it wasn't a splashy offseason for Dallas, it still accomplished the goal of making life a little bit easier on MVP favorite Luka Doncic. Re-signing Tim Hardaway Jr. was a top priority after becoming a key cog to the Mavs' success. Add in veteran wing Reggie Bullock on three-year deal, and it becomes an environment where the floor should be optimally spaced for Doncic to create his renowned magic.
During his last two seasons, the Slovenian phenom has averaged 28.3 points, 8.7 rebounds and 8.7 assists on an outstanding 58.6% True Shooting percentage. Doncic is the first player in the modern era to immediately establish himself as an MVP candidate and one of the five best players in the NBA since LeBron James. Doncic's marks at this stage of his career are on the same platform as the all-time greats of the Association.
Dallas knows the time is now to push in the chips, but the organization doesn't need to exactly be in a rush. Doncic's greatness allows the team to properly construct a roster best suited for his high-usage, ball-dominant style, a la James Harden in Houston; building an environment with plenty of floor-spacers who can hit threes at an above-average clip is of the utmost importance. All of the following players in the Mavericks' 2021-22 rotation shot above 37% from downtown last season: Hardaway, Bullock, Jalen Brunson, Maxi Kleber, Dorian Finney-Smith and Kristaps Porzingis.
Only two players over the last 60 years have averaged a 30-point triple-double over a full season: Russell Westbrook and Oscar Robertson. With the right ecosystem of shooters in place, Doncic could soon join that historic list.
The biggest X-factor for Dallas to potentially take the leap from a playoff team to a true title contender is Porzingis. After trading multiple future first-round picks to the New York Knicks for Porzingis, many believed Dallas was ready to join that elite group of squads in the West soon enough. Well, Porizingis has yet to find his true footing in Dallas with a passive, inconsistent role.
Porzingis still averaged 20.1 points last season, but he looked more like a third option compared to a "1B" behind Doncic. Especially in the playoffs when Dallas was eliminated in the first round by the Los Angeles Clippers, Porzingis' passivity reach a whole new level averaging 13.1 points on 10.3 shot attempts in 33.3 minutes. A player who was once thought to be one of the most untouchables players in the league during his best season in New York looked very willing to defer to Doncic and Hardaway on the biggest stage. It's been a huge fall for Porizingis, in terms of league-wide value, and now new head coach Jason Kidd will need to rehab his value for Dallas (and potentially other teams).
Porzingis has the Mavericks in a bind at the moment. With three years and $101.5 million remaining on his max contract signed upon arriving in Dallas, this current version of Porzingis won't help the Mavs or any other team on that kind of deal. Right now, it's fair to rank Porzingis' contract as one of the most negative assets in the NBA.
This upcoming season will be critical for Porzingis and the Mavericks to rehab his value; both parties hope to see the long-awaited return of the Unicorn version that was on fully display in New York. Porzinigis was a dominant force with the Knicks, but he's turned out to be an overpaid sidekick in Dallas. If the Unicorn reaches that form somehow again alongside Doncic, the Mavericks will quickly jump from playoff contender to Finals threat. Luckily with Doncic, Porzingis doesn't need a rapid rebound to superstar. All he needs to do is become a solid, consistent No. 2 option who can show the flashes of brilliance that were more frequent in the Big Apple.
With a new head coach, potentially the best player in the NBA and a wildcard 7-footer, Dallas has an ample amount of storylines ahead of the 2021-22 campaign. Let's take a look at the team's rotation:
Starters: Luka Doncic, Tim Hardaway Jr., Reggie Bullock, Dorian Finney-Smith, Kristaps Porzingis
Second Unit: Jalen Brunson, Trey Burke, Sterling Brown, Josh Green, Maxi Kleber, Dwight Powell
As you can see, Dallas is betting entirely on the Doncic and Porzingis duo to wreak havoc upon the West to take the real contender leap. There's no reason to doubt Doncic's potential to become the best player in the Association in the very near future. However, the Porzingis questions loom large for a team in dire need for its secondary option to regain his star form once more.
The Mavs have the ingredients in place for their superstar to thrive, but the Unicorn element needs to reappear on a more consistent basis for them to gallop atop an even stronger conference this season.