The 2021-22 NBA MVP race figures to be a dynamic one throughout the regular season. In Las Vegas, five players stand out from the rest with realistic odds to stay in discussions from October through April: Luka Doncic, Joel Embiid, Kevin Durant, Giannis Antetokounmpo and Stephen Curry. These five categorize into the same group who hold odds under +1000. It's a tier signifying not only their projected individual accolades, but also team success in the upcoming year.
Diving deeper into the numbers, which of these five would be the smartest to wager on as we get closer to the regular-season opener in six weeks? Let's dive into it all below.
LUKA DONCIC: +380
Entering his fourth season, Doncic is head-and-shoulders above the entire pack in MVP odds. Nearly doubling whoever is behind him, there's plenty of buzz about an upcoming leap from Doncic in 2021-22. After averaging 27.7 points, 8.6 assists and 8.0 rebounds on a 58.7% True Shooting percentage, Doncic could be in line to increase those numbers across the board.
Dallas made no splashy moves, unless you consider re-signing Tim Hardaway Jr. and veteran wing Reggie Bullock on a three-year deal as such. Hardaway and Bullock will help Doncic make magic happen, and further the case of why he's such a triple-double threat on a nightly basis. Having adequate floor-spacers and versatile defenders around Doncic makes his job much easier. The Mavericks have those tools at their disposal, plus the obvious wildcard in Kristaps Porzingis. If Porzingis can improve under new head coach Jason Kidd to be a No. 2 option, the burden on Doncic lessens to where he won't wear out late in the season.
If Dallas flirts with a 50-win count, Doncic will stay at the top of MVP odds throughout the season. Doncic stocks for seasonal awards are going to the moon right now, and it shouldn't be a surprise if the Slovenian phenom averages a 30-point triple-double throughout the upcoming campaign. Just for reference, the only player in NBA history to average that historic threshold was Oscar Robertson in 1961-62.
JOEL EMBIID: +700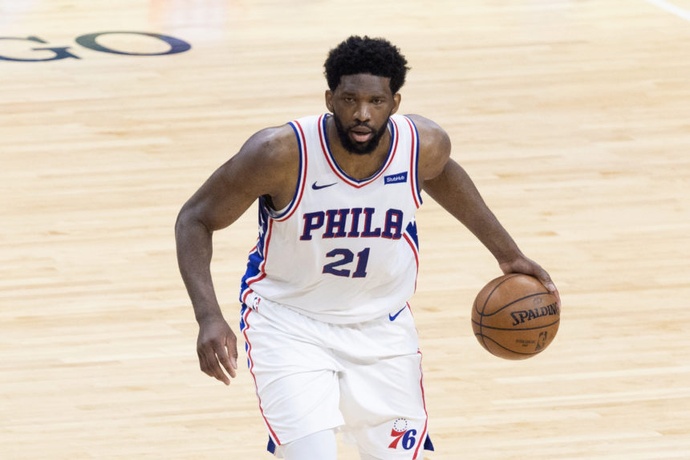 How the Ben Simmons situation sorts itself out over the next few months will directly coincide with Embiid's MVP candidacy. At this point of his career, Embiid is one of the most dominant bigs in the game. Seemingly taking over games on both ends whenever he pleases, Embiid has mastered the art of modern-day bully ball.
What makes the +700 odds enticing is how Embiid operated without Simmons in the lineup last season. In the nine games Embiid played without Simmons, he averaged 31.6 points and 10.0 rebounds. When Simmons was alongside Embiid for the other 42 outings, Embiid's points average dipped to 27.8. Simmons clogs the painted area for Embiid, who has shown to thrive even with the lack of floor spacing from his young co-star. If Philadelphia trades Simmons for more three-point shooting, Embiid is destined to put up some monster MVP-esque numbers.
Similarly to Doncic, Embiid averaging 30-plus points shouldn't be ruled out. And for centers, it's a truly rare feat. The last big man to average at least 30 points over a full season was Moses Malone in 1981-82. Overall, here's the entire list of bigs to pull of this absurd statistic: Wilt Chamberlain, Walt Bellamy, Kareem Abdul-Jabbar, Bob McAdoo and Malone. If Embiid puts his name on the list 40 years later while also piloting the Sixers to an impressive season, he's actually a really solid MVP bet at +700.
KEVIN DURANT: +700
The one factor working against Durant in the MVP discussion, who I think once again proved he's the best player in the NBA during the playoffs, is his age. Nowadays, players over age-30 to win the MVP is a rare occurrence. Since 1990, here's the shortlist for 30 or above MVP winners: Magic Johnson, Hakeem Olajuwon, Michael Jordan, Karl Malone and Steve Nash. Durant is one of the best scorers in the modern era, and he's nowhere close to exiting his prime even after a potential career-altering torn Achilles suffered in the 2019 NBA Finals.
If Durant continues the positive momentum we saw during the Brooklyn Nets' playoff run, where he almost singlehandedly defeated the future NBA champion Milwaukee Bucks without James Harden and Kyrie Irving, he's a prime candidate to buck the trend and bring home his second MVP award.
Brooklyn figures to be the best team in the league when it comes to overall season record. If the Nets dominate their competition en route to a 60-plus win campaign, the narrative is there for Durant to claim the top individual accolade in the Association.
GIANNIS ANTETOKOUNMPO: +800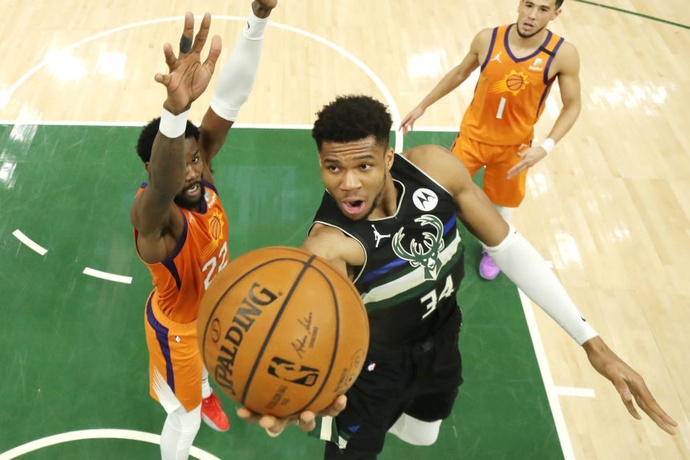 The resume already in place for Antetokounmpo entering his age-27 season is absolutely incredible: NBA champion, Finals MVP, two-time MVP, five-time All-Star, five-time All-NBA member, Defensive Player of the Year, Most Improved Player — the list continues to get longer. Just now entering his prime, Giannis could eventually put together one of the most illustrious careers we've ever seen in basketball. And with the Bucks reloading to chase back-to-back championships, everything is in place for Antetokounmpo to make a significant push for this year's MVP.
The Bucks and Nets will battle atop the Eastern Conference this season. Whoever ends up finishing as the No. 1 seed could directly correlate to who has the MVP edge between Durant and Antetokounmpo.
From an all-around standpoint, there might not be a better player in the league right now than Giannis. Stuffing the stat sheet with dominant fashion for an elite team will always keep him in the MVP discussion. Over the last three years, Giannis' averages are why he's become one of the best players in the NBA today: 28.4 points, 12.4 rebounds, 5.8 assists, 1.8 steals, 1.2 blocks, 63.0 TS%.
It's a super risky idea to rule out the Greek Freak in season-long awards. There's a probable outcome where he continues his future Hall-of=Fame trajectory to even higher levels we've never seen before.
STEPHEN CURRY: +800
Last season's leading scorer finally has a healthy team surrounding him. Stephen Curry and the Golden State Warriors figure to be a factor once again in the loaded Western Conference — thanks in large part to the long-awaited return of his Splash Brothers compadre Klay Thompson.
If the Warriors can take the leap back to elite status in the West in 2021-22, it will likely be due to Curry going supernova once again. Curry averaged 32.0 points, 5.8 assists, 5.5 rebounds and 1.2 steals on an incredible 65.5 TS% last season. It shows just how unique Curry is, and why he's changed the way the modern era operates. Curry helped change the game as it is today. In order to topple MVP favorites like Doncic, Embiid, Durant and Antetokounmpo, he will need to repeat that brilliance on an even higher level. It's a tall task to ask of Curry, but doubting his ability to pull it off as he ages is a foolish exercise.
A Golden State bounce-back campaign will keep Curry in the MVP chatter throughout the 2021-22 season.