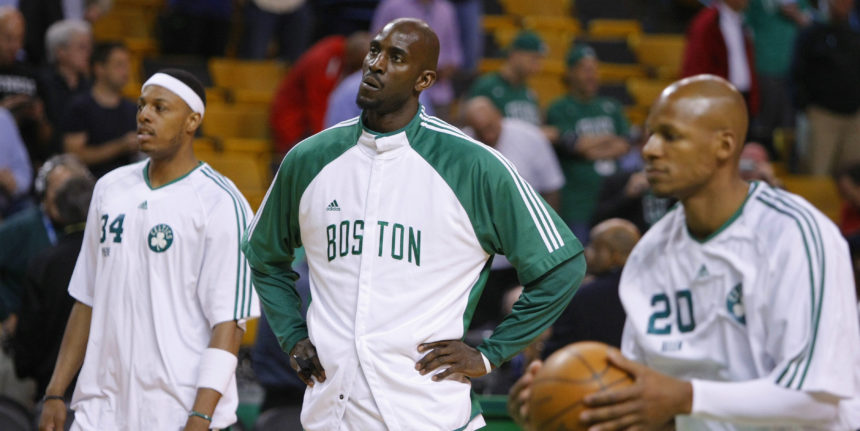 I'll always cherish playing with 3 of the greatest ever in Boston
I've never taken anything in my basketball career for granted. I give thanks for the journey, for the experiences and for the fact that I can call myself a champion.
I also give thanks to Danny Ainge, Doc Rivers and especially my "Big Three" teammates in Paul Pierce, Kevin Garnett and Ray Allen.
Earlier this year, those last three guys were each named one of the 75 greatest players in NBA history, and rightfully so. And when I talk about giving thanks for my journey, I look directly at the fact that I was blessed to play with seven guys who made that list.
In Miami, Shaquille O'Neal, Dwyane Wade and Gary Payton showed me and taught me how to become a champion. And even though the experience in Boston was a lot different, there, I had the chance to put some of the lessons I learned in Miami to practice.
By the time I got to Miami, Shaq had already been there a year, and he was the only guy who had won a championship. Naturally, he sorta became everyone's big brother, for a few reasons. He was already a legend, he was a champion and we still respected him as our top dog.
That wasn't the case for me in Boston.
Even though I'd won and Doc and my teammates respected me, I wasn't the team's best player. So even when Doc pointed out that I was a champion and asked me to share some wisdom, I don't think my words carried the kind of weight in Boston that Shaq's did in Miami.
But that's kinda what made the Boston experience so unique.
KG, P and Ray went out of their way to build a culture where everyone felt so welcomed and invited and just loved. We never really looked at the team as different classes of players. We all felt like superstars and genuinely enjoyed each other's company so much that we all just kinda formed one big clique.
When you have that kind of dynamic on a team, it makes you want to be better at your job because you actually feel invested. And if you're having an off day or you're not really getting the minutes or the shots you want, it's easy to be happy for whoever is having a "good" day because you genuinely care about your teammates.
I played for seven different teams over the course of my 12-year career in the league, and nowhere else was able to compare to the situation in Boston. I know it might sound corny, but it was truly a family. It felt like we were all superstars.
KG, P and Ray all made sure of that.
When I reflect back on my time as Ray's teammate, all I can look back and say is "ultimate professional."
Ray truly treated his game like a job that he was very serious about, but not in a bad way. His work ethic was just insane, he'd always go up and get shots up early before anyone else, and you could just tell that he was motivated to always be ready and to keep his skills sharp.
Whenever me or Eddie House or one of my other teammates beat Ray in a three-point shooting contest after practice, we would be on cloud nine. Honestly, we'd be more surprised when he missed a decent look than when he made it. We just expected perfection from him, and he mostly delivered.
(Editor's Note: James Posey and Ray Allen chopped it up on "The Posecast" last season. Watch the full episode below.)

Maybe because he left for Miami, people got the impression that Ray was some kind of "outsider" while he was in Boston, but at least during my one year there, he was just another one of the guys. He was loved, and he loved us back. Maybe that's why those guys took him leaving so personally, but that's just a guess.
As far as Ray is concerned, he definitely approached his craft like it was his calling, and that's the reason he's the all-time leader in three-pointers made. That's why he was one of the Top 75 of all-time. No way we win without him. Ultimate respect.
KG? He was just another type of beast, altogether.
As great as Ticket was, when I look back at our team, he didn't seem to only work hard because he wanted to be great. He worked so hard because he wanted to lead by example and push us all to be the best players that we could possibly be.
Most veteran players pass knowledge and wisdom. KG did, too, but he also led by example.
Before I joined the team, I remember having a conversation with Sam Cassell. He told me that I was gonna love playing with KG because of how hard he works and how much he pushes. Sam was KG's teammate in Minnesota, so he knew what was coming, but even those warnings couldn't prepare any of us for what Ticket was.
Let me tell you this: KG never once mailed it in. Some superstar players might get tired of practicing or if you're about to go on a road trip or whatever; sometimes, they might just go through the motions. Truth be told, we all did… just not when KG was our teammate haha!
Ticket always gave 125% effort. He did everything with intensity and purpose. He played hard defense, he talked trash and he was out there leading the way — because he realized that he was helping to prepare us for the real competition. It's no coincidence that we won 66 games that year.
KG never took a day off, and as a result, our team eventually realized that every "day off" is one less day of preparation.
KG went so hard, that some days, Doc had to order him to take the day off. And yeah, some coaches might send a guy home for disciplinary reasons or throw him out of practice to make a point or whatever. But Doc himself would literally ask Ticket to chill for the day and get treatment sometimes because we all wanted to have a more calm practice.
Ticket didn't know how to chill.
"If you step on this court, I'm gonna fine you!" I remember Doc yelling at him a few times.
"Come on, Doc? How you gon' be like that?" KG said back.
Doc would even ask Ticket to just chill and be a coach in practice, and KG would flat out be like "Nah, Doc, I ain't no coach. I ain't no coach right here. But maybe I can be a player-coach."
Crazy, man.
At the end of the day, though, practice was fun and competitive every single day. Some days the white team would win, some days the green team would win. We really looked forward to it and really made each other better. I honestly think KG helped Paul build better and more serious practice habits.
And that brings me to P — Mr. Celtic himself.
Now, I could be wrong, but from afar — as much as I respected Paul Pierce, at least early on in his career — I didn't really think that winning at a high-level was his priority. I wondered if he was one of those players who just wanted to put up numbers, get paid and get respect, but not necessarily win.
Eventually, I think he approached a fork in the road wheree he wanted to prove that he could play the right kind of basketball and actually be a winning player. So when you tie that together with KG being a maniac and Ray's businessman-like example, Paul had some good guys around him that showed him what the work ethic looked like.
He was a great example of a player who, I think, changed his outlook and changed his approach, and was able accomplish the ultimate goal.
By the time we got to the Finals, I knew that we were a better team than the Lakers, but we all knew what we were up against with Kobe. Especially because we were the Celtics and he was looking to prove he could win without Shaq.
But more than anyone else, I think P knew that he came too far to let Kobe get his fourth ring at our expense, and for me, it was a "Wow!" moment to see him going shot-for-shot with Kobe in the Finals. I knew P was nice already, but for me, his performance during the 2008 Finals put him in a different category altogether.
Same goal, different players, different approaches, different lessons.
It's so crazy that I only spent one year in Boston. I'm sad it didn't last longer, but — it's obvious since I talk about that team so much — I loved it there.
From playing cards at Paul's house or getting together with KG and his family and watching games at his house, we were a big family.
We won a championship together, and I know for sure if things worked out a little differently, we would've gotten at least two.
Regardless, I look back on my time in Boston and cherish the memories. I also, obviously, cherish playing with and learning from three of the greatest to ever do it.