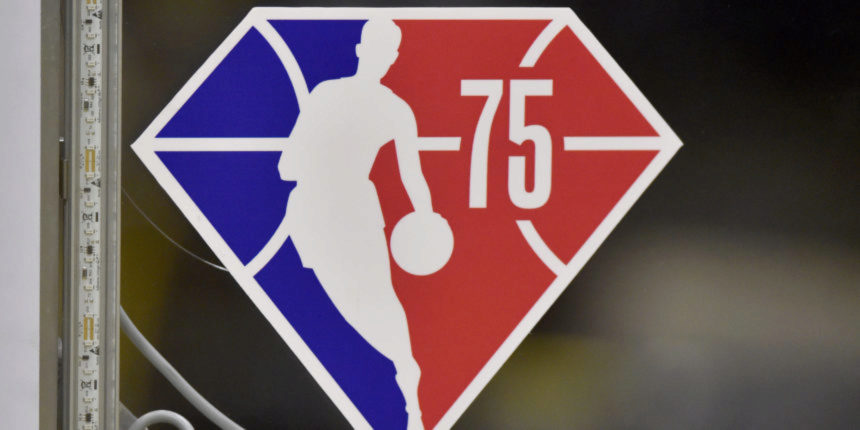 There were major snubs from NBA's 75th Anniversary Team, as expected
There are certain things you can count on every NBA season. One of them is a week-long debate in late January surrounding which players should and shouldn't have been named All-Stars.
We can't even agree on who the top-12 players in each conference are, so how on earth were we supposed to somehow figure out who the top 75 NBA players in history were?
Fact of the matter is that we never were.
On Thursday night, the NBA completed its three-day-long process by which it named the members of its 75th anniversary team. It'd been 25 years since the league named its 50 greatest players in history in 1996, so — as has been tradition since the league named its 25 greatest players in 1971 — it was time to serve up some honors.
Heading into the season, it was unclear whether the league would simply add 25 more names to its top-50 list or effectively start from the beginning. Although there would have been significant overlap, starting anew would have given more players from previous generations a chance at cracking the list.
It wasn't meant to be, though.
As it turns out, the NBA 75 included all 50 of the NBA's Top 50 Players and 26 more (due to a tie).
Bob McAdoo and Dominique Wilkins were the only two nominated players who were snubbed from the top-50 list, with Dennis Rodman and Gary Payton making the cut this time. The other 22 are contemporaries, the great majority of which are no-brainers.
Of the 22 contemporary players named to the 75th anniversary team are 14 with whom the general public can't take issue: Ray Allen, Kobe Bryant, Stephen Curry, Tim Duncan, Kevin Durant, Kevin Garnett, James Harden, Allen Iverson, LeBron James, Jason Kidd, Steve Nash, Dirk Nowitzki, Chris Paul and Dwyane Wade.
To varying degrees, credible arguments could be advanced against the eight others: Giannis Antetokounmpo, Carmelo Anthony, Anthony Davis, Kawhi Leonard, Damian Lillard, Reggie Miller, Paul Pierce and Russell Westbrook. And for Giannis, Davis, Leonard and Lillard, the arguments against them are mostly with respect to their pitch count, which a voter could reasonably decide to go either way when determining whether that should be a factor or not.
At the end of the day, we ended up with a list of players who can rightfully lay claim to being one of the top 75 in history.
As is always the case, there are some notable omissions, with Vince Carter and Dwight Howard being the two contemporary players who have the best argument as snubs. That's just the way the cookie crumbles. And that's kinda the point.
Whether it's All-Star selections or where a player is drafted in the All-Star draft, the conversation and controversy that surrounds these lists and distinctions is what has made the NBA a multibillion dollar industry. And that's not to say that there's any nefarious or malicious intent on the part of the NBA for bestowing these honors — the league named 25th, 35th and 50th anniversary teams before the 75th team — it's just a fact. Our opinions are formed mostly by what we see and a bit of what we hear. As a basketball community dispersed across the world, we have varying degrees of values and exposures that help us formulate our opinions.
It's important that we keep that in mind.
Somewhere in Barcelona, there's a 24-year-old basketball fan who's shocked that Pau Gasol didn't make the cut. RJ Barrett and Dillon Brooks are probably texting Vince Carter as we speak. Chris Bosh is probably looking at his career profile on Wikipedia and comparing it to Reggie Miller's and trying to make sense of it all… Klay Thompson came out and posted an IG story wondering why he didn't make it. It's the nature of the beast.
Where we can all find common ground and some understanding when it comes to these kinds of exercises is that the league itself doesn't unilaterally bestow any honor — it doesn't choose its own MVP or name its own All-Stars, so it certainly wouldn't take the liberty of keeping a responsibility with this magnitude to itself. As it always does, the league carefully selected a panel of 88 individuals to vote for their top 75 players and Ernst & Young LLP — the independent accounting firm the league entrusts most of its matters to — tabulated the results.
Those entrusted with votes included former NBA and WNBA greats, select members of the media and team personnel. As a class, they can rightfully be entrusted to know the game of basketball, and at the end of the day, this was the most fair way to come to a conclusion, even if Tracy McGrady, Chris Webber or Grant Hill don't like it.
As the NBA begins the 75th season in its long history, the game has continued to thrive and has grown tremendously. Three of the league's teams have received valuations north of $5 billion and the league is hoping to leverage our curiosity, attention and willingness to watch and debate into another television deal that may see its revenue triple once again.
If you go back and evaluate the tenure of the late, great David Stern, it will become obvious that his desire was to help the league expand and to grow the game of basketball. When he took over the league in 1984, it had 23 teams. By the time he stepped down as Commissioner in 2014, it had increased to 30, including expansion into Canada.
For Silver — whether his intention or not — the hallmark of his reign has been the expansion of the league's bottom line. Merely months after assuming his role, he came out in support of legalized sports gambling in the United States and shortly thereafter oversaw the league's negotiation on a TV deal that tripled the league's television revenue.
From minimizing the back-to-back games to reducing travel schedules and revising the All-Star game to implementing rule changes, Silver's tenure has seen the league focus on improving the quality of games and making them more fun to watch. We as fans win.
So does the league's bottom line.
In the end, to a large extent, pro sports will continue to be about debating. That didn't begin with the NBA's 75th anniversary team, and, obviously, it won't end with it, either. We'll continue to talk about it, and for sure, we'll continue to argue among ourselves. Just like the league intends.
It's no coincidence that Silver kicked off his annual start-of-season presser by saying, "In terms of our 75th anniversary, we look forward to celebrating the players and teams, both past and present, that have helped shape the league... Many of you I know have created your own lists, and several of them I've been reading. There's no doubt that the various rankings will generate a season-long debate and conversation among fans and all of you."
Somewhere, Silver is smiling, even if Vince Carter isn't.