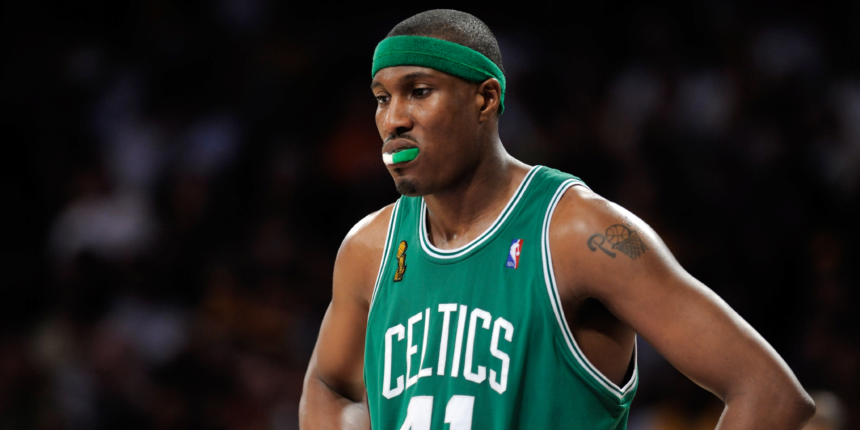 The NBA is a big business, and players should be allowed to act like it
It's not personal... It's just business.
We've all heard that phrase millions of times, and anyone who's ever played in the NBA — at one point or another — has probably heard those words coming from the other end of a phone.
In the name of winning, guys get cut, don't get their options picked up and get traded against their will.
It's the nature of the business.
With the influx of capital that the NBA got with its new TV deals and the stiff luxury tax penalties in the new collective bargaining agreement, we've all become so much smarter about the business of basketball.
At the end of the day, it's important to remember that this is exactly what the NBA is… a business.
This summer, we got great reminders of that fact when guys like Steph Curry, Luka Doncic and Joel Embiid signed huge contracts to stay with their teams.
But on the other end of the spectrum, most players — especially the players who aren't superstars — have those difficult moments where the business of basketball ends up pushing them towards situations that weren't necessarily their preferred outcome.
For me, that moment came after we won the championship in Boston in 2008.
Even today, when people are reminded that I was only a Celtic for one season, they seem surprised. It just seemed like I was there longer. And for me, it feels that way, too. Unfortunately, as you probably guessed, business got in the way.
In the summer of 2005, Memphis traded me to Miami along with Jason Williams and Andre Emmett. Pat Riley put together a decent squad around Shaq and D-Wade, and we ended up beating Dallas in the 2006 Finals.
The next season, though, for some reason, we never really got it going. We got swept by Chicago in the first round, and it just seemed to me like I needed a change. I was still in my prime and was only one year removed from helping Miami win the championship. By this time, I had a reputation for being a good "3-and-D" guy, so I thought I would have an easy time finding a situation as a better fit.
By that time, Boston traded for KG and Ray Allen, and the team was looking for some tough role players and experienced specialists to round out the squad. I had a couple options, but I thought that was the best opportunity for me to win, and that's exactly what we went out and did.
I'll never forget what it felt like to play against the Lakers in the Finals as a member of the Celtics.
Truth be told, I left more money on the table in Miami and took a bit of a pay cut to play for Boston. Even worse? The Celtics' front office only offered me a one-year contract. At this point, I'd just turned 30 years old, and even though I felt good enough to play a few more years, once you hit 30, you start to think about your post-playing career.
As a player, especially when you're young and you're having some success, you don't really want to think about what life will be like once your playing days are over. So you kind of start mentally preparing yourself as you get older. So by the time you hit 30 years old, you start to value long-term security and multi-year deals a little more than when you were in your 20s.
Despite all that, I was confident in myself and decided to take the one-year deal to play in Boston. I assumed that if I proved that I could be a productive member of the team, the organization would reward me with a multi-year deal closer to my market value.
I ended up being wrong.
We won the championship, lit the cigars and had the ticker tape parade and all that.
And when it was all said and done — you guessed it — I was offered another one-year deal.
There's no other way to put it: I was really disappointed. I helped deliver a championship and felt like I proved myself. In my mind, there was no reason why we wouldn't have been able to win at least one or two more if the squad, including me, was brought back.
But if there's one thing I learned during my years in the league, it's this...
It's a business.
At the end of the day, everyone wants to win, but winning in the NBA costs money. When most teams win a championship, they start thinking about how they can win by spending less money. And it's usually players like me who end up getting pinched.
So yeah, I wanted to go back to Boston, but when New Orleans stepped up and offered me a four-year deal, my agent felt it was a no-brainer. I'd had good relationships with both Chris Paul and David West, and they were coming off a 56-win season with CP finishing second in MVP voting to Kobe. I'd won championships in Miami and Boston, so I thought I could help get New Orleans over the hump.
I was happy as hell with the situation, but not as happy as I would've been to stay in Boston and help my team defend our championship. It just didn't work out that way.
For every Steph Curry, there are 100 James Poseys... and 100 P.J. Tuckers.
Curry is obviously one of the greatest players of all-time, but without guys like Tucker, teams don't win. Without Tucker this past season, Giannis doesn't win.
And now, P.J. is in Miami.
P.J. Tucker just posted on his IG.

"Wow. I'm still a little lost for words to be honest. Still in shock, but it is what it is. Today took a hard turn on the road of my car career, but like my grandma used to tell me...all you can control is what you can control."

Full message: pic.twitter.com/DbYJIBHoAe

— Eric Nehm (@eric_nehm) August 3, 2021
Now, I can't say I know the particulars of P.J.'s situation. But I'm not surprised to see a role player on a championship team end up finding himself in a different situation, because it happens all the time.
Having been in that situation, I just can't help but to notice it. I also can't help but to notice the double-standard that exists with players who want to maximize their earning potential and owners who want to maximize their bottom line.
When front offices find ways to save money and reduce payroll, they're looked at as smart. When players opt for greener pastures, we're looked at as being greedy. For most role players, you're lucky to get one or two multi-year contracts in your career. There is nothing wrong with trying to maximize your earning potential, and that needs to be said more often.
After all, it's business, right?
It was business when Mikhail Prokhorov bought the Brooklyn Nets for $200 million and sold the team for $3.3 billion.
It was business when Leslie Alexander bought the Houston Rockets for $85 million and sold for $2.2 billion.
And it was business when the late, great Larry Miller bought the Utah Jazz for $14 million and sold for $1.6 billion.
Let's just also remember that there's nothing wrong with players deciding they want to do what's best for them when they have the opportunity to become a free agent.
Particularly, the proven winners who have worked their entire careers for an opportunity to earn a nice payday.
After all, fair is fair.