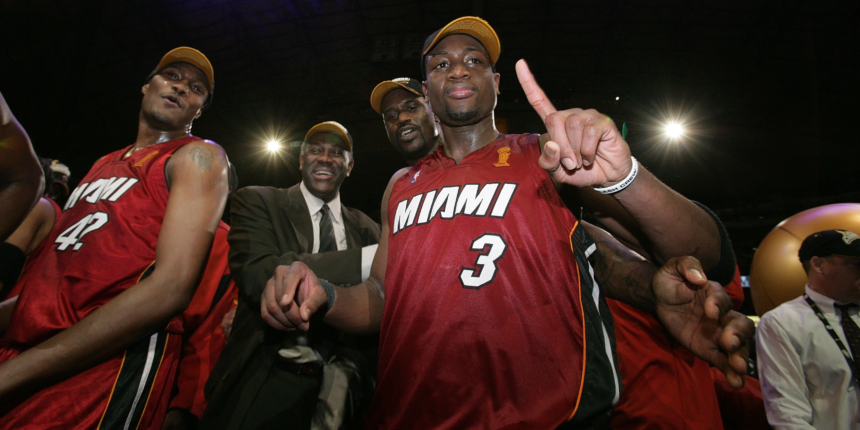 Thanks to 3 legends, in Miami, I learned how to become a winner
I still remember back when the 50 Greatest Players in NBA History were named in 1996. And at the 1997 All-Star Game in Cleveland, 47 of the 50 players got together, in my hometown at that.
From Scottie Pippen and Michael Jordan to Wilt Chamberlain and Magic Johnson, seeing all of those greats in one place was truly inspiring. As a freshman at Xavier, it made me think about the future possibilities.
It's hard to believe that was 25 years ago, and in those years, obviously, a lot has happened for me — both personally and professionally. I think back about where I was then and where I am now, and am truly humbled.
For more reason than one.
When it was all said and done, all 50 of the Top 50 players were selected in the Top 75 that was announced at the beginning of the season, and when I saw that list, I realized something incredible: I played with seven of those guys, and coached an eighth (LeBron James).
But winning at the highest level, for me, started in Miami. There, I had the honor of playing with Shaquille O'Neal, Dwyane Wade and Gary Payton.
So I can't really think about the Top 75, the Top 50 or my own career without remembering where it all came together for me. And every one of my teammates there will have at least a story or two about Shaq.
What I remember most about Diesel was how motivated he was to win. Winning three championships in a row is borderline impossible, and there's a reason why nobody's been able to do it since Shaq and Kobe. Most people overlook the fact that the Lakers actually made it back to the Finals in 2004, but they lost to Detroit. Four Finals in five years? Incredible.
Anyway, whatever happened in L.A. happened, but what we all knew was that Shaq saw something special in D-Wade, and wanted to team up with him.
The front office in Miami did what it had to do and traded for Shaq, but the Heat sacrificed their depth to do so, and they ended up falling short in their first year. They couldn't get past Detroit; they lost to them in seven games in the Eastern Conference Finals in 2005.
That summer, Pat Riley and the front office down there got real busy. They brought in a bunch of new pieces, including myself, Gary Payton, Antoine Walker and Jason "White Chocolate" Williams.
At this point, we all knew that D-Wade had a chance to be a really good player, but Shaq and GP were already legends. There were lessons every single day, but I think the biggest one I took from Shaq was what it meant to be on a mission.
Regardless of what anyone wanted to say about him, Shaq was always a winner, and he was so motivated to prove to everyone that he was capable of winning without the late, great Kobe Bryant. At that time, he was the only player on our squad who already won a championship, so when he spoke, we listened. He wasn't only our leader, he was like everyone's big brother. You looked up to him and didn't want to disappoint him.
Along with Pat Riley (who eventually became our coach), we had two great leaders who not only encouraged us to be great or expected us to be great. They demanded that we be great, and they both led by great example.
From the mindset to the preparation, the two of them gave us great confidence to go out there and get the job done, even though we faced some trials and tribulations.
To put it simply, Shaq was our team's leader, and we all trusted him to show us the path because we knew that he'd gotten to where we were trying to go. Even in our team's greatest moment of desperation — when we were down 0-2 to Dallas in the 2006 Finals — he preached accountability, but more importantly, he encouraged us to stick with the game plan and made us all confident that we would come out on the right side of history. And we eventually did.
Today, he often talks about guy panicking and being confident, and I can tell you: Diesel never lost his cool.
But yeah, Shaq... he was on a mission in Miami. In each our own way, we all were, I guess. But his motivation was different, and it impacted our team in a positive way.
I only spent two years as his teammate in Miami, but Shaq showed me what being a champion looked like. I carried that with me to Boston and for the rest of my career.
Now, one thing about most NBA locker rooms is that cliques form. That's not to say that there's any division within the team or anything like that, it's just natural that guys who have things in common might end up spending more time together than others. Some guys are really into fashion, some are into video games, some guys end up getting close because they have kids that are the same age, whatever.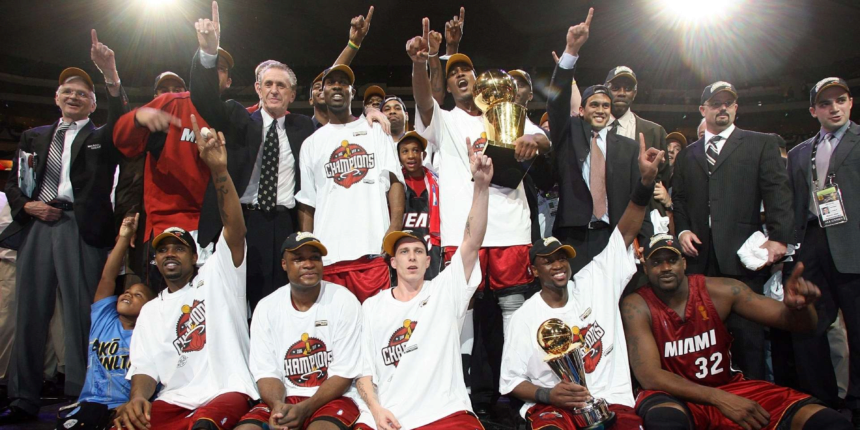 In Miami, Udonis Haslem, Antoine Walker and GP were the guys I got close with, and playing with GP was awesome as hell.
At that point in my career, I was mostly regarded as a "3-and-D" guy, and even though he was at the tail-end of his career, GP had so much knowledge and wisdom that he shared with me.
From the start, GP knew that I wasn't afraid to play defense and that I wanted to guard the guy in front of me. And you know he was known for the gift of gab. I still remember GP teasing me in our very first conversation as teammates.
"Here go this long-sock-wearing, harassing, defensive ass dude," he said.

"I like you, because you be all up in a dude face."
Obviously, for GP, being "all up in a dude face" was a compliment, and I was honestly flattered because I was surprised he even knew that I wore long socks, felt that way about me or knew me like that!
From that first convo, the rest was history. Most of the time we were on the court, we worked hand-and-hand. As a tandem, we were usually trying to stop the other team's perimeter players, and we spent so much time together off the court that working together on the court was actually pretty easy. Riles coached us, of course, but once we were done with practice, GP was always in my ears giving me little nuggets of info. And of course, talking smack.
The truth is I understood why they called him "The Glove." He had instincts, know-how and the ability to read and defend actions. Best of all, he had the will and want to pass along his knowledge to a younger player because he saw something in me and trusted me. I think the best lesson I learned from working with him is what it really meant to have faith and trust in another person on the court. And also, what it means to actually make your teammates better and smarter.
In a way, a lot of us on the 2006 Miami team felt like it was GP's last good shot to win a championship. He got to the Finals twice, once in Seattle and — a lot of people forgot — he was with Shaq and Kobe on the 2004 Lakers team that lost in the Finals. So he was 0-2, and we wanted to change that.
Together, we did.
And what can I say about D-Wade?
I think we all remember his first playoff run in Miami and how he was able to put the team on his back in some big moments as a rookie. Shaq saw it, which is the main reason he wanted to go to Miami in the first place. And by the time I got there, they'd already gotten to the Eastern Conference Finals. So even though D-Wade was only entering his third year by the time I got to Miami, I knew I had to give him his respect.
He ended up earning it from me, anyway, though.
If there's one word that comes to mind for me when describing him, it would be "competitor." I honestly felt like everything he did on the court, he did with such pride. He wanted to be great and it was just inspiring to witness. Despite having all that talent, his work ethic was even crazier. He was literally the first to get to the gym and the last to leave.
D-Wade was actually in the TNT studio when they announced that he made the NBA 75. He said it felt "surreal" for him to make the cut. He mentioned that he only got three scholarship offers coming out of high school, and thanked Shaq (who was sitting five feet to his right) for coming to Miami and telling him that he had the potential to be great. He thanked the other greats that he had around him and said he made the cut because he was surrounded by greatness.
I can relate to that feeling.
But D-Wade also made the cut because he dedicated every minute of every day to maximizing his ability and striving to become great. It was no accident.
As I advance in my coaching career and even teach my children about perseverance, D-Wade is someone who will always be top of mind, because it's not easy for a 6-foot-4 guard to end up becoming one of the Top 75 players of all-time.
Like GP and Shaq, we can all learn something valuable from D-Wade. I know I certainly have.
As I looked back on my career, I remember the night I was drafted, and even before then, I remember the Top 50 players standing together at the 1997 All-Star Game.
And now, I can proudly say I can look back on my time in Miami and know that I played with three of the greatest ever.
I'm better for it.