In 2006, I worked as a summer intern for a sports agency called Wasserman Media Group. With that job, I had a wide range of tasks and responsibilities. One of my duties was being the travel companion and, essentially, manager for Joel Freeland, a British NBA prospect who ultimately became the No. 30 pick in the 2006 NBA Draft.
Among the many stops that Joel and I made together prior to that draft was Memphis, Tennessee. He auditioned in front of then-Grizzlies general manager Jerry West ("The Logo" himself) and his staff. That was the first time I ever made a trip to Memphis, and little did I know at the time that I would come back to visit many more times throughout my career.
Well, this past week, I traveled to Memphis yet again. This season, in addition to my typical draft coverage, I will also be providing some NBA rookie coverage for BasketballNews.com.
So the first thing on my agenda, other than stopping by Gus's to get their world-famous fried chicken, was to take in a preseason game that had the Milwaukee Bucks facing off against the Memphis Grizzlies. In that contest, Ziaire Williams — who was selected No. 10 overall by the Grizzlies — was the highest pick from the 2021 NBA Draft who was playing.
I must say, I really enjoyed watching him lace 'em up and play in NBA threads for the first time. I have been following Williams since he was in high school, and it is a joy to watch players as they gradually tip-toe toward accomplishing their goals. Williams didn't start, but he was put into the game pretty quickly and got a steal right away. He ended up with 4 points on 2-for-4 from the field, playing 18 minutes in total. He had some rookie mistakes, but overall, I'd say this was a productive first NBA game for the rookie.
Also worth mentioning is Sandro Mamukelashvili, the No. 54 pick by the Bucks. Last year, "Mamu" was among the favorites among our BasketballNews.com scouting staff. At 6-foot-9 and 240 pounds, Mamu is a fun player to watch, as he is extremely versatile for a big man; he can handle, pass and shoot the ball. He also plays with a high motor and a great pace. In that game vs. the Grizzlies, Mamu scored 9 points, grabbed 7 rebounds and dished out 3 assists in 29 minutes of floor time. I'll admit I'm a bit biased here (my dad is director of player personnel of the Bucks), but Mamu looks like a great pick considering he was taken at the tail end of the second round.
I'd be remiss if I didn't mention how incredible Grizzlies point guard Ja Morant was in this game, and in general. He scored a smooth 27 points in 24 minutes. I remember watching Morant score 27 points and dish out 12 assists at a Murray State home game against Southeast Missouri State a few years ago. In hindsight, even considering the lower level he was playing on, it was one of the most memorable performances that I've ever seen by a draft prospect. It has been great to see Morant develop into the star that many of us thought and hoped he'd become. It's crazy to think that he's still developing.
Perhaps the key storyline of the night was the game's abrupt end. Following the third quarter, the fire alarm went off, and the fans and teams subsequently evacuated the building, prematurely concluding the game. Although I attend games on a regular basis, that was quite different. Also, this was my first game of the 2021-22 campaign— certainly a strange way to kick the season off.
I'm set to watch many games throughout the 2021-22 season. The Bucks vs. Grizzlies game tonight was my first. It ended in an evacuation and cancellation after the 3rd quarter due to a fire alarm. And I thought things were getting back to normal… 😬 pic.twitter.com/Fyh68OYWOs

— Matt Babcock (@MattBabcock11) October 6, 2021
Although I enjoyed attending the Bucks and Grizzlies game, let's not forget that I'm an NBA Draft Analyst first and foremost, so my main focus when putting together my travel schedule is to see NBA prospects. Well, with that strategy in place, Memphis was naturally a top-priority destination for me, as the Memphis Tigers are loaded with NBA talent.
I attended the Tigers' pro day on Wednesday afternoon and walked away impressed. Here are my thoughts on a few of their top NBA prospects:
Jalen Duren | Center | 6-foot-11, 250 pounds | Freshman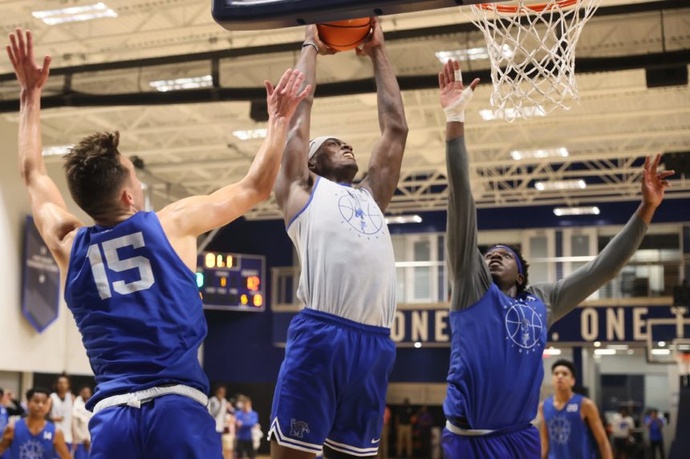 I have watched Jalen Duren for years. I first saw him at a USA Basketball camp in Colorado Springs, Colorado. At the time, Duren's physical tools instantly popped, and they still do. However, he has grown physically since then, as he is now 6-foot-11 and a chiseled 250 pounds while sporting an impressive 7-foot-5 wingspan. He has also grown as a player and seemingly as a young man. In high school, I first questioned his motor and approach, but he has improved in those areas significantly.
From a skill-set standpoint, Duren's key attributes are certainly his physical tools; he is an absolute brute. He will be most effective utilizing his physicality and explosivenss. Expect a lot of powerful dunks, blocks and rebounds. However, he continues to show flashes of skill as well; he has a good feel as a passer and a soft touch as a mid-range shooter. In fact, on one possession during live-play at pro day, he made an incredible move in the mid-post where he jab-stepped into a stepback turnaround jumper. I looked over and gave a staff member a look and simply said, "Wow." Duren is currently slotted as the No. 4 prospect on our 2022 NBA Draft Big Board, and after attending that pro day, I can confidently say he's in a good spot.
Emoni Bates | Guard/Forward | 6-foot-9, 190 pounds | Freshman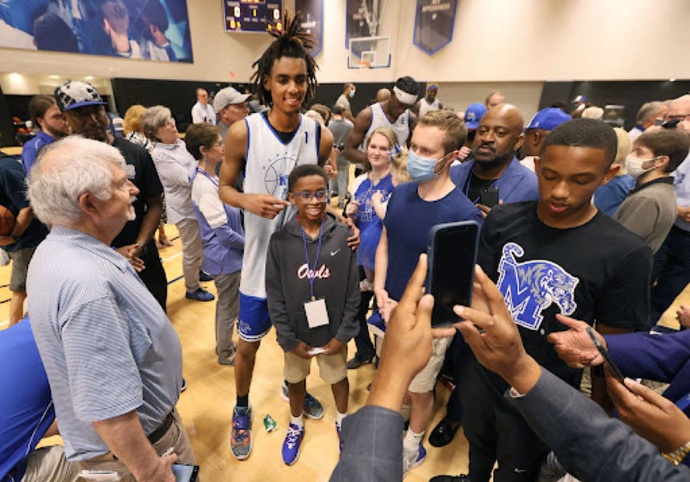 At this point I think anyone that follows basketball knows of Emoni Bates. I mean, he was on the cover of Sports Illustrated when he was 15 years old, with the headline being "Born for This." In the article, it suggested that he was a prodigy next in line to follow in the footsteps of LeBron James. The hype surrounding Emoni has taken on a life of it's own. In the last year or so, Bates has seemingly become a target of constant criticism due to the unreasonable expectations of him. Following the Memphis pro day, social media platforms went crazy over Bates' physical measurements and testing. Although he was measured at an impressive 6-foot-9, his wingspan was measured only 6-foot-7 1/4, and his standing vertical was only 24.5 inches. I'll admit those numbers are very underwhelming but let's not lose sight of Bates' talent, versatility, and upside. He's 6-9 and is just a natural scorer and playmaker.
I believe that long-term Bates would be best used as a shooting and scoring wing, but it seems as if head coach Penny Hardaway is going to use him at point guard — at least some of the time. Although I don't think that's his long-term position, it's impressive that at 6-9 they have the confidence to even try to use him that way. My biggest concern with Bates is not his short wingspan or his underwhelming vertical jump, it's his lack of physical strength. However, let's not forget Bates is only 17 years old; in fact, he is not even old enough to be eligible for the 2022 NBA Draft. Despite the criticism, I still think Bates is a big-time prospect. The good thing for Bates is that he has plenty of time to prove the naysayers wrong. Either way, I'm looking forward to continuing to watch his development.
Earl Timberlake | Guard/Forward | 6-foot-6, 220 pounds | Sophomore
Although I had watched plenty of film of Earl Timberlake, I had not seen him in person prior to the Memphis pro day, so I was eager to see him. At 6-foot-6 and 220 pounds, Timberlake has a strong and physical profile for a wing. Aside from his physical tools, he has what seems to be a knack for passing and playmaking; I expect for those parts of his game to be utilized greatly this year, as the Tigers' overall guard play is questionable. We do not currently have Timberlake on our Big Board, as I'm still working toward a more conclusive evaluation of him. But I am indeed intrigued, and will be tracking Timberlake closely.
Landers Nolley II | Forward | 6-foot-7, 220 pounds | Junior
I spent a lot of time watching Landers Nolley II while he was at Virginia Tech. I first saw him at the Maui Invitational, and then saw him in Blacksburg as the Hokies played Florida State, which included current NBA players Patrick Williams and Devin Vassell. At 6-foot-7 and 220 pounds, Nolley's key attribute is a good one — he really shoots the ball well from outside. He's capable of putting the ball on the floor for mid-range pull-ups or straight-line drives; however, I view him as a shooter. Possessing a quick release, the issue has not been his ability, but more so his decision-making and shot selection. After watching him at the Memphis pro day, it seems as if he has improved his shot selection. He is not currenty on our 2022 NBA Draft Big Board, but like his teammate, Earl Timberlake, we will be tracking him closely.
DeAndre Williams | Forward | 6-foot-9, 205 pounds | Senior
If DeAndre Williams is able to put together another quality season for the Tigers, I would not be surprised at all to see him claw his way into the NBA somehow. As a senior, Williams will certainly be a high priority for the Tampa Bay Pro Combine Player Selection Committee, which I am co-chair of alongside former coach and current ESPN analyst Fran Fraschilla.
Lester Quinones | Guard/Forward | 6-foot-5, 208 pounds | Junior
A do-it-all glue guy, Lester Quinones is a great piece for the Tigers' team. Since I first saw him at the Memphis pro day a couple of years ago, he has transformed his body; he looks great! I'm looking forward to watching his progress this season.
Josh Minott | Forward | 6-foot-8, 205 pounds | Freshman
Josh Minott is a long and athletic hybrid forward worth keeping a pulse on. I'm not certain of the role he'll fill for the Tigers this season, but I do like his upside long-term.