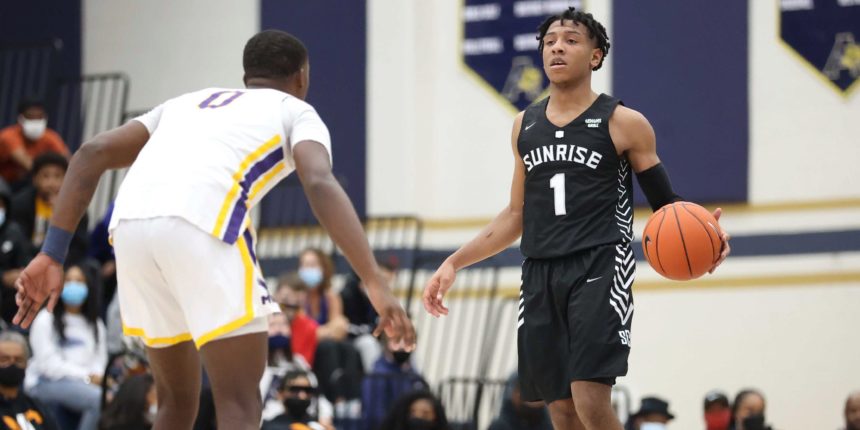 Tennessee's Kennedy Chandler intent on showing size isn't everything
In recent years, the NBA has seen a wave of superstar point guards come in and command the spotlight right away — no matter their size. Ja Morant, Trae Young and Darius Garland are a few names that come to mind, and they're setting the tone for those who want to follow suit and be next in line.
As the top point guard in his class, University of Tennessee commit Kennedy Chandler is determined to cut in and join them, and he happens to know all three talented pros personally.
"Ja and Trae and Darius, they came from being unknown to being top players in the world," Chandler told BasketballNews.com in a phone interview. "Trae, everybody thought he was small, wouldn't be able to make it. Ja, same way, too skinny; nobody knew who Ja was. Just the hunger, I feel like we have a lot in common from being nobody to being one of the top players in the nation, I feel like I can do the same thing they did."
A recently-turned 19-year-old five-star recruit out of Eads, Tennessee just east of Memphis, Chandler has befriended each at different points in his life. In his younger years, he was a part of "We All Can Go," an AAU program that featured Garland and Marvin Bagley III headlining the eighth-grade squad. During that time, Chandler grew close to the Garland family, particularly Darius' father, Winston.
"His dad and my dad talk probably every day," Chandler said. "That's when [WACG] were competing against a team called Izod. And ever since then, we just built the relationship, my family and his family built the relationship, and I just call him for any advice I [need]. His dad told me I can ask him any questions. His dad was a great basketball player, and I've got a great relationship with him and his family."
The Garlands have told Chandler the amount of work that is required if he wants to make it to the league. ("If you really want to do it, you've got to do it.") They've also told him about the differences in the level of competition between high school, college and the pros. Winston was a seven-year NBA player, so Chandler has soaked in the knowledge he's been presented.
When he reached eighth grade himself, Chandler began to realize that he could make a career out of basketball. After his first session at the Nike Elite Youth Basketball League with MOKAN Basketball, the offers flooded in.
"I was like, 'I really could take this basketball [thing] to a higher level,'" Chandler said. "And from that point on, I just changed who I was and changed how I needed to work and my work ethic. I just changed everything.
"I had a great work ethic from my eighth grade year, but it wasn't how it was after my first EYBL session. Because at first, nobody really knew who I was. I had maybe one offer, two offers. And, you know, it was just me continuing trying to work to prove everybody wrong. From that point on, I picked up more offers after my first game. That made me really think about who I was and what I could do with this game of basketball. And MOKAN helped me be the player I am today."
Part of the reason Chandler came aboard the MOKAN program was because of Young's influence. (Chandler was so committed to MOKAN that he'd actually fly out to Kansas City to practice on the weekends there when he was still at Briarcrest Christian School before he transferred to Sunrise Christian Academy in Wichita.) He's also taking a page out of the Atlanta Hawks star's book by playing for a college in his home state.
"It's amazing. Nothing wrong with playing at your home state — notice how he played at Oklahoma, I'm playing in Tennessee," Chandler said. "Knoxville, Tennessee, it's about six hours away from home. So, for me to play here… the fan base is crazy here. They love basketball and football. And I just can't wait to put on a show for Knoxville."
This is different Lil bro.... I LOVE IT!!!
Ain't nothing like reppin the home state, trust me🙏🏽💯 Go Crazy! https://t.co/fcIm848v0L

— Trae Young (@TheTraeYoung) August 14, 2020
It just so happens that he'll share the Volunteer state with Morant, whom Chandler is closest with out of the point-guard trio. When the Memphis Grizzlies favorite was drafted, he followed Chandler on Instagram after IMG Academy assistant coach Trey Draper suggested the two connect. Morant then sent Chandler a direct message asking where he could get some sessions in.
"I texted him back," Chandler said. "I was just shocked, you know? I didn't think that he even knew who I was. Ever since then, we've played together in the hoop runs, played against each other, and ever since then, our bond has gotten closer and closer.
"I call him anytime. They're like family to me, his family is like family. His dad gives me great advice all the time. He's like a big brother to me."
my brother 🖤 https://t.co/EVRmhFCss6

— Ja Morant (@JaMorant) August 14, 2020
Continuing the theme of looking up to guards like him, Chandler mentions that he actually models his game after Chris Paul. His film sessions focus on how the All-Star maestro gets inside and gets players open. At the moment, Chandler is confident in his finishing around the basket and using his speed and vision to find open teammates. He trusts in his jumpshot and is looking to progress it and extend his range.
Chandler was able to showcase those talents this past summer on Team USA's U-19 World Cup gold medal squad headed by Jamie Dixon. Boasting a roster full of potential and collegiate studs — Chet Holmgren and Jaden Ivey, plus Mike Miles Jr. and Kenneth Lofton among others — the Americans jelled overseas in Latvia; however, it didn't come as easily as anticipated.
"That was a great experience. That was my first time going across the country," Chandler said. "I'd say for my sake, it's more physical over there. They let you play. Them teams there, their chemistry's really good. So for us, we didn't have the chemistry. I don't think nobody really knows, we lost our first scrimmage to Australia. So we had to get used to playing with each other, knowing what each other does, knowing that it's not for us [individually]; it's about what we're wearing on our chest.
"For me to win gold was a dream come true as well. I learned a lot from playing over there and coming back over here, me playing for USA and going across to Latvia really helped me."
Riding that momentum coming into this year, Chandler will have the opportunity to be under the tutelage of Rick Barnes, a well-respected coach in the basketball world who's worked with a number of notable players over the course of his career. Before Barnes came to Tennessee, he made waves with the Texas Longhorns. He coached quite a few guards who were shorter in size, including a highly-touted prospect in 2001 who made his way to the next level: T.J. Ford.
"He thinks I'm just like T.J. the way I act. It's kinda funny," Chandler said. "I didn't even know who T.J. Ford was, to be honest with you. I didn't know who he was once I committed there, and I started looking to watch his highlights; he was a great player. T.J. texted me and told me he was gonna be down here soon and talk to me 'cause I know he's a trainer down in Houston. So I know T.J. told me he'll come down here soon, work with me. I'm looking forward to meeting him, talking to him.
"Coach Barnes had other guards like D.J. Augustin, a small guard. So that's why I came here as well, 'cause Coach Barnes knows what he's doing with his point guards."
Barnes already sees how intense Chandler is in practice. The Vols head coach is keying in on his newest point guard valuing possessions and getting into his assignments defensively. Chandler already has a set of goals for himself going into the season, and Tennessee fans will love to hear his high aspirations.
"For me to come in, lead the team. Even though I'm a freshman, being able to lead the team and just bring a different dog," Chandler said. "Bring a competitive player, for me, which he knows I am. Bring defense, bring anything to the table as well. But for me, as a small guard, just bringing the hustle... I want to have a great assist-to-turnover ratio. That's what I want to do, and lead the team to somewhere Tennessee's never been, as far as I can...
"I just think I'm about to surprise people [with] how well I do this year."
Basketball News Lead NBA Draft Analyst Matt Babcock happens to agree with Chandler:
Kennedy Chandler may be on the smaller side, but he possesses elite speed and quickness, which allow him to be a dynamic scorer and playmaker. Since I first watched him a couple of years ago, he's continued to improve his game all the way around. I've gotten to know Kennedy on a personal level, and in doing so, I've come to find Kennedy to be a hard worker that is very driven. I've also been impressed with his eagerness to seek advice and his ability to accept constructive criticism. After a season at Tennessee with veteran head coach Rick Barnes, I'm expecting Kennedy to be one of the first point guards selected in the 2022 NBA Draft, if not the very first one.
Chandler's already felt the level increase in the short time he's been in the gym with the Vols. He felt that his lone year at Sunrise Christian Academy was competitive, but he quickly realized that college is a step up. He feels blessed to be playing at a Power Five Division I school, welcoming the challenge that awaits. He can't wait to take on the best that the SEC — and NCAA as a whole — has to offer.
Being as notable of a prospect as he is, the bright lights and attention come with it. Chandler doesn't treat it any differently than when he was off the radar, though. He's keeping his head down and staying humble because his journey is still ongoing. He's also fully invested in his studies of Communication — he'd like to be a basketball commentator when he's finished with his career. It's a big reason he went to school in lieu of going a separate route. (Rod Strickland and the G League Ignite reached out to him when Chandler was a junior, but he was focused on getting an education).
Still, right now, reaching the NBA is the primary goal, and this upcoming campaign with the Vols is critical to achieving that. When asked if he believes that he's the top point guard in his class, the answer is a confident "yes" because of his work ethic.
"I was nothing at first. Nobody knew who I was," Chandler said. "My hard work really paid off, and people started recognizing who I was. And my hard work just showed who I really was and that I deserve my respect, you know? That's what I'll continue to do, and I'll continue to work hard every single day."
Underestimate Chandler at your detriment. While he doesn't let the perception around his size get to him, he absolutely takes it as a slight. Not only does he have the desire to outwork everybody, he also has a chip on his shoulder.
"I don't think it's fair at all," Chandler said. "People, they consider me a small guard, but I'm playing against all big guards you can name that are freshmen now in college that are 6-foot-2, 6-foot-3. Size is just nothing to me. I play as [if] I'm a big guard. I don't believe me saying I'm a small guard really should affect me being [able] to play at the level of the NBA or just wherever I want to play at. I just take that as... it makes me work harder. It just makes me work harder every day 'cause I know me being 6-foot has nothing to do [with] me to play against [anybody] at any level.
"That's not gonna bother me, them being taller than me, being this height. 'Cause I know I'm gonna get stronger as I am in college, which I am right now. I'm getting stronger and stronger every single day. So for people to consider me a small guard really doesn't bother me 'cause I've seen lots and lots of small guards that are in the league right now. I know if they can do it, I know I can do it as well."