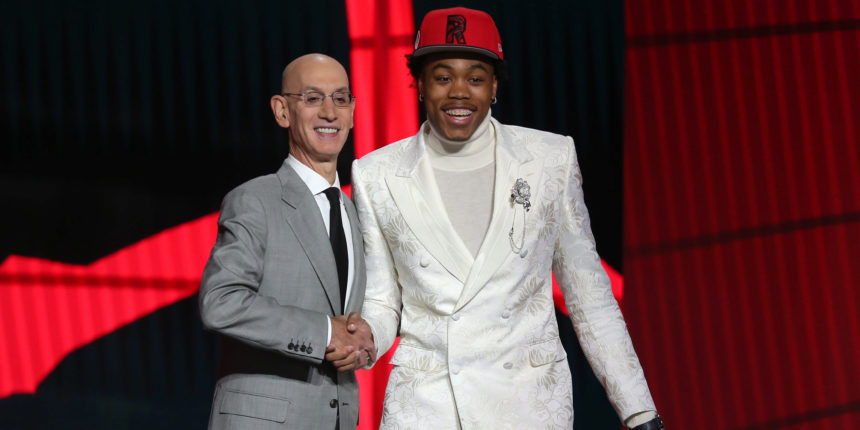 Was Scottie Barnes the right pick for the Toronto Raptors at No. 4?
With the No. 4 pick in the 2021 NBA Draft, Toronto selected a player who fits the Raptors' signature archetype: a versatile-and-eager project with a good work ethic, defensive intangibles and length.
At 6-foot 9, with a 7-foot-3 wingspan, Barnes provides myriad possibilities that excite Raptors head coach Nick Nurse.
"He's a multi-faceted, multi-positional, two-way player... It's a great pick for us," Raptors head coach Nick Nurse said.
Barnes is now slated to become the latest 'jack-of-all-trades' wing in the team's recent history. Nurse also appreciates the 19-year-old's infectious charisma.
"He really has a magnetic personality," Nurse said. "He has a high-energy type of personality... He is a great communicator and has a passion for winning."
Over the last few weeks, the rumor mill was churning and leaks indicated that the Raptors had been taking a closer look at Barnes.
Jalen Suggs was the assumed choice at No. 4 on countless mock drafts, presenting as the most linear positional fit. Since recent rumblings suggest that Kyle Lowry's departure is almost inevitable, Suggs seemed to be the natural replacement guard with his two-way talent and history of embracing the spotlight in the tensest moments.
Jalen Suggs' all-time game-winner against UCLA called by Gonzaga's IMG radio team of Tom Hudson and Adam Morrison (yes, that Adam Morrison): pic.twitter.com/DBtqdFjenL

— Brian Fonseca (@briannnnf) April 4, 2021
It's tempting to criticize Toronto for choosing to bypass what was seen as the consensus choice, but the organization's confidence in Barnes, coupled with their record for drafting overlooked gems, suggests his game will translate well into the league.
Coach Nurse also cited a "combination of size, length, two-way [ability], possible potential down the road" as qualities that stood out about Barnes in comparison to his peers that were considered.
Again, textbook Raptor stuff.
Toronto entered Thursday's draft with their first top-five pick since selecting Jonas Valančiūnas at No. 5 in 2011. How they fell into possession of the fourth overall pick was a little untraditional. Following a disappointing start to the 2020-21 regular season, Toronto couldn't find footing, continuously struggling with obstacles that disrupted their season. There was their relocation to Tampa Bay, the COVID-19 outbreak that affected the bulk of players and coaches, and a series of unfortunate injuries sidelining a host of contributors.
Eventually, the team realized their year was unsalvageable, and the final month or so of Raptors basketball consisted of Stanley-Johnson-and-Yuta-Watanabe-led starting lineups — a complete shell of the dominant rotation we witnessed just a season before.
The Raptors were presented with a unique opportunity to go all-in with the tank. It's safe to say the team's end-of-season performance didn't accurately depict their ceiling or talent-level. The opportunity to land a top-five pick and welcome a special young talent into the fold — hopefully in the comfort of Scotiabank Arena, before the team's ravenous fans — was too good to pass up. Consider it a reset of sorts, to reinvigorate an organization that was going through the motions after repeatedly drawing the shortest end of the stick.
In a recent piece for BasketballNews.com, we discussed the layers involved in drafting for the "best fit" vs. selecting the "best player available" and the approaches that teams use in what could be a franchise-altering night. A major component of each team's approach is intel, as our Matt Babcock noted. The word in scouting circles was that Barnes impressed at his workouts with the Raptors. And considering Toronto's thinness at the forward spot, it isn't shocking that they went with Barnes. The Florida State product is eager to improve under the supervision of Toronto's respected player-development staff.
"If they feel like they need to fix something, I'm willing to work with them," Barnes told reporters shortly after being drafted. "I'm willing to do whatever it takes to be the best player I can be."
With all of the boxes Barnes checks, a shot that needs work is probably a drop in the bucket to the Raptors, who have polished multiple players into serviceable (and even top-percentile) shooters over the last half-decade. Rookies are rarely ever finished products, and there seems to be enough upside in Barnes to make the risk worthwhile for the franchise.
Amidst the talk of whether the front office made the correct decision, Barnes doesn't hold a shred of doubt regarding his fate in the NBA.
"I feel I can be the greatest player in the league," he said.
This jolt of confidence and joy might be exactly what Toronto needs after a season they're likely trying to forget.