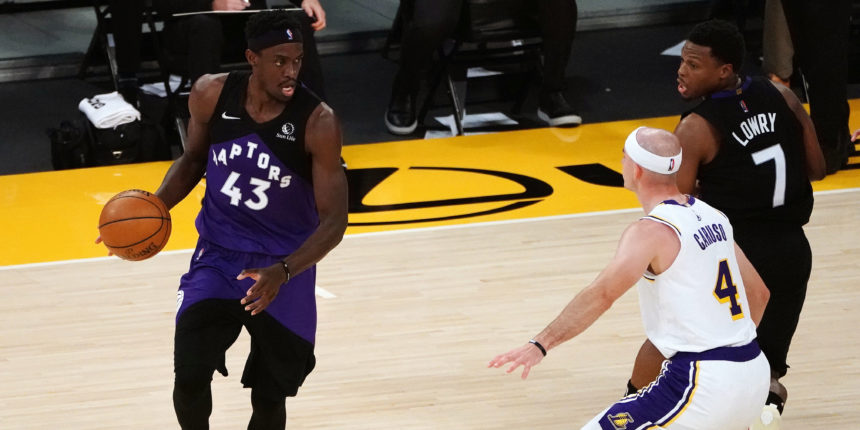 To tank, or not to tank? Analyzing the Raptors' present and future
To tank or not to tank, that is the question that every team will have to face at one point or another.
That's not to say there aren't many routes to contention in the NBA; the Eastern Conference's top-three teams are proof of that.
The Philadelphia 76ers -- the poster boy for tanking -- bottomed out for four-straight years, resulting in a quartet of top-three picks, including back-to-back No. 1 overall picks in 2016 and 2017.
The Brooklyn Nets made 2020 free-agency splashes, signing superstars Kevin Durant and Kyrie Irving to a combined $305 million over four years (and then traded for James Harden).
The Milwaukee Bucks got lucky to draft centerpiece Giannis Antetokounmpo with the 15th overall pick in 2013, and then, through various trades over the years, acquired Khris Middleton and Jrue Holiday.
Now, only a year removed from owning the league's second-best record and two years removed from winning the Larry O'Brien trophy -- and currently on the outside looking in at the play-in tournament -- the Raptors are asking themselves: to tank, or not to tank?
It's a question that Masai Ujiri has been fortunate enough to evade since arriving in Toronto in 2013, when, fortuitously, a Rudy Gay trade to the Sacramento Kings sparked the greatest era in Raptors history. An era that was capped with a championship.
Two years later, five of the eight core championship players are on new teams, including three of the starting five. Fans hope that this season is an anomaly and that the team's bad fortune is a result of lady luck being held by customs at the border. With the roster undergoing so much turnover, the front office is left having to assess the current roster and future of this team.
Even with the NBA changing the lottery odds, tanking remains the most efficient way for a majority of teams to obtain and develop elite young talent -- something the Raptors haven't been able to do since James Dolan goofed into trading for Andrea Bargnani.
But what does it mean to tank? And have the Raptors done a good enough job of it?
In Hamlet's most famous soliloquy, written by Shakespeare, Hamlet asks:
"To be, or not to be? That is the question—
Whether 'tis nobler in the mind to suffer
The slings and arrows of outrageous fortune,
Or to take arms against a sea of troubles,
And, by opposing, end them?"
Asking if it's better to suffer through your bad luck, or to push back against it -- and in his case… die. But in a less-grim Raptors scenario, shut down the real season and actively tank. So, have the Raptors tanked?
Tanking is often reduced to losing as many games as possible to ensure the highest odds at the draft. Have the Raptors done a good job of that? If we're keeping to Hamlet's extreme binary, most would argue not only have they not tanked, they haven't not tanked either. Which is correct, in the most immediate short-term view of the season.
But what if we took a step back and shifted our focus? What if we changed the lens with which we view the Raptors' decisions from the short term to a long-term view? Instead of prioritizing losses above all else, development becomes the main priority, with losses added as a bonus. The outcome of games matters less than the journey it took to get there. With our new adjusted lens, let's take a look at the back half of the Raptors' season to see how they've fared.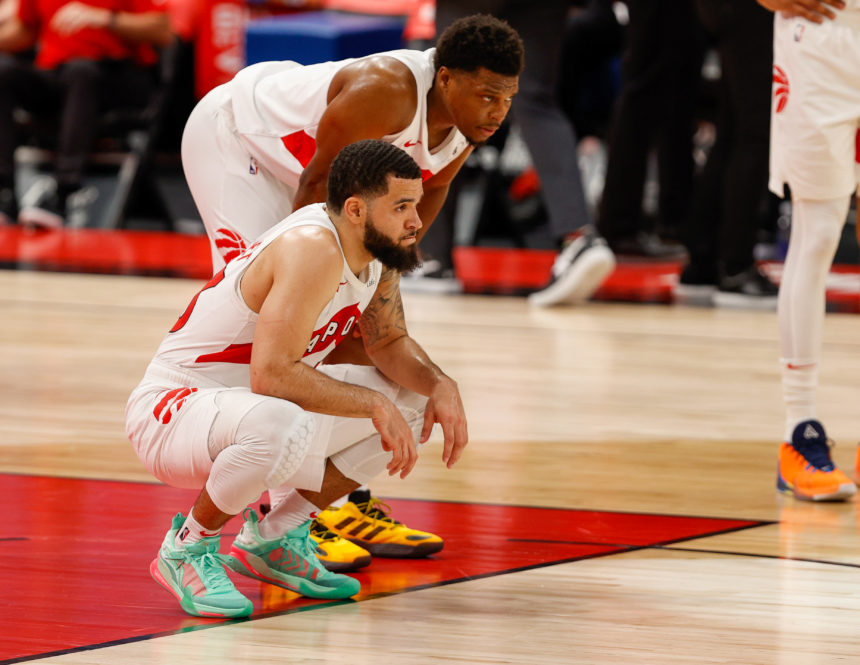 Keeping Kyle Lowry at the Deadline
There has been a good deal of criticism levied at the Raptors for holding onto Kyle Lowry. If your plan is to tank, why hold onto your 35-year-old, All-Star-caliber veteran point guard who's on an expiring deal?
Although the question is fair, as William Lou of Yahoo Sports' Canada points out, the answer isn't so cut and dry. The Raptors are 3-6 with Lowry since the trade deadline, and 6-9 in the 15 games without him.
While Lowry is a free agent, and the Raptors risk losing him for zilch in the offseason, they can also offer him the most money and still include him in sign-and-trades this summer.
With our adjusted focus on the long-term success of the team, holding on to the greatest Raptor in franchise history instead of trading him for a pu-pu platter at the deadline feels like a no-brainer. You haven't closed your opportunities to trade him in the summer, you have him to help the development of your young guys, you've put yourself in a prime position to retain him should he want to stay and (as an added bonus in the short term), he isn't winning you many games.
Pascal Siakam's Extended Minutes
Since the trade deadline, Pascal Siakam is averaging 36.8 minutes per game, tied with Harrison Barnes for third-most in the league. If the goal is to tank, why play your star extended minutes?
Focusing solely on the short-term goal of losing as many games as possible, playing Siakam nearly 37 minutes a night makes little sense. Shifting your focus to a long-term view, we'll see that wins and losses for a marginal chance at a higher pick matter a lot less than your 27-year-old's continued development. In the last 10 games, Pascal Siakam is averaging 23.9 points, 7.4 rebounds and 3.6 assists on 46/35/74 splits.
The Raptors have managed to find a way to tank but not at the expense of developing their core guys. As the season has progressed, we've seen Siakam finally return to the player he was prior to the league shutting down over one year ago. He's taken on a higher usage rate without the same major dips in efficiency. He's been more aggressive, more decisive and, in the last five games, averaging over 28 points, 7 rebounds and 4 assists.
Winning Too Much
The Raptors have won nine games since the trade deadline. Many on the #Fade4Cade train contend that that's far too many wins. And even with the short-term lens on, it's hard to see this argument.
Bringing us back to the great Will Lou, of the Raptors' nine wins, five were to tanking teams. Those wins include: The Stephen Curry-less Golden State Warriors, who Toronto beat by over 50 points (protect the net rating at all costs), the Cleveland Cavaliers twice, the Orlando Magic and the Oklahoma City Thunder.
Outside of the win-by-accident games, the Raptors defeated the San Antonio Spurs in a game that saw Yuta Watanabe, Khem Birch, Malachi Flynn and Chris Boucher all finish in double digits. They took down the Washington Wizards, thanks to a game-winner by newbie Gary Trent Jr. They upset the Brooklyn Nets, which saw Siakam and OG Anunoby combine for 52 points on 18-for-33 shooting, and won over the L.A. Lakers, as Lowry and Siakam combined for 76 points on 27-for-46 shooting. In all of these victories, the Raptors were missing core players and allowing a rookie to play extended minutes in competitive games.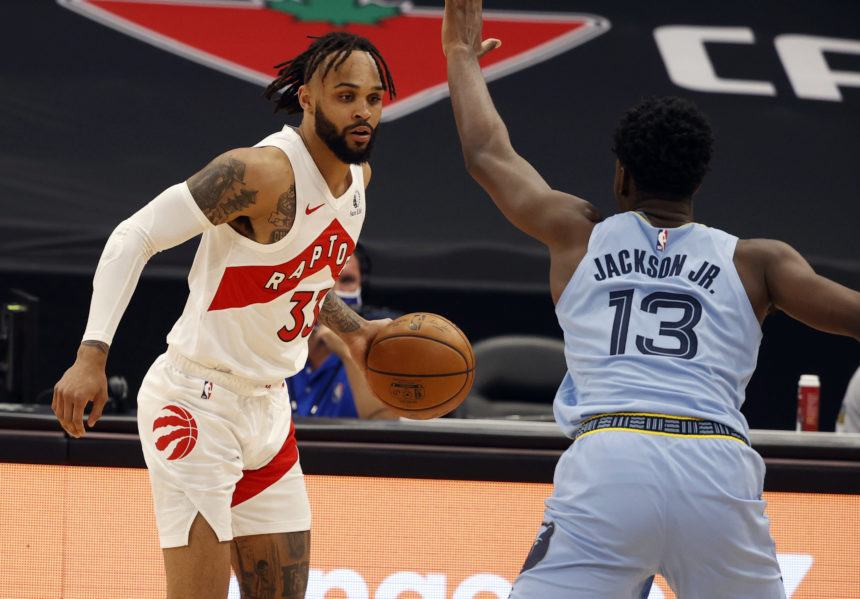 Since the deadline, the only Raptors to have played one-third of the available minutes have been players with contracts that go beyond next year or guys expected to stay (Gary Trent Jr., Khem Birch and Yuta Watanabe).
Realigning our perspective to a long-term view, we wipe away any anger over losses and recognize that outside of the Tankathon wins, the Raptors won games by relying on their bench depth and young guys to carry a large offensive load. You never waste an opportunity to develop your young talent for a 1-to-2% chance at a more favorable position in the lottery.
And even if you're stubborn in your belief that they have won too much over their last 20 games, the Magic (who own the next-best odds) are 5.5 games back from Toronto. No matter how hard the Raptors pivot toward the bottom of the standings, they were never going to be bad enough to catch Orlando, let alone the other tankers. (The Magic are so deep in the tank, they literally gifted Birch to The North, who is now the Raptors' potential future Hall-of-Fame starting center).
There are a multitude of routes to building a contender. There are also several forms of tanking, and the Raptors have selected one that's far less harsh than the #TrustTheProcess Sixers of yesteryear. And that's because a one-year tank, with a 33% chance at a top-five prospect, isn't going to catapult this team back into contention.
If the goal of this year was to tank to come back next season and once again contend, the Raptors have successfully done that with a promising team of young players to support their core -- with or without Kyle Lowry next season. Going into the year, the Raptors had no bigs and no bench. Since the trade deadline, the Raptors have acquired Birch and Freddie Gillespie, providing them ample opportunity to grow and develop for the future. In addition, the Raptors went younger, trading Norman Powell to the Portland Trail Blazers for Trent. And most importantly, the organization has continued to develop Flynn, Watanabe, Jalen Harris and Paul Watson Jr. while simultaneously distributing big minutes to Anunoby and Boucher to grow into bigger roles.
Tanking for a lottery pick is only one piece of the puzzle for team development, and the Raptors have placed themselves in prime position to acquire a lottery pick and focused their attention on development of their young, long-term prospects at the same time.
Doing that at the expense of playing your veterans is a minor form of tanking that should aid the Raptors in a major way.