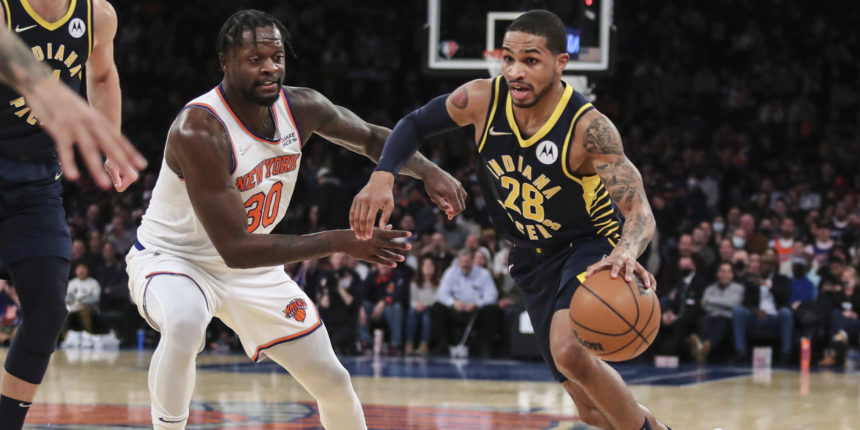 This season, we're seeing the teams that trust their G League program
I still remember when I got the call that I'd been traded from New Orleans to Indiana. It was the third time I was traded in my career, and by this point, I was going on 34 years old. I didn't want to leave my guys Chris Paul and David West, but you gotta do what you gotta do.
The silver lining for me was that I was heading to Indiana to join a team with a nice group of young players, including Danny Granger, Roy Hibbert and two rookies named Paul George and Lance Stephenson.
So it made me really happy to see that Lance not only got another shot with Indiana this season, but that he's made the most of it. Last week, Lance dropped 30 on the Nets, and even scored 20 straight points in the game's first quarter. I was so happy for him, just like I was happy for guys like Joe Johnson, Isaiah Thomas and Greg Monroe, to name a few.
G League guys get "called up," but some veteran players were fortunate to get called back. It's hard to come back to the league after you've spent a year or two away, but this season, a lot of guys have made it look really easy. They deserve props.
Everyone who loves the NBA owes the guys who are coming in and playing on these 10-day contracts, because the season would have probably been suspended already if it wasn't for them.
But what the whole situation has revealed, to me, is that there are some teams that have faith in their developmental programs, and some that don't.
When I was coaching in the G League, we approached the situation with our players on the Canton Charge as if we were developing them and preparing them to get called up to play for the Cleveland Cavaliers one day. The G League is the NBA's farm system, and it's supposed to be used as the training ground for the league. Even I am an example of that — I spent a year with Canton before I was promoted to an assistant coach for the Cavs.
In theory, the same thing is supposed to happen with the G League players.
Like I said, I am happy for guys like Lance, Joe and Isaiah. Someone like Jamal Crawford should still be in the league right now.
But when a team goes out and signs a guy who's been out of the league to a 10-day contract, it does make you wonder a bit.
A guy coming in on a 10-day isn't coming to the team with an understanding of the team's offensive system, the team's coaching staff or any of his teammates' tendencies. For the most part, he's being signed as an insurance policy to be available to play a few minutes and to play off of muscle memory. In most situations, he probably isn't going to be incorporated very much into the team's long-term plans.
G League call-ups, on the other hand, should already be familiar with the culture of the organization and the system that his team is running. So if a team has players out with COVID (or for whatever reason) and it finds itself in a pinch, the G League should be the first place to turn to. In some cases, you can look at some of the teams that do things the right way, and see the rewards they get from taking player development seriously.
Look at Miami, for example.
When I was in the NBA, even before there was a G League, Pat Riley and the Heat had a reputation for finding guys with potential and turning them into ballers. I think about guys like Voshon Leonard, Caron Butler, Udonis Haslem and D-Wade, as well as some of the younger guys like Mario Chalmers, Bam Adebayo and Tyler Herro.
This season, Omer Yurtseven's name is starting to ring out. Look him up.
Omer Yurtseven now has 10 straight games with 12+ rebounds.

That is a new 𝙈𝙞𝙖𝙢𝙞 𝙃𝙚𝙖𝙩 𝙧𝙚𝙘𝙤𝙧𝙙 breaking Hassan Whiteside's previous streak of 9.

Yurtseven is only the 3rd rookie ever to accomplish this feat. Blake Griffin was most recent.@MiamiHEAT | #HEATCulture pic.twitter.com/wjLjK9yj0z

— Bally Sports Sun: HEAT (@BallyHEAT) January 6, 2022
He might not ever be an All-Star or anything like that, but he's just another example of a player that Miami got its hands on and prepared for the big leagues. They've had guys in and out the lineup all season, and have had to rely on some of their end-of-bench guys and replacement players — and they really haven't skipped a beat.
That's a developmental culture.
Already this season, there have been over 100 G League call-ups, and what I'm really paying attention to is the amount of guys who get called up by the team that their G League team is affiliated with. That kind of continuity, in my opinion, should be the goal. If every team strives to treat its G League affiliate like a true farm system, it will help to advance the game and could continue to help make the G League a more viable alternative for players who might not be good enough to play in the NBA as soon as they're eligible.
While on the subject, I will show some love to the Magic, who have called up five players so far this season, four of them from their affiliate in Lakeland. The Thunder have called up four of their own guys from the Blue; meanwhile, the Lakers (South Bay), Pistons (Motor City Cruise) and Sixers (Delaware Blue Coats) have gotten good mileage out of their G League programs too.
Of all years, if you can't find use for your G League affiliate this season, why bother having a G League affiliate at all? That's the way I see it.
At the end of the day, the NBA is a fraternity. I have a lot of brothers still playing in the league and others who are blessed to be coaching or otherwise working for teams. I'm rooting for everyone to succeed, and hope that the league is able to continue to thrive and bring us exciting basketball, in spite of COVID.
I just couldn't help but to think about all the G League players who are hoping to find their own opportunity and get their 15 minutes of fame.
Some guys literally work their entire lives for that one moment, and I hope as many as possible continue to get them this season.
In the long run, the game and the G League itself will both be better off for it.