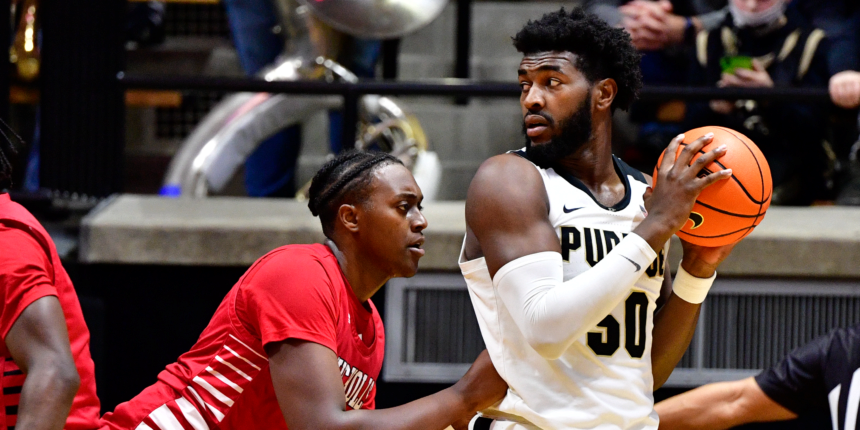 Outside of the box: Purdue's Trevion Williams has an enticing nature
Off to one of their hottest starts in school history, including their first No. 1 ranking in the AP Top 25, the Purdue Boilermakers have been scintillating up to the halfway point of the NCAA season. Jaden Ivey's ascendance as a premier draft prospect has headlined much of Purdue's success, and Zach Edey's dominant play has also turned heads routinely.
Purdue has the top-rated offense in the country — and one of the most dynamic in recent memory — in no small part due to the star duo. However, the play of senior big man Trevion Williams is seemingly lost in the sauce at times when discussing the Boilermakers.
Oft serving as a second-unit creator and change-of-pace option for the offense, Williams elevates the team from good to great with his versatility and impact. Three assists per game undersells the playmaking ability of Williams, who I would consider not just the best passer on his own team, but among the upper echelon of passers in Division I basketball.
(This is one of the most insane passes I've seen at any level of basketball this past year)
The velocity that Williams is able to put on the ball is remarkable. Precise passing with a purpose matters! Trevion is excellent with delivery, often utilizing one-handed whip passes as he palms the ball, both shielding himself from having the ball knocked loose, and also keeping himself free to escape dribble (more on that later).
One of the main knocks/drawbacks that's brought up with Trevion is where his playmaking comes from, primarily out of the post. While I do understand that concern to a degree, there's a tendency to really miss the forest through the trees when looking at where the playmaking is coming from and misdiagnosing its purpose. Yes, Trevion Williams operates out of the post quite often, but rarely is it for the purpose of pounding the ball and clogging the lane. It's quite the opposite!
Look at how he's able to manipulate the defense with ball fakes and his eyes. Again, he's not just a good passer, he's an extraordinary passer. A lot of good passers are ones who react to what the defense gives them; great passers can manufacture their own looks.
Williams utilizes his frame and gravity as a scorer on the block to draw double teams with regularity and force the defense into rotation. Coupled with his incredibly quick decision-making and expert ball delivery, the defense is in motion at Williams' will. Five-out spacing is fantastic with the right personnel, but running 4-out, 1-in sets can generate equal and at times better spacing. Spacing and gravity is earned by the offense, not inherently given. How your offense is defended is dictated in a consistent game of tug of war between both sides, with the defense ever-determining and gauging what can be allowed or used as to better extrapolate positive results. Spacing a center who is a shaky shooter will not be rewarded!
Calling Trevion a shaky shooter would be incorrect; he is a non-shooter at this stage, having taken 22 threes in his career and only seven jumpers outside the paint this season according to InStat. He is a relatively poor, but not awful free-throw shooter as well (59% this season) — something he'll undoubtedly need to work on in the league. (He has improved each of the past three years.)
So while Trevion can't really shoot and doesn't shoot, I don't think that matters in the way that it may be painted. As noted above, quickness in his decision-making is huge, as he is an elite processor of the game. He sees things unfold quickly, constantly scans the floors and maneuvers himself incredibly well in space to shift the defense or find better angles.
Williams has an elite handle for his size that allows him to toy with the margins, bending the defense almost because they allow him to, if that makes sense. By inherently acting like he doesn't have gravity, and having the ability to manipulate that, he does have gravity. In each of the sets in the clip above, you can see Trevion afforded space; a quick dribble into it, the defense adjusts, and Williams has a new set of angles along with great motion from his teammates to set up quality offense.
If the cuts aren't there or don't open up angles, Trevion has really superb finishing craft. Despite poor shooting touch at the line and from deep, he has a wide array of push shots and floaters that he utilizes to punish defenses with the space afforded to him inside the arc (he's shooting 50.9% on floaters and hook shots this season per InStat).
It's fair to question how he may fair at the rim against NBA length and opposition, as he's not a great leaper. He has struggled a bit with sizable/lengthy frontcourts when around the rim, but his physicality and ability to draw fouls (currently a higher free-throw rate than Jaden Ivey) have me fairly confident that he'll be able to buoy struggles that he may face on the interior along with his touch in the paint.
Defensively, Williams has impressed from a prospect evaluation standpoint. He's not a traditional primary rim protecting 5-man, but he has remarkably quick feet and slides well laterally for his size.
Williams is very effective showing at the level and recovering or playing centerfield. He has really active hands and can blow up plays routinely before the ball-handler penetrates the paint. He's restricted as a leaper off his backfoot, but can makes good plays with his length at and around the rim when crowding shooters or drivers and is a solid weakside shot-blocker. Williams has versatility as a defender in spite of limitations.
Our Sr. NBA Draft Analyst Matt Babcock shared how Williams' weight loss has helped him move more fluidly:
"When I first saw Trevion Williams play at a USA Basketball Minicamp after his freshman season, he was 280 pounds and primarily a low-post scorer. As a result, I questioned whether his game would translate well to the modern NBA. Since then, he has lost 25 pounds, making him significantly more mobile, a crucial part of his development."
The recent spark in coverage versatility at the NBA level this year makes me extremely excited about the prospects of Trevion at the next level. Less of an adherence to former pro norms has opened the door for more inventive forms of production.
While they are not one in the same, I view last year's version of Thaddeus Young as a very clear comparison for Williams and his NBA potential. He likely doesn't have the ceiling of an upside star swing, but again: see the forest through the trees! An organization would have to be willing to adapt its bench lineups to playing around Trevion, but why is that a bad thing? Bench lineups in the NBA, especially when top-usage players sit, can lack structure and creation. I really think there's viability moving forward in buying into bench players (not to box them in, they can certainly be more, but to begin with; bench), especially ones with high feel and utility as playmakers.
The Boilermakers rarely run pick-and-roll, one of my few drawbacks with their team in regards to evaluating their prospects; however, that's part of the intrigue! We really haven't seen what Trevion could do as a short-roll passer. He excels as a dribble handoff partner and is a dynamic screener with excellent hip fluidity that allows him to flip screens and rescreen to really open up teammates he screens for, another sly marginal aspect of creation. Considering how much teams run pick-and-roll in the league, Trevion has definite impact there, and his court vision, scoring prowess on the interior and decision-making all lend credence to ability to create off the roll.
While teams looking to develop a youthful roster may find it more fundamental to tinker with bench lineups and find ways to develop on the fringe, Williams could perhaps offer another way to develop on the fringe for teams that aren't lottery-bound. He certainly is not the norm among draft prospects, but that's kind of the point. He exceeds in many areas to an extent that matters enough to adapt philosophy, or even rethink it.
Regardless of where he does or doesn't go in the 2022 NBA Draft, Trevion Williams is an incredibly exciting, enticing and fun player. Don't be too shocked if a smart team thinks outside the box and takes a shot on him, and he shows his mettle at the next level.
Williams is currently ranked 40th on the BasketballNews.com 2022 NBA Draft Board.