There are a lot of questions surrounding the upcoming 2020 NBA Draft class. There are several talented players at the top of the draft (although they come with some uncertainties) and then there is believed to be a significant drop-off in terms of franchise-changing talent. That leaves the field wide open for somebody to stand out and drastically rise up draft boards.
With a wide range of experience at the professional and collegiate levels, Georgetown center Omer Yurtseven feels strongly that he will be the one to help his stock and surprise people.
"I think having pro experience gives me a unique perspective of the game and an edge, I guess, over all the other guys from out of state and [who played] college for a year," Yurtseven told BasketballNews.com. "And some guys couldn't even play college [for a] full year, so you can call them high-schoolers and they haven't played in the pro game.
"I think me having that background, having played against even NBA teams -- really, I've played a total of four games against them -- I think it gives me that perspective and that knowledge to be malleable, to have that high basketball IQ, to learn, to fit in any system and to absorb whatever the coach is trying to implement. I think that's going to be the most important thing, especially for any rookie coming in. That's something that I'm proud of."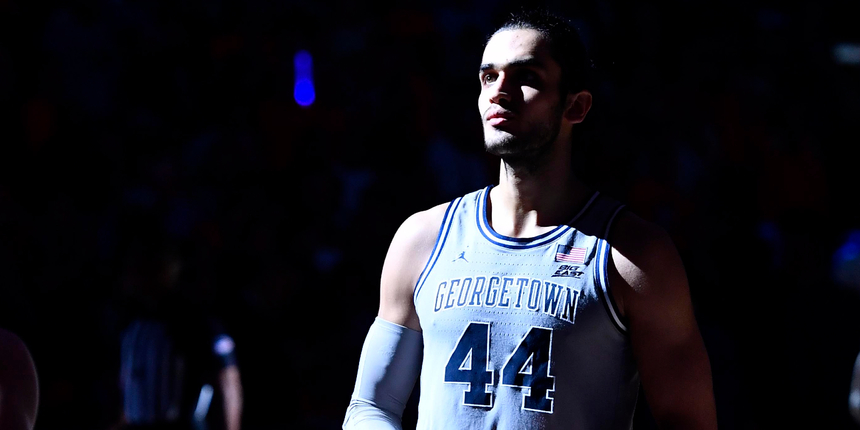 ***
Yurtseven will never forget his first taste of NBA action.
He was a 15-year-old in his first season with the professional club Fenerbahce. It was Oct. 5, 2013, and the NBA Global Games had taken over Istanbul, Turkey. Ülker Sports Arena was packed to see Kevin Durant and the Oklahoma City Thunder take the floor.
"It was such a huge deal because you don't see that very often -- American teams or NBA teams coming over to European cities," Yurtseven recounted. "I remember [Durant]'s crazy dunk; he took off from like a step in front of the free-throw line."
Since he was playing for the junior team at the time, Yurtseven spent the majority of the game against the Thunder on the bench. However, he did get to play in the final two minutes of the contest and simply being on the court with NBA players did wonders for his confidence in the long run.
"Someone was cutting baseline and they bumped into me and they kinda bounced off. I was like, 'Oh, I'm 15 and he just bounced off me. I guess I'm pretty strong!'" Yurtseven said. "And I heard one of the junior team's coaches yelling behind me -- because I recognized his voice -- and he just said, 'Yeah, you go Omer!' It was funny, but also an unforgettable memory."
Exactly two years later, Yurtseven had another opportunity to take on an NBA team. This time, he was a fixture in Fenerbahce's rotation. The Turkish club traveled overseas to New York for a preseason game against the Brooklyn Nets.
He had already been to the city once for the 2014 Jordan Brand Classic, but this special occasion at the Barclays Center was distinctly nerve-racking. The 17-year-old Yurtseven was set to become the youngest player (at the time) to compete in an NBA preseason game. Before the game, he was focused on his nutrition to ensure that he had the proper energy.
Whatever he did worked. In 15 minutes, Yurtseven scored eight points, grabbed seven rebounds and brought it on the defensive end (as head coach Zeljko Obradovic had emphasized), giving the Fenerbahce fans in attendance plenty to cheer about. One particular highlight stuck out for him, though.
"I'll never forget that putback dunk," Yurtseven said. "I rewatched it like 10-15 times."
When Jan Vesely couldn't get a contested scoop layup to go, Yurtseven was there for the emphatic two-hand clean-up. It was a crucial score in a three-point game with just four minutes left, one that Fenerbahce ended up winning, 101-96.
"I would say it motivated me and also gave me the confidence to believe that I can play at this level and make that level my reality," Yurtseven said. "I was a high-school kid then, so it was a huge deal. It was just like... it felt unreal, but also it was really special because nobody would've thought a kid my age would be able to do that out there. And it's the biggest fire or fuel you can ask for.
"Once you're there and you do that, you're like, 'Yeah, I want to get involved with this game.'"
At a celebratory postgame dinner, the Fenerbahce faithful presented him with a polo shirt and chose him as "the man of the day," the cherry on top of a banner day for Yurtseven.
***
Yurtseven spent a total of three seasons under the Fenerbahce umbrella, starting on the junior team and ultimately rising to Obradovic's primary club. You might remember his viral 91-point, 28-rebound performance in a U-18 Turkish League game; the main reason why he was playing down a tier was because his tenure with the senior team came to a messy end.
Much to the chagrin of Obradovic, and at the conclusion of Fenerbahce's 2015-16 season, the five-star center decided to come to the United States and play college basketball at NC State.
Education was his top priority and being in the U.S. for that "added a layer of value." Yurtseven wanted to achieve his parents' dream of their son earning a college degree. NC State was a top-20 school in engineering and he wanted to somewhat mirror his father's path (since he graduated with a degree in civil engineering at a Turkish college). Yurtseven majored in computer science, spending 10 hours on projects per week.
Playing time was important as well. Yurtseven never eclipsed 12 minutes per game with Fenerbahce's big club, so getting the opportunity to play for a power-five school alongside a fellow five-star freshman in Dennis Smith Jr. could only help in showcasing his abilities.
But there was a problem. Similar to Enes Kanter at Kentucky in 2011, Yurtseven ran into eligibility issues due to his affiliation with Fenerbahce. Kanter was ruled completely ineligible that year for making money with the club. The NCAA was not nearly as hard on Yurtseven. They ruled that he had earned stipends from the franchise, which resulted in a nine-game suspension and required him to contribute $1,000 to a charity of his choice. He wouldn't play a game for the Wolfpack until Dec. 15, 2016.
Two months after Yurtseven's debut with NC State, the university announced it was parting ways with Mark Gottfried, the coach who recruited him, at the end of the season. Between the violation and the firing, it wasn't the ideal way to start an amateur career.
"It was challenging, I'd say. I faced a couple roadblocks," Yurtseven said. "I had a harder time integrating with the team initially because I couldn't play with them out there on the court and grow with them as they grew into a team. The initial year was full of transitioning and facing adversity."
On top of all that, Yurtseven was trying to learn how to communicate in English, on and off the floor. He remembers how difficult it was to write essays and participate in group discussions in class. It took six-to-seven months to grow comfortable with the cultural and lingual barriers.
"Initially, I was shy and I just didn't want to talk because I would make mistakes if I said the wrong thing," Yurtseven says. "I didn't want do any mistakes in talking to people, so I was just observing. And I think the more comfortable I got around my teammates, around the coaches and everybody else, the more I spoke, the more comfortable I got. The more comfortable I got, the more I spoke."
Yurtseven tested the waters at the 2017 NBA Draft Combine after his freshman season, but came back despite the changes.
Year two went much smoother. Under a new head coach, Kevin Keatts, the Wolfpack flipped the script, put together a 21-11 season and made it to the NCAA Tournament with an at-large bid. Yurtseven noticed Keatts' preference of a guard-oriented system and the tempo that came with it.
Though the Turkish seven-footer was rolling to the rim and getting position in the low post at first, he began to pick-and-pop in the second half of the season and really knock down shots. Once he realized his potential as a modern big, Yurtseven chose to transfer from NC State to Georgetown in Apr. 2018.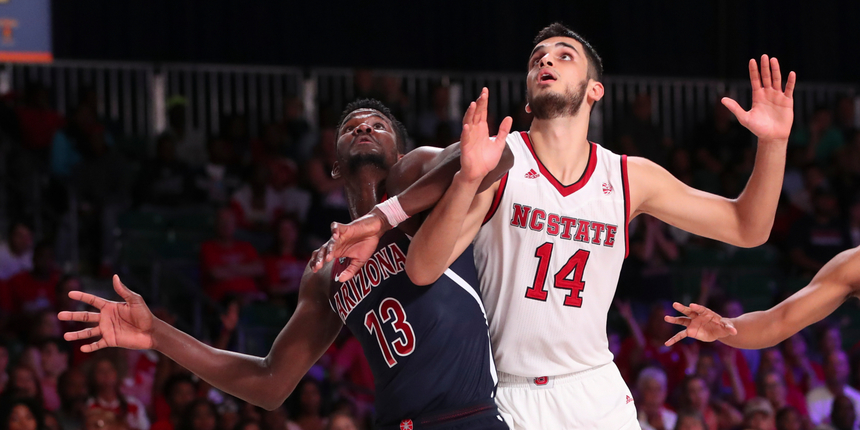 ***
This was an opportunity too perfect to pass up. In his eyes, Georgetown's education was better (he switched his major to psychology), the school was more popular and he had the chance to be mentored by a Hall-of-Famer in Patrick Ewing.
"I saw how Jessie Govan played [the previous season]," Yurtseven said. "I realized that I wanted to shoot the perimeter shot. I wanted to be that three-point shooting big and also dominate down low."
Following a mandatory redshirt year, Yurtseven made his presence felt for the Hoyas right away. In his debut game against Mount St. Mary's, he dropped 20 points on 7-for-9 from the field and pulled down 12 boards.
Yurtseven went on to have five more 20-point game, and all but one were double-double efforts. This included a dominant 32-point, 17-rebound night against Samford. He had scored in the double digits in all but four games.
Having lost four players -- three were kicked out and one transferred -- Yurtseven relays that Ewing asked him to be Georgetown's interior presence, which is why he only attempted 14 threes on the season.
"It was just something needed from me, and I just listened to my coach," Yurtseven said. "I did what he asked me to do. My job was to collapse defenses and put teams in their rotations so that we could find the shooters."
Under Ewing's guidance, Yurtseven posted career-high averages in minutes, points, rebounds and free-throw percentage.
"Ewing was ahead of his time when he played, and I think his determination was... he just wanted perfection -- in practice, in games, in every aspect," Yurtseven said. "He knew the pace that we had to play in order to beat the other teams, and he also knew the pace that it took to make me an NBA player."
On Apr. 27, Yurtseven forewent his final season of eligibility with the Hoyas and declared for the 2020 NBA Draft.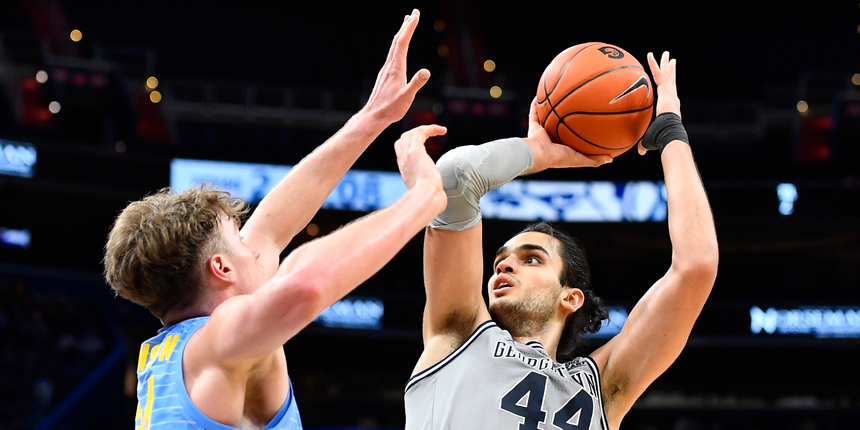 ***
Getting ready for the draft, Yurtseven has taken it upon himself to hit the gym hard. For the past six-and-a-half months, he's been working out 18 times a week -- getting between 6,000-to-10,000 shots up every week with his trainer Ben Bellucci, playing five-on-five and getting in reps with his weight coach. Thursdays are off days for recovery, yet the day is still spent in the gym.
When he's not working out, he's in the film room. Yurtseven studies four players very closely: Jusuf Nurkic, Nikola Jokic, Nikola Vucevic and Brook Lopez. All in all, Yurtseven models his game after all these players in a hybrid fashion, but especially Lopez since he's evolved from an "old-school" center into one who thrives in the modern league.
"Brook Lopez is a great example because he has the size, he has the strength and he has the defensive abilities," Yurtseven said. "His shooting is not just spot-up, either. He's started [to hit] stepback threes and I think I can expect my range similarly and even better, really."
When asked what skill of his will translate to the next level seamlessly, Yurtseven pointed to his mid-post abilities. Once position is established there, he can either back down on the block or take the shot. He's specifically jonesing to show off his mid-range turnaround.
"It's gonna be a great weapon at the next level," Yurtseven said. "It doesn't matter the size, I think if you have the foundation and the fundamental footwork, the turnaround jumper is gonna be special.
"I've been studying a lot of [Carmelo Anthony] too, on the offensive end, especially looking back on his Knicks and Nuggets days. That's the prime era that he had -- the showcase in the mid-post area. Whether it'd be the jabs or turnaround shots, it was clean and he would get any one to work. I think people depend on the nail help a lot, I guess. He just, like, jabbed middle and his shot would be wide open. And I think the first step out of the jab was also super deadly."
One ACC assistant coach told BasketballNews.com that Yurtseven is more of a throwback five in their personal opinion, and the assistant is also unsure whether he can expand his range to the NBA three-point line.
But Yurtseven is determined to do it. Since taking two weeks off after Georgetown's season ended, he's concentrated on perimeter shooting. In April, he was shooting around 40 to 50 percent. With each month, he began hitting more and more threes. Now, he's cashing in on 75-to-80 percent of his threes in his workouts.
"I'm feeling pretty confident, especially on the pick-and-pop and spot-up threes," Yurtseven said. "Whether it be the trailer, pop into the slot or the wing, I've worked on it. My percentages are way higher right now."
Defensively, Yurtseven is working on his lateral quickness and pace to guard one-through-five. While defending bigger frontcourt players isn't an issue, he admits that his biggest troubles were with guards in college, so the pickup games he's been a part of have featured agile, smaller players to help improve that.
"Being able to keep up with them and their footwork and their footspeed has been paying off," he said. "I've played ones, twos, threes, whatever it is. Making sure I get the reps in has been making my footspeed faster.
"A lot of NBA teams play switch defense primarily right now; that's at least what I saw. The Bucks kinda play a different defense when Brook Lopez is in. They play drop defense, and Lopez just has to keep the guy in front of him and keep his hands in the passing lanes. That's another skill, but I've already done that and I think I'm really good at it. The next step for me is being able to guard one-through-three, in order to switch onto the guards, because that's where the bigs are evolving into right now -- outside shooters and perimeter defenders."
***
In recent years, Yurtseven has kept in contact with his friend and former teammate, Ekpe Udoh, for occasional tips and tricks of the trade. Udoh's bounced back-and-forth between the NBA and international play in the pros, so he's a great person to share advice. Former Utah Jazz man and fellow countryman, Mehmet Okur, has been in Yurtseven's ear as well.
However, with Bellucci, he's really been carving out his own path during this pre-draft process. Yurtseven is taking things day-by-day. He's using the lessons from each coach he's had and applying them to his maturing game: Obradovic's ideology of seeing and realizing the weaknesses of defenses and reading angles; Gottfried's introduction of a UCLA offense; Keatts' teachings of the foundations and fundamentals of a big man's job; Ewing's emphasis on pace.
"I think the different playing styles taught me different perspectives of the game," Yurtseven said. "I think they've all helped me. I think the [training] team that I have around me has been the biggest blessing that I have."
With the draft less than two months away on Nov. 18, Yurtseven truly doesn't have an inkling on where he'll land, despite the fact that he's interviewed with several teams already -- the Atlanta Hawks, Milwaukee Bucks, Philadelphia 76ers, Sacramento Kings, Minnesota Timberwolves, Houston Rockets, Cleveland Cavaliers, Golden State Warriors and Memphis Grizzlies.
"I think my biggest expectation right now is to find the right fit," Yurtseven said. "A lot of guys in the top five are not able to hold on after their first contract. They're out after their second or third year. So, I think the biggest thing for me is being able to get in and stay and be your role player, be a starter. Those are the little goals that I have, and I think that I can earn that spot. I think I have the hard work and the will that it takes."
Though you may not see his name on certain mock drafts, Yurtseven is anything but skeptical.
"I think I'm more prepared than anybody else, and I've been blessed too, really," he said. "I think I'm more ready than anybody else. I think that's the only thing that I can control right now, that's what I've been controlling and that's what I think is gonna pay off at the end of the day."