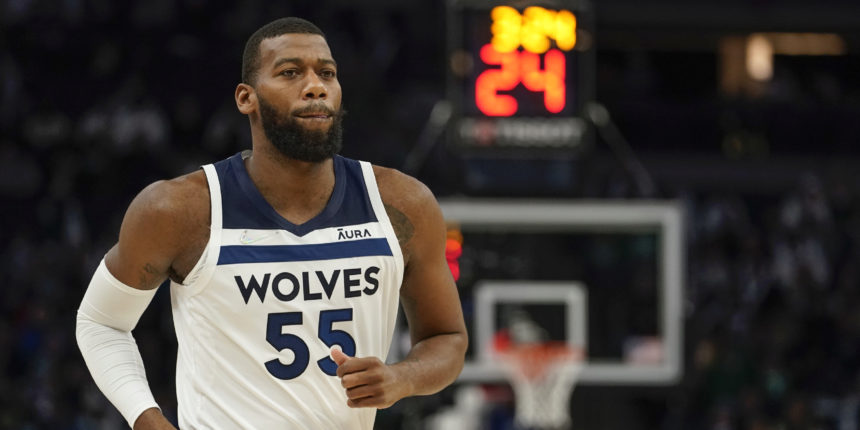 NBA teams need to show more respect to veterans, and we're seeing why
Are we absolutely sure that Greg Monroe should've been out of the league prior to Monday night?
May 12, 2019 is the last time we saw Monroe in an NBA game, when he logged fewer than two minutes of play in the Philadelphia 76ers' Game 7 loss to the Toronto Raptors in the Eastern Conference Finals. And while he only logged 9.0 minutes per contest in Philly's 12-game playoff run that spring, he had just been signed on April 4, and played three regular-season games to end the season. (He played pretty well, too.)
But despite averaging 13.2 points, 8.3 rebounds, and 2.1 assists on 51.4% shooting from 2010 to 2019 in 632 career NBA games, Monroe found himself out of the league for over two-and-a-half years until the Minnesota Timberwolves signed him this week. And fresh off the flight, he put up an 11-9-6-2-1 line against his former Boston Celtics.
The vet hasn't lost a step! Greg Monroe went for 11 points, 9 rebounds, and 6 assists in his @Timberwolves debut. This was his first game in the NBA since 2019. 👏 #NBACallUp pic.twitter.com/XAiJh53Tw7

— NBA G League (@nbagleague) December 28, 2021
Monroe, by the way, doesn't turn 32 until June, and when we last saw him, he was one month away from turning 29.
On opening night, the average age of an NBA roster for 2021-22 was 26.1. Though the number precedes what we've seen regarding roster reshuffling due to COVID and injuries, the 26.1 median age is the youngest the league has been this century. It's also roughly where we've been for at least a few seasons.
Ten seasons ago, the average age was 26.7. In 2001-02, we were at 27.4, with five teams hovering around 30 years old on average and only two leveling at 25 or under. Entering the new millennium, the average was up at 27.8.
Over the last several years, we've also experienced a boom in undrafted talent making NBA rosters. Many four-year college players are entering the league between the ages of 22 and 24, occasionally older, which — along with the continual record amount of one-and-dones — contributes to what generally is a less-experienced league than what we've seen previously.
Think about this: You already can't have a "Greatest Undrafted NBA Player of All-Time" discussion without mentioning Fred VanVleet. And he's one of the many reasons NBA teams keep trying to find those possible diamonds in the rough instead of signing a 30-year-old veteran who's been around. The VanVleet revelation doesn't happen often, and he's also a Toronto Raptor; they don't exactly suck at development. Nevermind that a VanVleet or a Wesley Matthews is rare; if the Sacramento Kings had scooped up Gabe Vincent in 2019, he might be guarding Shane Larkin in the EuroLeague right now instead of Tyrese Maxey or... *checks Dec. 26 notes* ... Hassani Gravett.
It's something that magnifies an even larger societal complication — eliminating much of the middle class in any profession. We're increasingly watching decision-makers seek to hire fewer advanced and/or experienced employees in favor of entry-level labor, or shapeshifting transactions with those of the one percent with little in-between. It has long been reported on, and the gap is continually increasing. The NBA, as a business, isn't much different. Look up your favorite team and see how many guys are on minimum deals or minimum-adjacent (think rookie-wage scale) contracts.
No one with Monroe's career production and resume should've been out of the whole-ass league by age-29. It's not to say he should've been on a contender's starting five, or even in a playoff rotation, but out of the NBA entirely? Forced to play (and play well, by the way) elsewhere? In his case, he had been productive in the EuroLeague since leaving the NBA.
(As an aside: In Europe, it's harder to score, rotations are deeper and you don't play as much, so numbers will be lower. Look at Luka Dončić's MVP 2017-18 season or Liga ACB champion FC Barcelona's 2020-21 stats for example.)
Jeremy Lin ranted about this last season where, after averaging 19.8 points and 6.4 assists on 51/43/88 splits in the G League during a shortened season, he was the only top-10 G League scorer to not earn an NBA 10-day contract last season. The players who did include Henry Ellenson, 24, Justin Harper, 23 at the time, Tyler Cook, 23, Oshae Brissett, 22, and Ignas Brazdeikis, 22.
Lin, 32 then, 33 now, never received an offer, he said.
May 18, 2021
COVID accelerated and exposed much of the nationwide economic imbalance, but a deep dive on that is for another discussion. (Etan Thomas, if you're reading this...)
One of the only good things to come from this particular COVID surge is the temporary revitalization of some NBA careers. It includes James Ennis, Lance Stephenson, Joe Johnson, Langston Galloway and Monroe, along with Alfonzo McKinnie (Mexico's own … kinda!), who is the first 10-day to full-timer this season.
In more recent days, we've seen Al-Farouq Aminu, Brandon Knight and Darren Collison get deals, too. But plenty of the guys we're seeing get these calls probably should've been in the league longer than they were over some of the undrafted guys who probably aren't true NBA players. Even if they don't play much, the locker room presence and leadership, if you find the right veteran, is priceless.
But hey, it saves a billionaire money to go entry-level instead, and I'm over hear bitching about it on the internet during the holiday week while trying to recover Dr. Dre's phone in the new GTA V: The Contract, so what do I know?