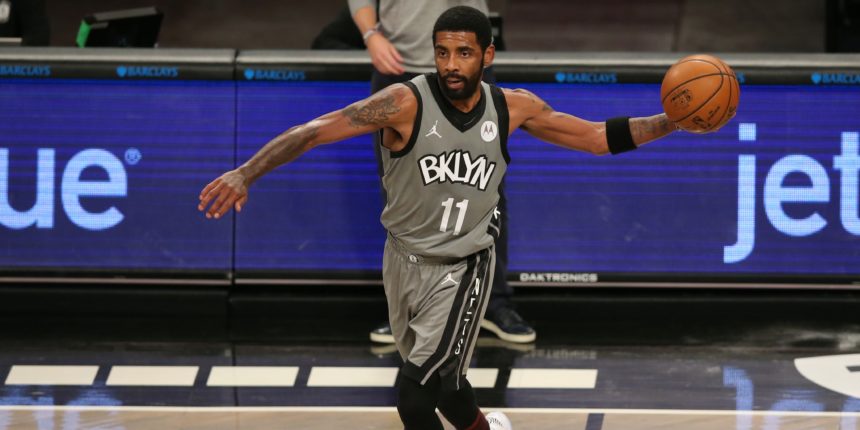 The hourglass is beginning to run out on Kyrie Irving
Kyrie Irving's COVID-19 vaccination status has been the most notable storyline in the NBA world since the news dropped a few weeks ago, even one that's taken away some of the national limelight from the ongoing Ben Simmons saga in Philadelphia.
Ineligible to play home games at the Barclays Center without proof of vaccination due to a New York City mandate, Irving was already facing an uphill battle to somehow making a part-time player status work.
For a player of Irving's caliber, it simply was never going to happen. Earlier this week, the Brooklyn Nets announced that Irving will not be allowed to play or practice with the team until he's vaccinated.
Although Irving says he is standing up for those who have lost their jobs recently due to vaccine mandates nationwide, he's becoming an unwanted distraction for another organization — and it's not the first time.
During the Cleveland Cavaliers' run to the 2016 NBA Finals, Irving's frustrations behind the scenes were so bad that he refused to speak to teammates outside of game situations. Ultimately, he forced his way out via trade, eventually landing with the Boston Celtics; Irving once again ruffled feathers internally in his second stop. His fit within the Celtics' locker room was shaky, unable to showcase true leadership ability for a young core who showed immense promise even when he wasn't on the court. Following a rollercoaster stint, Boston and Irving eventually decided it was best to mutually part ways after his contract expired, which led him to signing a max deal with the Nets in the summer of 2019.
Even though he convinced his good friend Kevin Durant to leave a best-case scenario situation that same offseason— one in which he could've racked up championships for years to come with the Golden State Warriors — Irving is still not displaying the necessary leadership traits required to be a star in today's NBA.
(Irving only appeared in 20 games for Brooklyn in 2019-20; with the team essentially out of contention, he did not play in the Orlando Bubble. Recovering from an Achilles injury, KD didn't suit up for the Nets until Dec. 2020.)
Former MVP James Harden forced his way to Brooklyn via his own trade demand from the Houston Rockets to join the dynamic Nets duo in Jan. 2021, forming arguably the greatest scoring trio to ever be assembled on one team. However, Irving, Durant and Harden only played 14 total games together during Year 1 of their partnership thanks to a laundry list of separate injuries.
Now, in what was supposed to be a pivotal year for Brooklyn with the superstars all developing further on-court chemistry, the momentum is being derailed before the regular season even begins. Due to Irving's reluctance to get vaccinated , the Nets have been put into an uncomfortable situation. With all of the outside noise surrounding a team with championship aspirations, Brooklyn made the best decision in barring Irving from on-court activities without proof of vaccination.
Irving has made so many contributions off the court, and he is one of the most charitable superstars in today's NBA. Nine HBCU students received free college tuition from Irving. Over $1.5 million was donated to WNBA players to battle wage deficits compared to their male counterparts, courtesy of Irving. In New York City during the pandemic, Irving paid for 250,000 meals on Thanksgiving for those in need. It's hard to find a player with a better philanthropic resume than Irving.
However, with that being said, he becomes an unwanted distraction for an NBA organization far too often. Whether it be chemistry issues, communication problems or this newest chapter of refusing a vaccine that would allow him play with all of his other Nets teammates on an NBA Finals contender, Irving is a mysterious case within the superstar world.
Luckily for the Nets, they honestly don't really need Irving. Durant showcased as a one-man band in the Eastern Conference semifinals against the Milwaukee Bucks; he can pull significant weight on his own. Harden is one of the greatest scorers in NBA history. Both players can also run systems within the flow of an offense. On top of that, Brooklyn aced its offseason, and will run it back with key contributors. In the backcourt alone, the Nets added veteran Patty Mills, first-round pick Cam Thomas and Jevon Carter. All three bring their own unique strengths to the table, counteracting Irving's expected long-term absence.
Currently, the Nets' over/under win-total projection sits at 56.5 wins, the best mark of any team in the NBA. It shows that many outside observers still believe the Nets can thrive and survive without Irving, thanks in large part to Durant, Harden and copious amounts of depth.
Which brings us to this question: At what point do teams begin to wonder if Irving is worth the headache, something that has shown to be the case in every stop of his outstanding career? Brooklyn's front office may already be having its own internal realizations, as extension talks have stalled due to Irving's vaccination hesitancy.
He forced his way out of playing next to LeBron James and Kevin Love. He was unable to make it work alongside young, blossoming stars in Jayson Tatum and Jaylen Brown. Now, he's getting in his own way of being a part of one of the best on-court trios in NBA history.
"Don't believe I'm retiring, don't believe I'm giving up this game for a vaccine mandate," Irving said on Instagram Live earlier this week.
At this ongoing rate, Irving may soon be out of options. He has two: Receive the vaccine, or be in a tough position to be accepted back within the Nets' good graces. Also, it will be hard to find any team around the NBA willing to put up with Irving getting in his own way once again — regardless of being one of the most exciting players to perform on the court (and being a commendable influence off of it with his generous charity work).
It's decision time for Kyrie. The hourglass is beginning to run out on his current status within the NBA, potentially ruining his opportunity to be a part of a dynasty.