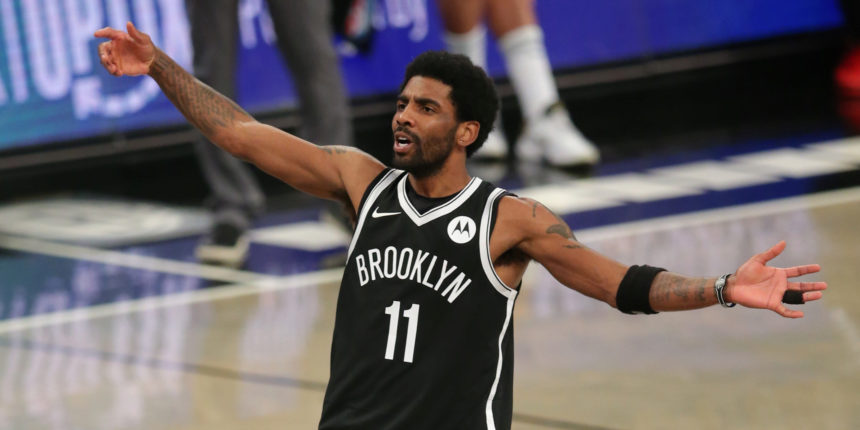 It'll be difficult for Kyrie and the Nets to come back from this
Kyrie Irving has never been afraid of taking the road less traveled.
The only problem, in this instance, is that nobody knows where it leads.
With a few strokes of a keyboard, Sean Marks and his Brooklyn Nets took a hard-line stance as it relates to the point guard. In the quest for a championship, Marks declared that Brooklyn would not permit any of its players to serve in a part-time capacity — superstars be damned.
In other words, with respect to Irving, the messaging was clear: get vaccinated, or else.
Maybe betrayed is too strong of a word, but there's no way that Kyrie could have received the organization's decision positively.
Perhaps it's ironic that Brooklyn would decide that it would rather have none of Irving than half. Of Brooklyn's Big Three, he was the one whose joining the franchise was fairly and accurately declared a homecoming.
Of the three, it is Irving who was first to take his talents to Brooklyn, and it was he who was first to don the Nets' signature black and white threads.
Now, he is another first — the first to be sent away.
Sean Marks says the decision on Kyrie Irving was made by himself and Joe Tsai: pic.twitter.com/vHvQ2UjF6B

— Nets Videos (@SNYNets) October 12, 2021
When Irving signed with the Nets in 2019, nobody could've ever predicted such an outcome. It was as unforeseen as it is unfortunate, especially if you're Kyrie or someone who's sympathetic to his cause.
Behind closed doors and away from the cameras and the microphones, scores of NBA players have expressed reluctance to get vaccinated against COVID-19. But over the course of the summer, it became clear that in order to fully participate and have some semblance of normalcy, the league's players had a simple choice to make.
And for players who call New York City, Los Angeles and San Francisco home, the stakes were even higher: full participation with their teams depended on their willingness to get jabbed.
In the end, for the players as a whole, the want to be full-time members of their teams and to enjoy their lives as competitors in the NBA won out. As a class, the league's players understand that their careers are relatively short, and that their window to earn is, as well. Their future generations and familial legacies can be enhanced with the stroke of a pen, and when painted into a corner, invariably, they choose to perform. The decision to go into the Orlando Bubble and continue competition after the murder of George Floyd told us that.
All things considered, the league's players tend to fall in line.
...Only not this time.
It's become quite cliche these days for head coaches and team leaders to refer to their teammates and one another as "brothers" or as "family," but there's some merit in those declarations. At least during the season, most players spend more time with their teammates than they do with their children. They're married to their coaching staff just as they are married to their spouses.
So whether they say it publicly or not, members of the Nets organization probably look at Irving's refusal to get vaccinated as a stubborn refusal in which he's choosing his personal principles over the team's collective goal. And if you disagree with that, ask yourself why more 95% of the league's players are vaccinated. Ask yourself why Irving is the only member of either New York team who isn't.
And while there are other players around the league who have opted against the vaccination, none of them are on a team that enters the season as a title favorite; none face the possibility of missing 43 of their team's 82 regular season games.
Kyrie made a choice to stand his ground.
Marks had no choice but to do the same.
Sean Marks on the future of Kyrie Irving as a Net:

"The hope is that we have Kyrie back. We'll welcome him back with open arms." pic.twitter.com/MivSnk9CmG

— Nets Videos (@SNYNets) October 12, 2021
A descendent of Gregg Popovich's tree, Marks saw firsthand the kind of culture that can be built by competent organizational leadership. True success in the NBA begins with standards and equitable administration of a team's ideals. Ask Erik Spoelstra, Tom Thibodeau and the great Popovich, and they themselves will tell you the same.
So when faced with the prospect of allowing Irving's refusal to get vaccinated hover over his team, Marks did what any leader in his position would have — he made a tough choice.
As a basketball player and personality, Irving is as large as they come. Whether he was available or not would impact not only head coach Steve Nash's game planning, but the team's rotations. Every player, including both Kevin Durant and James Harden, would have had to have two separate instructional sets, catering for life both with and without Irving.
Those situations obviously happen in pro sports, but unlike other scenarios, whether Marks and Nash would subject their team to that reality was completely within their control.
So in the end, it's easy to understand why Marks told Irving to stay away, just as it's easy to understand how Kyrie could be put off.
As a player, Nash gave up sugar. Amar'e Stoudemire took wine baths. Chris Paul decided to go vegan. For the most part, players view their bodies as not only their temples, but their empires. They spend their pre-professional days doing all they can to develop and take care of their bodies. And although each team employs its own set of medical professionals to support their teams, most players maintain personal relationships with their own set of medical and training professionals whom they trust.
Being told that they must receive a vaccination that a fair amount of the public doesn't fully trust is a foreign concept to the league's players. Irving, in particular, has previously been outspoken in his desire to be, in his eyes, treated more like a person and less like an asset.
From his vantage point, it's not that difficult to understand why he feels that his right to choose should be absolute.
It's also not that difficult to see how, in asking him to stay away, Irving feels like — despite what is said in the statement released by the Nets — he's not being supported by the franchise he chose to call his own before either Durant or Harden had found their way to Barclays.
Declaring itself to "support" Irving while also not permitting him to play or practice with his team seems a bit hollow. By their deeds, the Nets are forcing Kyrie's hand in an attempt to get him to take the vaccine. The team is looking out for its best interests, while Kyrie is doing the same for his. Unfortunately, in this instance, the interests of the parties just aren't aligned.
Like everything else in life, there are two sides to the story. Two ways to look at the situation.
Perhaps it's fitting. Long a contrarian and one who isn't afraid of solitude on an island, Irving has fully embraced the path of most resistance.
Two sides to the story. Two outcomes, two possibilities.
As both a man and a competitor, Kyrie Irving has never avoided the fork. He's long made his choice to opt for the road less traveled.
In this case, though — despite their common dreams and desire — it's hard to see it leading back to Brooklyn.