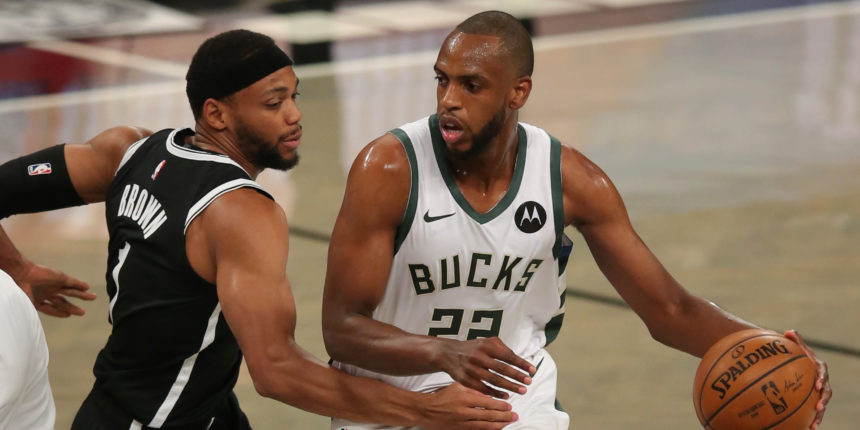 How the Bucks can avoid more disaster against striding Nets
Just a short time after appearing to exorcise their playoff demons by sweeping the Miami Heat, the Milwaukee Bucks have suddenly reverted back to their old habits, and they find themselves in a 2-0 hole following drubbings by the shorthanded, yet unflappable, Brooklyn Nets.
Sure, Kevin Durant and Kyrie Irving are doing the heavy lifting without their third amigo James Harden, who's been sidelined by an awfully-timed hamstring injury, but it's been a reborn Blake Griffin, jack-of-all-trades Bruce Brown and confident reserves Mike James and Nicolas Claxton who truly have Brooklyn playing as one.
On the other end of the spectrum, the Bucks are not moving the basketball. Through two games, they're averaging just over 208.0 passes per game. Though smaller sample sizes are noisier by nature, it's the lowest amount in the semifinal round thus far, and a far cry from their 258.3 passes per game in the postseason's opening round. Related to that fact, Milwaukee is not racking up consistent assists in any way, shape or form.
Though understanding they've got to make shots, the Bucks have gone "one and done" all too many times, settling early and often against a Nets team that can be beaten if you get them off balance. According to NBA.com, Milwaukee is shooting a ghastly 32.8% on pull-up field goals in this series. When that is the case, there should be no reason to take over 33 of them per contest.
Stating the obvious, Giannis Antetokounmpo is not a point guard, nor should he be Milwaukee's primary playmaker. He is a force to be reckoned with when playing without the ball, cutting to the rim and attacking using angles off the catch. That was evident in the Bucks' beatdown of the Heat! Now, the Nets have done a solid job of walling off the restricted area -- a la the 2019-20 Heat -- and he's been trying to make them pay with jumpers; however, that's not exactly his strength (he's 8-of-21 on jump shots and 3-of-13 on field goals outside of the paint).
He's been too timid and indecisive in the half-court. Post-up fadeaways aren't the answer, either, and making free throws would be quite helpful to a now-struggling offense (he's shooting 20% from the charity stripe on five attempts per game).
Of course, Giannis' teammates need to be much better if the Bucks expect to win a game, much less this series. That starts with Khris Middleton, who has been nothing short of disappointing after torching Miami for four games. On the surface, it's missed attempts and, like many of his teammates, poor-shot selection. Playtype numbers tell a story that takes it a step further.
According to InStat, Middleton has failed to generate more than 0.65 points per possession as a pick-and-roll ball-handler, and even worse, has created a lowly 0.29 PPP on seven post-ups. Those are his two most frequently used roles within the Bucks offense so far. To compare, in the Heat series, he had double the frequency on catch-and-shoot possessions and he was posting up six percent less.
Defensively, Middleton has been toasted by Irving, Durant and James (Mike, not Harden). Against Middleton, the Nets are scoring 1.88 points per possession on catch-and-shoots, 1.75 PPP on handoffs, 1.75 PPP with pick-and-roll handlers and 1.25 PPP in isos, per InStat. Again, noisy numbers with just a two-game sample size, but the offensive shortcomings are clearly leading to defensive slipups.
To be frank, this is not a version of Middleton that the Bucks can overcome to beat a title favorite that's just hitting its stride (especially since Brooklyn should only better once they get back Harden and a key glue guy in Jeff Green).
While Jrue Holiday is doing his best at taking care of the ball and has clearly been Milwaukee's best bet as a playmaker, he's still not being aggressive enough, especially on the fastbreak. He hasn't driven with a purpose off misses or turnovers; instead, he's had a more methodical pace and has been fine with attempting threes before most of his teammates have even gotten set in their spots.
Defending in transition, Holiday has been no match for Brooklyn's speed when its players have momentum or use their trickery. To be fair, he's done a decent job against Irving, especially since we all know how elusive and crafty Uncle Drew can be.
The final piece to the puzzle is Bucks head coach Mike Budenholzer. We're not going to dig into the rotations all that much because most people see the perplexing all-bench lineups, and we've had this conversation many times before. The confusing thing is that the lineups improved in the Miami series, and then Coach Bud went right back to square one. It's like Budenholzer got a random bout of amnesia and forgot everything he successfully tried over the last year, regressing back to the 2020 version of himself.
It's as simple as this: the seat temperature is going to increase fast if he doesn't change his ways. There was a moment in Game 2 when the Nets came out of the gate and took a 17-point lead in the first quarter. Sticking to his ways, Budenholzer pulled Giannis out for a rest... with Milwaukee down double-digits and Brooklyn going for the early kill.
This decision coming off of a Game 1 postgame quote from Coach Bud that really caught some attention (and flack):
"I think our guys left it all out on the court. They all want to play 48 minutes," Budenholzer said. "So we just gotta keep them competing, keep them where they can execute. Giannis never wants to come out, Khris, Jrue. But we got a deep team and we gotta take advantage of it. Keep them ready. Keep them fresh, but they want to be out there."
Budenholzer's playoff reputation precedes him, and even with the exception of the first round, he hasn't shown a willingness to change or adapt on the biggest stage (or in a series with all eyes on his team).
Get the rock out of Giannis' hands and put him in position to thrive away from the ball, fall back to the drive-and-kicks, don't settle, be decisive, stay disciplined as best as possible against Brooklyn's stars and scrap for loose possessions the way that Griffin has done.
Across the board, Game 3 is going to be the most important 48 minutes the team has played all year long. It's probably the most pivotal game the team has played since Milwaukee was in the Eastern Conference Finals in Bud's first year.
It's time to put up or shut up. If they fail to do the former, Giannis and the Bucks won't have to bother packing their bags for a trip back to Barclays Center.