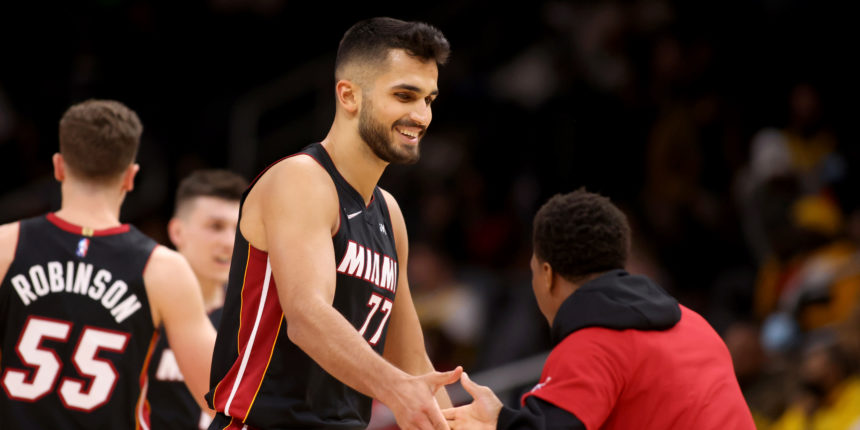 The Miami Heat haved mined another gem with Omer Yurtseven
Somehow, someway, the Miami Heat seem to always manage to mine unknown players, dust them off, and turn them into gems. In the 2021-22 season, that new gem was truly unveiled in the absence of Bam Adebayo, who returns from his six-week absence on Monday.
Omer Yurtseven began his professional basketball career in Turkey at the age of 15, in 2013, with the country's prestigious club Fenerbahce. Yurtseven developed extraordinary pro experience when many at his age were still playing other high schoolers. In 2016, Yurtseven left Fenerbahce in search of more playing time, which landed him at North Carolina State. He started immediately for the Wolfpack, but he wasn't putting any scouts on notice. After his sophomore season, Yurtseven decided to transfer to Georgetown for his final collegiate season. There, he put up career-best numbers under former NBA legend Patrick Ewing, averaging 15.5 points, 9.8 rebounds and 1.5 blocks per game.
Yurtseven made a great final impression, but it still wasn't enough to get drafted. The 7-footer decided to go the G League route where he signed with the Oklahoma City Thunder's affiliate.
A few months later, Yurtseven signed with the Miami Heat. From there, his NBA journey went an entirely different route than anyone could have expected.
Fast-forward six months and Yurtseven has been an integral piece in the Miami Heat's success this season. Once Adebayo went out with a thumb injury, Yurtseven was thrown into the fire as a backup big alongside Dewayne Dedmon. Over a fast-growing sample size of minutes and games, Yurtseven has passed his first NBA test with flying colors.
He will likely slide into a scaled-back reserve role after this weekend as Adebayo soaks up heavy minutes at center, but he's now become an intriguing long-term development piece for Miami.
Heading into Friday's matchup against the Atlanta Hawks, the Heat have carried an above .500 record at 13-7 without their All-Star big man. Miami's ability to stay afloat is closely linked with how many underrated pieces stepped up for the team along the way. It should be noted that even during this stretch, Jimmy Butler was in-and-out of the starting lineup multiple times as well.
Tyler Herro looked the part, once again, of an instrumental building block for their young core. Duncan Robinson snapped out of his season-long shooting slump. Kyle Lowry's offseason addition loomed large as his veteran presence was massive for the undermanned Heat.
However the most impressive player in my eyes was the unheralded Turkish big who has now carved out a golden opportunity for himself in Miami.
Since Yurtseven became a fixture in the Heat's rotation, he has averaged 10.3 points, 13.8 rebounds and 2.2 assists in 28.7 minutes per game. That's a big enough sample size over 12 games to parse through the unique elements Yurtseven brings to the Heat's frontcourt.
Yurtseven has displayed elite rebounding traits, placing him in the upper-echelon alongside well-known board gobblers (Rudy Gobert, Nikola Jokic, Clint Capela), as well as showing promising floor-spacing potential. More recently, though, Yurtseven has brought intrigue via an ability to find open shooters, often operating as a high-post facilitator. Over his last three games, Yurtseven has dished out 18 assists. That's more dimes than Yurtseven put together since the stretch when he originally entered Miami's rotation (17).
Yurtseven's blossoming all-around development has of course caught the eye of Heat head coach Erik Spoelstra.
"He has good vision," Heat coach Erik Spoelstra said after Yurtseven's career-high 8 assists against the Phoenix Suns. "He has size. and he's had some games for us where he's been able to find open cutters, dribbles out to shooters. He's really improved in that aspect of helping somebody else get an open look. He's earned more touches in those situations to be able to do a little bit of playmaking for us."
Add it all together and it's obvious the 23-year-old big man is just now beginning to scratch the surface of what his potential could truly become in South Beach.
Miami hit the lottery again with their renowned player development program. Omer Yurtseven is a keeper, and he's well on his way to being a vital piece in their puzzle.