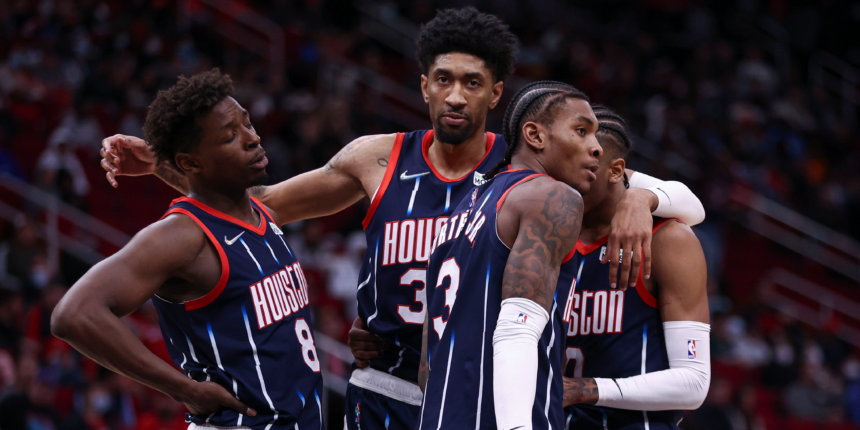 Rocket Revival: Evaluating Houston's promising young core — Part I
The Rockets' fortunes changed when their bearded superstar came into training camp like a wrecking ball (quite literally) and demanded a trade that, upon its execution, sent the championship hopefuls spiraling into a rebuild of massive proportions.
The subsequent bombshell left new general manager Rafael Stone scrambling to accumulate the pieces necessary to initiate this wholesale reconstruction. The resulting aftermath left the 2021-22 Houston Rockets with a motley crew of talent that indicated to the outside world that one-third of the NBA's Texas trio was operating without a true sense of direction, running aimlessly into the future.
But what if the Stone (and head coach Stephen Silas') vision is more transparent than we think? What if this band of mismatched players was brought here for a reason? And what if this young core has what it takes to someday springboard the Rockets back into contention?
To answer these questions, Mark Schlinder and I — two young prospects in our own right — teamed up to look at the state of the union in Southeast Texas and figure out just how good these young Houston Rockets can be.
Christian Wood
Most people will write Christian Wood off as the next casualty in the Rockets' insatiable quest to obtain draft capital. But even with the recent controversy surrounding his relationship with some of the coaching staff, there are still plenty of reasons to keep Wood around moving forward.
This season, he's maintained a True Shooting percentage slightly above league average, despite leading a team that's in the bottom five in the league in offense in shot attempts per game. Non-elite scorers on bad teams generally struggle to maintain good efficiency on high volume (see Jerami Grant), but Wood's productivity has remained effective thanks to his unique offensive repertoire.
Few big men in the league possess the mobility and ball-handling acumen to moonwalk into stepback jumpers, face-up on the perimeter and barrel to the rim, or glide down the hardwood for elegant coast-to-coast finishes:
Also, the nature of Wood's off-ball scoring — proficient corner three-point shooting (88th percentile for his position) and cutting numbers (67th percentile overall) — indicates that he'll scale well next to other high-end offensive talents that the team may add or develop.
His detractors will cite his poor performance on the other end of the floor as the primary reason for his dismissal. But I posit that his poor production is a symptom of being miscast as a defensive center. According to B-Ball Index, Wood spends 33.5% of defensive possessions guarding centers, which is a problem because his slight build often leads to him getting battered and bruised by opposing teams' paint enforcers.
Like his offense, Wood's value on defense stems from his ability to maneuver on the perimeter where he can weaponize his length and tap dancing toes to stay in front of guards and forwards:
Even in a suboptimal defensive role, Wood is able to manage a slight positive score in impact metrics like D-LEBRON (my personal favorite) and D-DRIP. This suggests that pairing him with a classic rim protector who can handle all the dirty work down low would allow Wood to stick to his strengths — and combine his dynamic offensive profile with consistently positive impact on the defensive end of the floor.
Josh Christopher
Here's some trivia for you: according to Cleaning the Glass, which qualifying Rockets rookie has the highest Effective Field Goal percentage? Common logic might suggest it's the electrifying second overall pick or their crafty Turkish phenom. But alas, neither of those answers are correct — the top spot is occupied by the final of their four first-round selections, Josh Christopher.
Partially because of his lower volume, but primarily because of a shot diet that is unbalanced in the best way possible, Josh Christopher has been a driving force (no pun intended) in the most prolific rim attack in the NBA this season. As it stands, Christopher sits in the 94th percentile in rim frequency, with a whopping 44% of his shots coming from the most coveted area of the court (per Cleaning the Glass). To top things off, he's converting on those looks at an above-average clip for his position (64th percentile).
His rim rushes disregard the safety of those in his path. And although he may be slight in stature, his arrival into the painted area warps defenses and creates open looks for shooters on the perimeter. Like right here:
Christopher's defense is of the typical rookie variety — highly volatile. There are times where he may press too hard on-ball and end up surrendering an angle to the opposition or where he might get caught stargazing off-ball and lose his man on a cut to the rim.
However, there are also times where his wildly gesticulating hands create some much-needed disruption:
Eventually, his defense performances will begin to stabilize. When they do, Christopher will be able to leverage his floor-tilting abilities to inject life into the Rockets' second unit in a manner eerily similar to that of an Ish Smith.
Garrison Mathews
You know how they say the old maxim "practice makes perfect" is flawed and that it's actually "perfect practice makes perfect?" Well, it's the same thing with shooting and contracts. Teams don't pay a premium for shooting. They pay a premium for movement shooting.
Fortunately for Gary Bird, he's got that down pat.
Mathews is in the 58th percentile in possessions coming off screens, and he's doing this on possession volume similar to renowned movement shooting aficionado Patty Mills. He's also knocking down 40% of his 1.2 pull-up threes a game, which further reinforces the sentiment that there's far more to his marksmanship than mere sedentary stroking (although he's doing that as well – 96th percentile in spot-up possessions).
What's even more fascinating is that there's another layer to his off-ball offensive game – his cutting. Just watching the way he interacts with screens, you can see a sort of technical artistry present in his navigational abilities, especially when he's using them to cut to the basket.
This next play is my favorite from Mathews this season. He starts by booty bumping Green towards the baseline a bit, then notices Embiid overplaying the second screen and has the presence of mind to punish him by freelancing into a backdoor cut:
If Mathews were only a one-trick, catch-and-shoot specialist, he'd become replaceable when his asking price becomes too steep. But since he's got more than one parlor trick in his routine, and since the value of his services (movement shooting and cutting) only increases the more you surround him with on-ball talent, the Rockets would be wise to keep their sniper under contract going forward.
Kevin Porter Jr.
It's only fitting that we saved the most curious case for last.
When you look at the numbers – True Shooting nine points below league average, 19th percentile in rim accuracy, 25th percentile in pick-and-roll ball-handling, and 7th percentile turnover rate – you get a picture of a player seemingly in way over his head.
Then you see it play out in practice – the hesitation moves, the transition hookups, the manipulative passes, the volcanic eruptions at the rim – and for a few brief moments, what looks like Tenacious D on the eyes plays more like Nirvana on the soul.
Porter Jr. probably isn't equipped for life as a full-time point guard in the NBA, but his glimpses have high-level secondary/tertiary shot creation upside written all over them.
The perfect version of a future Green/Porter Jr. centered lineup probably features a bigger and stronger third guard who can provide steady playmaking on offense and size for the perimeter on defense (and no, I'm not talking about THAT bigger playmaking/defensive guard).
Speaking of defense, it seems Porter suffers from the same volume mismanagement issues that hurt him offensively. He often finds himself at the helm, defending the point of attack, where he leaves a lot to be desired. His paws are always itching to swipe at the ball and, because of this, Porter can get a bit overzealous and forfeit driving lanes similar to Josh Christopher. He also dies on way too many screens (31st percentile as a pick-and-roll ball-handler), which is probably the most efficient way to guarantee your team is at a 4-on-5 disadvantage on defense.
However, when off-ball, Porter is a lot more comfortable. He's currently forcing 2 turnovers per 75 possessions (per Backpicks). His athleticism and natural playmaking instincts allow him to play cornerback on backdoor cuts like this play:
Porter Jr.'s ideal defensive ecosystem is most likely similar to his offensive one — an environment that affords him the luxury of weaponizing his playmaking and athleticism while also being mindful of his usage.
And ultimately, that will be the litmus test that decides if the Rockets can unlock Porter Jr.'s full potential. Can they find the happy medium between freedom of experimentation and proper load management? Achieving this perfect balance will be difficult. It will require time and patience. But Porter Jr. is already showing flashes, and for a player as talented as him, that makes all the effort worth it.
Conclusion
Taking final stock of the inventory, the cupboards look pretty fruitful in Houston after all. Wood is probably gone at the deadline, but if they can get him to stay, they'll have a guy that's only twenty-six and has an offensive skill set that meshes perfectly with their up-and-coming ball-dominant studs. Even if he is gone, that's more young talent in his place. Christopher has all the makings of a steady, change-of-pace backup point guard that can occasionally moonlight as the team's spark plug. Mathews' shooting and movement is a fit alongside literally any amalgamation of talent. And Porter Jr., with the proper care and nurture, could be ripping and running with Jalen Green in the starting five for years to come, or even steering the ship for the second unit if need be.
Overall, I can't help but come away from my review of the Rockets with general positivity. The vision hasn't fully manifested itself, and the pieces don't all perfectly fit yet, but they all appear capable of contributing long-term — that's a pretty great start, especially for a team that had to rebuild on the fly.
Stay tuned for Part 2 of Rocket Revival, where Mark Schindler will break down the rest of Houston's young core.