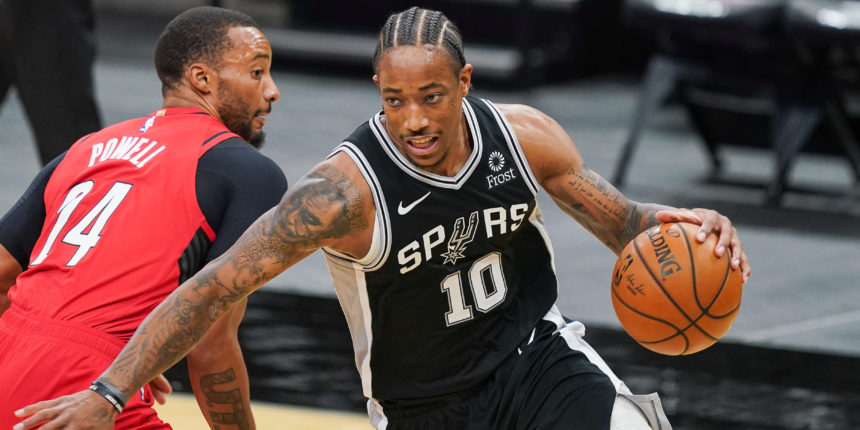 Roaming the Baseline: DeMar DeRozan, Darius Garland, Joe Ingles, more
Hi, hello, and welcome to yet another edition of Roaming The Baseline! This will be a weekly endeavor where I point out some things that caught my eye: a hot or cold streak from a player, a developmental flash, a well-run play, a funny tweet, who knows? There will be film -- it's me, so of course there will be film -- but this will also be a bit looser. It's an extension of my Twitter feed, if you will.
With that said, let's roam the baseline.
DEMAR DEROZAN IS LEADING THE CHARGE
The Spurs kicked off April with a five-game losing streak. A post-All-Star break slide was somewhat expected due to the strength of their schedule. A 26-point loss to the Cleveland Cavaliers, however, wasn't part of the plan.
So there they were, reeling in the middle of a tightly contested play-in battle. And here they are now, winners of seven of their last 10 games. They're closer to the sixth seed (2.5 games back) than they are to 11th (4.5 games ahead).
If you're doling out praise, it has to begin with DeMar DeRozan. He's been playing All-Star-caliber basketball all season long, providing his usual brand of mid-post purity and rim attacking. He's especially perked up during this 7-3 stretch for the Spurs, averaging an efficient 25 and 8.
He marches to the beat of his own drum, offering up-fakes and pivots whenever the song needs a little juice.
The combination of touch and footwork are only rivaled by a handful of players in the league. He has all the tricks of the foul-drawing trade. And because he's such a threat inside the arc, defenses have to shift to cut off his space.
What do you do when your counters are countered? Well, you counter those countered counters.
For DeRozan, that means making a leap as a playmaker for the third or fourth year in a row. He may not cause perimeter jump-outs as often as the Steph Curry/Damian Lillard/Trae Young division, but he's able to leverage his driving prowess to create similar passing windows.
The glass ceiling on a primary that doesn't threaten from deep has been talked about ad nauseam. I've been guilty of it. We get it.
Let's just get back to basics with DeRozan: this dude is really freaking good at basketball.
DARIUS GARLAND, PULLING UP
Young man's got some sauce to him.
This feels straight out of Madden '07 to me. Instead of putting Ryan Arcidiacono on his hip, Garland slithers under him like he flicked "up" on the Highlight Stick. You know the animation. With Arcidiacono's momentum carrying him forward, Garland decelerates while retreating with a behind-the-back dribble, then flows immediately into a triple.
This. Is. The. Way.
Since the All-Star break, Garland is averaging a shade under 20 points while posting a 57.8 True Shooting percentage. The aggression has been the big key for him. He's taken 126 threes in 23 games since the All-Star break; he took 125 in the first 28 games of the season. A 43% clip on 5.5 attempts is dope for a 23-game sample. The funny part is that he's still leaving some food on his plate.
With Garland more willing to fire, defenders are creeping up a tad bit more. That's allowing him to get into the paint more often. Those paint touches are allowing his passing chops to shine through more clearly.
This campaign has been a bit of a mess for the Cavs because of their injuries (and the occasional Kevin Love lash-out), but Garland figuring out that he can get to his shot just about whenever he wants may be the biggest development of their season.
THE OTHER SIXTH MAN OF THE YEAR CANDIDATE
Joe Ingles is not having a very fun stretch. Over his last three games, he's shooting 32.4% from the field (1-of-5 from two, 10-of-29 from three). He's taken four free throws in that stretch, making half of them.
Meh.
With that cold patch, Ingles now has a True Shooting percentage of... wait, hold on... am I reading this correctly?
Ingles IS STILL POSTING A 70.0 TRUE SHOOTING PERCENTAGE. That's No. 1 among all players, and there's a significant gap between Ingles and runner-up Jarrett Allen (68.4).
Jordan Clarkson has felt like the frontrunner for the Bench Scorer of the Year Sixth Man of the Year award all season. I'd simply like to pose this question to you: why?
Clarkson has been a tremendous spark off the bench, though he's started to slide a bit with his jumper. Ingles has been lighting it up from beyond the arc all season, while also adding value as a passer and multi-positional defender. He can fill gaps -- on both ends of the floor -- in a way that Clarkson flat-out can't.
12-4-4, a 70 TS%, and solid defense across two-and-a-half/three positions on the best team in the league. What's not to like? What is the case against Ingles aside from points?
It is 2021, man. I think we should be a little past sorting the points-per-game section for bench players and handing out the award that way.
THINGS THAT MAKE YOU GO "HMMMM"
Let's continue to keep an eye on Luka Doncic in one-on-one situations. We know he loves the stepback, and how hot-and-cold it has run throughout his career. He's leaning more into his post game, a fun counter when he's matched up against like-sized or smaller defenders. He's generating 1.13 points per possession on post-ups (passes included) this season, the seventh-best mark among 49 players with at least 75 post-up possessions.
Ja Morant is shooting 41.4% from three-point range on moderate volume in April. He ain't that, but as my podcast co-host Steve Jones Jr. pointed out on this week's episode of "The Dunker Spot," he does look a lot more comfortable navigating against "under" coverage. Give any player with that level of IQ the same look over and over, and he's bound to beat it.
Guess who leads the Raptors in fourth-quarter scoring over the past two weeks? If you guessed any of the usual suspects -- Pascal Siakam (5.4), OG Anunoby (3.6), Fred VanVleet (2.0), or Kyle Lowry (1.3) -- you'd be wrong. The rookster Malachi Flynn is not only leading them in scoring (5.8), but he's doing so efficiently (47/46/92 shooting split). Another "got some sauce to him" guy to keep an eye on moving forward.
Kendrick Nunn (and just about every other guard) missed Monday night's loss to the Chicago Bulls, but the Heat have been getting the goods from Nunn as of late. He's averaging 16-4-3 while shooting 42% from deep since Victor Oladipo has been out. There's a real argument to be made that he's been Miami's best guard this season; you can quibble about what that means for Miami, but it's a timely development for Nunn as he enters an offseason where he may be pretty coveted.
The Warriors are 2-2 and have been outscored with Stephen Curry on the court since he said he should be the MVP. He's still played pretty well (28.5 points with a 46/39/87 split), but the timing of the dip is pretty funny.
PLAYS I LIKED
Hit 'Em With the Flex
It's always a good time when teams flow out of Elbow Series. Toss the rock to your high-post hub and let him play quarterback. It's a LeBron staple, a Jokic staple -- really any frontcourt player who can hit a cutter. This was a fun one from Toronto.
Just tremendous work on the flex action from OG Anunoby and Fred VanVleet. Anunoby sets up RJ Barrett with a filthy juke; VanVleet lays the lumber and hooooolds it, freeing Anunoby for the flush.
Going Wide in Brooklyn
An effective way for teams to get busy in (early) transition is to have a big set a high, off-ball screen around the middle of the floor. It's tough enough for defenses to match up in transition; doing so while trying to navigate a screen and a player flying downhill off the catch can be darn-near impossible at times.
I always think of the Milwaukee (Khris Middleton, specifically) when I see these early screens, but this was a good rep from the Nets.
The Suns are in drop coverage due to Frank Kaminsky being their 5. They don't want to switch him, so he's hanging back while eyeing Blake Griffin. Griffin sets the screen for Kevin freakin' Durant; it's fair to say the Suns have no intention of switching Kaminsky onto him.
That leaves four eyes on Durant and a whole lot of space for Griffin to pop into. Easy money (sniper).
Early Chaos
Nothing says "we're young" like doing just about everything at 150 MPH. They turn a simple HORNS Flare look into a scramble drill.
There is a lot going on here. Darius Bazley (#7) essentially ghosts the initial screen as Theo Maledon pivots to his right. The Celtics switch that ghost screen, but still find themselves trailing the action due to how quickly the Thunder are moving.
We get a quick pitch from Maledon to Aleksej Pokusevski, all while Moses Brown is "chasing" the ball to flow into a quick-hitting pick-and-roll. The Celtics can't switch that one -- Semi Ojeleye gets bumped by Brown -- and that allows Poku to waltz into a pull-up.
THE READING LIST
There is plenty of high-level basketball content out here if you know where to look. I wouldn't be where I am as a writer without reading a ton of Zach Lowe or Chris Herring or Caitlin Cooper or Mirin Fader or, well, you get the point.
Anyway, here are some -- not all, but some! -- of the stories I've read this week that I think you should check out. Their Twitter handles will be linked under their names, so click and follow if you don't already.
Alex Regla on Talen Horton-Tucker's downhill dynamism.
Fred Katz and David Aldridge tag-teamed on a Robin Lopez breakdown.
Seerat Sohi waxes poetic on how Steph Curry's magical run makes us feel.
Rob Mahoney on why the Milwaukee Bucks shouldn't be slept on.
Mirin Fader with a tremendous feature on Rockets rookie Jae'Sean Tate.