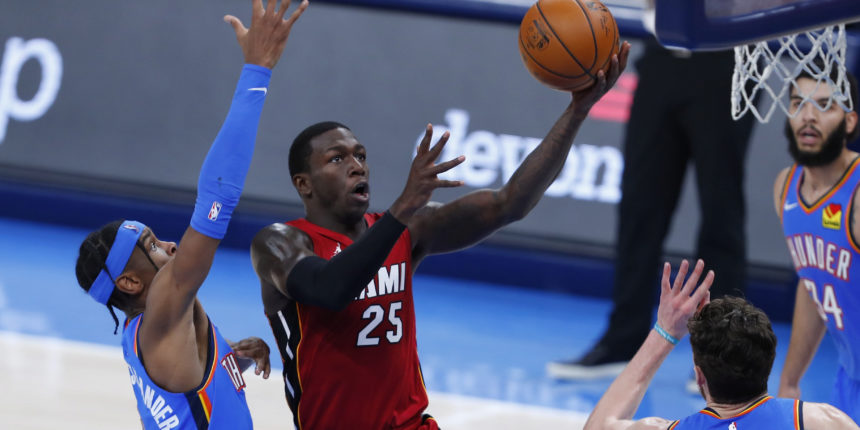 Kendrick Nunn drew interest at trade deadline, should have strong free-agent market
Prior to the NBA trade deadline on March 25, several teams tried to trade for Miami Heat guard Kendrick Nunn, league sources told BasketballNews.com.
Multiple teams inquired about Nunn's availability, and at least two of those teams have shifted their focus to pursuing the 25-year-old once he becomes a free agent this offseason. Nunn will be a restricted free agent once the Heat extend a $4,736,102 qualifying offer.
Judging by the number of teams that showed interest prior to the trade deadline and the fact that Nunn is currently playing the best basketball of his career, he's expected to receive significant interest once free agency begins.
Over his last five games, Nunn is averaging 19.8 points, 4.3 rebounds, 3.6 assists and 4.2 threes, while shooting 51.4% from the field, 50% from three-point range and 100% from the free throw line. Miami is 4-1 in those games.
The 2021 free-agency class was expected to feature many stars, including Giannis Antetokounmpo, LeBron James, Paul George, Bradley Beal, Rudy Gobert, Jrue Holiday and so on. However, all of those players re-signed or extended, so the upcoming offseason won't feature much star power. (Kawhi Leonard has a player option, but he'll likely opt-in).
Because so many stars were supposed to be available, quite a few teams will have significant cap room available. That's good news for Nunn and the other restricted free agents, who may end up being some of the best players available this offseason. In addition to Nunn, players like John Collins, Jarrett Allen, Lauri Markkanen, Lonzo Ball, Gary Trent Jr. and Duncan Robinson could be highly coveted this summer.
The top unrestricted free agents who will be available are Mike Conley, Victor Oladipo, Kyle Lowry, DeMar DeRozan, Norman Powell, Dennis Schroder, Andre Drummond and Richaun Holmes, among others.
This season, Nunn has averaged 14.0 points, 3.2 rebounds, 2.8 assists, 2.2 threes and 1.0 steal, while shooting 46.8% from the field, 38.3% from three and 92.3% from the free-throw line.