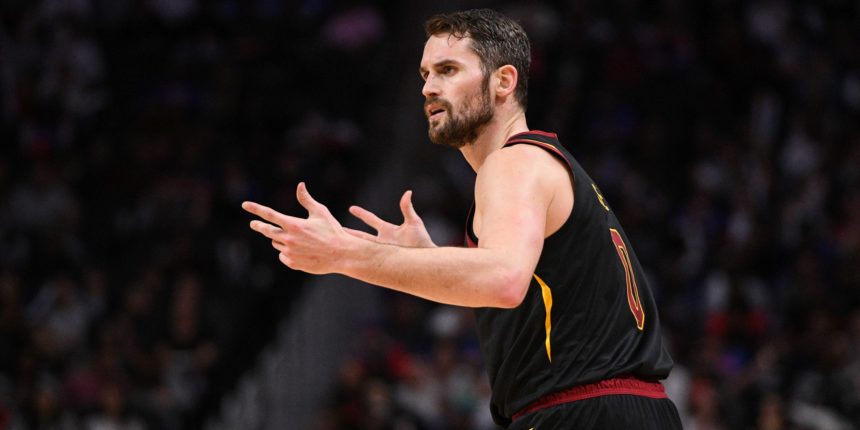 Something's got to give with Kevin Love
What Kevin Love did was unprofessional, inexcusable and frankly, immature.
Unless you've been living under a rock or aren't a fan of the NBA, chances are you've come across the viral clip of Love angrily batting a ball inbounds after a referee tossed it over to him. That's where we're going to start.
That's some high IQ ball right there, @iAmSJ pic.twitter.com/Y5N6ckYCgS

— Toronto Raptors (@Raptors) April 27, 2021
It's no secret that the louder national outlets and the talking heads are going to make this into something it's not, so let's provide some context as to why Love was fired up in the first place.
On the possession prior to the meltdown, the 32-year-old was attempting to box out ever-so-active Toronto Raptors big man Khem Birch, which resulted in a foul and Love's knee hitting the floor hard; he actually ended up with quite a floor burn. About a minute later, the equally-as-active Freddie Gillespie bumped him on a similar play, and his force sent Love into the stanchion underneath the basket as Malachi Flynn got a layup out of it. Love glanced over at the official on the baseline and was unhappy with a lack of a loose ball foul call. So to vent his frustration, Love decided to hand-deliver a free three points to Toronto by punching the ball in bounds, giving Stanley Johnson the easiest steal (and assist) of his professional career.
Now, let's lay out the reasons that this act was selfish and wrong. For starters, Love is the oldest, most seasoned player on this mostly young Cleveland Cavaliers team. He and Matthew Dellavedova are the only ones that are left from the championship years, and are considered the dependable veterans of this group to guide those inexperienced players and set an example. With that decision, Love showed that it is okay to pout and cost your team points and momentum when you don't get your way.
Speaking of which, that's the second point to make: the Cavs were *in the game*. With fewer than two minutes remaining in the third quarter, the Raptors were clinging to a six-point lead in a game where they had to stave off a feisty Cleveland bunch that was missing seven players, including Collin Sexton. That advantage ballooned to nine, and then 11, to close the period because of Love's mistake. One would think he'd have a little more emotional maturity to center himself in a two-possession contest.
But that kind of leads to the third thing: this is not the first time Love has lashed out. This has been a pattern since he and the Cavs decided to continue their relationship post-LeBron James, when the two parties came to a four-year, $120 million extension agreement in the summer of 2018. While hindsight is 20-20 in both cases, that deal has not amounted well to either -- on the cap sheet or on the floor.
Let's make this perfectly clear: Love hurting his toe in that preseason and having to step away four games into that contract absolutely sucked, and it was just the beginning of an incredibly unfortunate trend that he's dealt with since. Through no fault of his own, the veteran simply has not been able to stay on the floor. Anybody can imagine the mental toll that can take on somebody's psyche, especially if you've played the game for as long as he has. He even talked as recently as March about how difficult this latest calf injury was to heal, strictly from the impact it had on his mind more than the physical aspect.
However, the situation is what it is. Love has played 96 games out of a possible 208, which equates to 46% if you're wondering. If we're being honest, that could be what he's frustrated about, which is understandable.
Still, getting into a shouting match with then-head-coach John Beilein and general manager Koby Altman in a practice wasn't the way to handle that. Throwing up your hands mid-game, clapping at a then-20-year-old Collin Sexton and chucking a ball for a "pass" to Cedi Osman wasn't the way to handle that. Showing up your teammates and head coach and deliberately turning the ball over in a winnable game because you got pushed around, even if you might've been justified in your aggravation, is not the way to handle that.
(According to a report from Chris Haynes of Yahoo Sports, "Love's intent wasn't to slap the ball inbounds, sources said. Love was frustrated with officials and not his team's performance, sources said.")
Cleveland.com's Chris Fedor reported that a source texted him that the behavior was "unacceptable." Cavs head coach J.B. Bickerstaff relayed that he apologized to his teammates; Love did not speak to the media following the game. It might've been a good time to clear the air, however, cooling down before addressing the matter could have been a smart decision.
In terms of discipline, the Cavs and general manager Koby Altman can't be soft here. They sent JR Smith home in 2018 due to his discontent. They came down hard on Kevin Porter Jr. with suspensions and ended up trading the blossoming guard following a heated argument. They recently kept Andre Drummond away from the team to try and find a new home for him (though that was less of a punishment and more of a situation). The point is, with these examples: What should make Love immune from paying the price?
There's no demand to sit him down or release him; that would be way too reactionary. But a few games of an in-house suspension or DNP-CDs would be appropriate at the least. Haynes reported late this morning that the team is taking care of the matter internally, yet "focused on turning the page" after Love's apology.
If Cleveland wants to create the culture it desires, it needs to address this elephant in the room. Love has meant a great deal to this franchise, has stuck through thick and thin and continues to be important for the next generation of wine-and-golders. On the floor, the difference he makes is legitimate.
That being said, something has to be done to stop this juvenile pattern of habits. Every time Love has an episode like this, the immediate response is, "Damn, he really hates Cleveland," or "he doesn't get along with Sexton." Both are hardly anywhere near the truth, and guess what? He signed the contract, a fruitful one at that.
Instead of constantly looking for a reason why these things are happening, maybe we need to realize that there's only been one constant.
It's time to be the adult in the room.