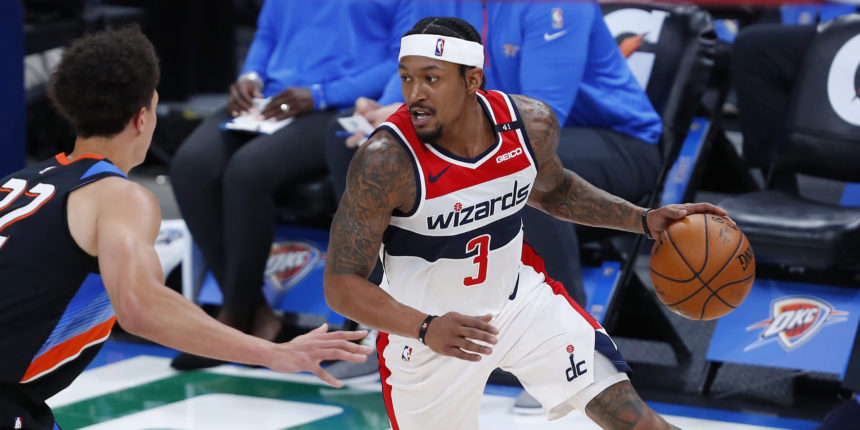 A deeper dive into the NBA's interesting statistics
Bradley Beal is currently leading the NBA in scoring, with Stephen Curry having a chance to catch him when the Golden State Warriors face the resurgent Minnesota Timberwolves on Thursday night.
Beal, who plays tonight at home against the Los Angeles Lakers, has a slight lead over Curry, 31.4 points per game to 31.2. That race figures to go down to the wire, at which point we will start hearing about David Thompson vs. George Gervin on the final day of the 1977-78 season.
The rebounding (Clint Capela), assist (Russell Westbrook), block (Myles Turner) and three-point titles (Curry) are all but decided. But we still have the scoring title to keep us riveted.
Because of COVID protocols and rules as well as a plethora of injures, a total of 529 players have suited up for NBA teams this season. Let's take a look at some of the stat leaders:
Clint Capela leads the league in offensive rebounds (261), followed by Enes Kanter of Portland (257) and Steven Adams of New Orleans (212).


Russell Westbrook (11.0) is averaging the most assists per game and it isn't particularly close; runner-up Trae Young (9.6) won't be able to catch him.


Jimmy Butler has the most steals per game (2.1), but T.J. McConnell has the most total steals this season (101). Butler has 95 total steals.


Rudy Gobert leads the league in total blocks (168), with nine more than Turner. However, Turner is averaging 3.4 blocks to Gobert's 2.8 because he's played 13 fewer games.


Danilo Gallinari of Atlanta (.935) is one of nine players shooting 90% or better from the free throw line. Until last week, Jordan Clarkson of Utah (.924) was leading the league in free-throw percentage, but he has dropped to fourth;. Chris Paul of Phoenix is second at .929.


Joe Harris of Brooklyn has taken over the three-point accuracy lead (.481). Joe Ingles of Utah, the leader last week, is now third at .477. Bobby Portis of Milwaukee is in second (.479).


Rudy Gobert leads the NBA in field-goal percentage (.676) by a large margin. Runner-up Richaun Holmes is shooting 64.4%. Kelly Olynyk leads the NBA in two-point field goal percentage (.688).


DeAndre Jordan leads all players in true shooting percentage (.753) and effective field goal percentage (.779). Rounding out the top-three in both stats are Robert Williams and Ingles.


Nikola Jokic leads all players in field goals (625), win shares (13.3), win shares per 48 minutes (.298) and Value Over Replacement Player (7.3).


Julius Randle of the Knicks ranks first in minutes per game (37.5) and second in defensive win shares (3.7).
A few other distinctions:
Montrezl Harrell of the Lakers has attempted the most three-pointers without a make. He is 0-for-10, while the Lakers' Andre Drummond and the Nets' Theo Pinson are each 0-8. Last season, Harrell went 0-18 from three-point range.


Dillon Brooks of Memphis and Jae'Sean Tate of Houston have the most personal fouls (195).


In addition to leading the NBA in assists, Westbrook also leads all players in turnovers (272).


Dwight Howard of the 76ers leads the league in technical fouls (15). His next one will draw an automatic suspension and a $5,000 fine. Luka Doncic and Westbrook are tied for second with 13.


J.B. Bickerstaff of the Cavaliers leads all coaches with 8 technical fouls.


Howard, C.J. McCollum and Alex Len are tied for the league lead in flagrant fouls (4).


No player has drawn more than one flop violation; LeBron James, LaMelo Ball, Kyle Kuzma, D.J. Augustin, Gary Trent Jr., Kristaps Porzingis and Mason Jones each received a warning.
There are eight players who have played this season without scoring a basket: Jared Harper of the Knicks, Kris Dunn of the Hawks, Ashton Hagans (who was cut by the Timberwolves), Will Magnay (who was cut by the Pelicans), Ignas Brazdeikis (who was cut by the 76ers), Anzejs Pasecniks (who was cut by the Wizards), Noah Vonleh (who was cut by the Nets), and Greg Whittington (who was cut by the Nuggets).
Hagans, 21, appeared in two games and played two minutes while recording one lone statistic: a turnover. He spent two seasons at Kentucky before going undrafted in 2020, then was waived by the Wolves in February for violating the G-League's COVID protocols. His rookie season will end with all zeroes except for that lone turnover (unless someone takes a chance on the Kentucky product who earned the SEC's Co-Defensive Player of the Year award in 2019).
A total of 21 NBA players are averaging less than 1.0 point per game, the oldest being Jared Dudley of the Lakers.
There are 39 players averaging between 1.0 and 1.9 points per game, including:
Last season's NCAA scoring champion, Markus Howard of the Nuggets (1.1 PPG).
Cristiano Felicio of the Bulls (1.1 PPG), who is on the final season of a four-year, $32 million contract.
Jahmi'us Ramsey of the Kings (1.4 PPG), who has played five games and was perfect from the field (1-for-1) in three of them.
Rodions Kurucs of the Bucks (1.5 PPG), who has the distinction of being involved in both the trade for James Harden (going from Brooklyn to Houston) and the trade for P.J. Tucker (going from Houston to Milwaukee).
The season is far from over, and while 529 players have suited up thus far, that number is likely to increase as more players are signed.