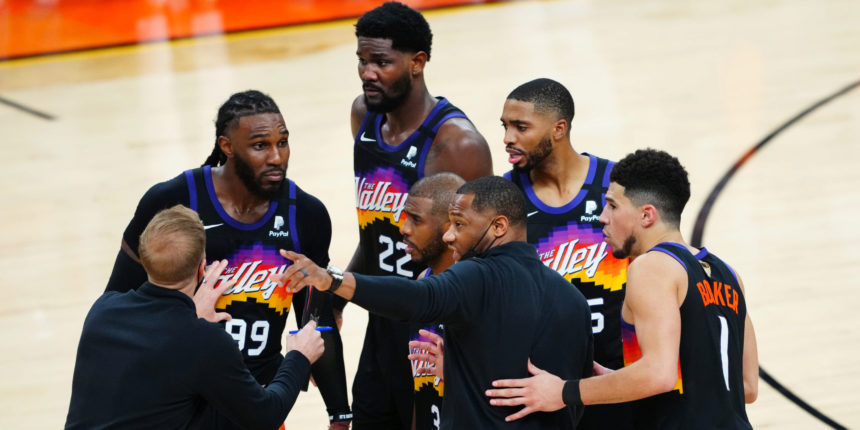 Rival teams copying Suns' blueprint in hopes of becoming a contender
A year-and-a-half ago, the thought of an NBA front office choosing to model themselves after the Phoenix Suns would've seemed laughable. After all, you need to experience success in order for teams to try to duplicate it.
From July 2015 through July 2019, the Suns were by far the worst team in the NBA, accumulating a 113-280 record. It wasn't particularly close either; the New York Knicks had the league's second-worst record over that span, yet they won 17 more games than the Suns during that five-year stretch.
Entering last season, the Suns hadn't made the playoffs since 2009-10, which was Steve Nash and Amar'e Stoudemire's final season together in Phoenix. This 10-year dry spell marked the league's second-longest active playoff drought (trailing only the Sacramento Kings' 15 years) and the fifth-longest in NBA history.
Then, after a decade of mediocrity, the Suns began to change how they are perceived.
It started when they hired head coach Monty Williams, who's beloved and respected around the NBA. From day one, he made it his mission to shift the league-wide view of Phoenix.
"That was Monty's biggest thing coming into [his first] season... We had many conversations, and he said his first step is we need to change the perception of this team and how people view us," Devin Booker told Dime Magazine last year. "And if that's having to get a little nasty, play tougher, more physical, [then we will], but people are going to know when they play against us [that we're] some talented, hard-working guys... I think that the first step in recreating a franchise or a culture is gaining respect from around the league."
While the Suns missed the playoffs by half a game in 2019-20, they turned heads with their strong play and 8-0 record in the NBA Bubble. From there, the team took off.
The additions of Chris Paul and Jae Crowder took Phoenix to the next level, and suddenly, Phoenix emerged as a legitimate contender atop the Western Conference standings. During last year's playoffs, the Suns became the first team to advance to the NBA Finals immediately after snapping a 10-year postseason drought.
The turnaround was nothing short of miraculous, with Phoenix going from worst to first seemingly overnight. However, in reality, the Suns had quietly been heating up for some time — with Booker honing his game as he approached superstardom, Ayton taking the next step in his development and the team's chemistry continuing to improve.
After becoming a juggernaut, the Suns began receiving a lot of national recognition and praise. James Jones was named the NBA's Executive of the Year, Williams was the runner-up in the NBA's Coach of the Year race and Paul finished fifth in Most Valuable Player voting. Phoenix's decision-makers now had credibility, and other teams want to know what buttons they pushed to undergo this transformation.
What were the keys to the Suns' success? They made smart hires (such as Jones and Williams), assembled/developed a terrific young core (led by Booker, Deandre Ayton and Mikal Bridges), acquired the right veteran pieces (including Paul, Crowder, Dario Saric, Frank Kaminsky and, last season, Torrey Craig) and stressed the importance of communication and accountability.
Rival organizations are taking notice and trying to follow Phoenix's blueprint.
For example, the Portland Trail Blazers are using a similar approach as they plan for the future. In recent months, Damian Lillard has had several meetings with the Blazers' front office and owners to discuss the organization's long-term plans. Over the offseason, the six-time All-Star questioned whether the Blazers were doing enough to build a contender around him, but he has since committed to staying in Portland. He recently revealed that the Suns have come up during his chats with the Blazers brass.
"The conversations I've had with Neil [Olshey], he didn't promise me we're about to get LeBron; they didn't tell me we're about to go get a superstar player because I don't think you need all superstar players to win," Lillard recently told Yahoo Sports. "We've got CJ [McCollum]; he's an All-Star-level player. We've got [Jusuf] Nurkic; he's one of the best centers in the league. It's the way you piece the team together.
"If you look at Phoenix, they don't have a bunch of stars. They got people who are really good at what they do and understand their roles. Chris Paul and Devin Booker are All-Stars, but Deandre Ayton is a quality center, Jae Crowder is an experienced, quality stretch 4-man that's tough, Cam Johnson is nice and Mikal Bridges is my favorite small forward in the league. You just look at how that team is put together and they're in the Finals coming out of the West. That's what my vision is.
"I don't see us just landing star players. I'm Dame Lillard, and CJ is CJ McCollum. We have the core pieces to do the same thing that Phoenix did. It's just how you fill that in. We just got on the same page — me, Chauncey [Billups] and Neil. We all spoke and we got on the same page as far as what my thoughts were and how I feel like we can win it. That was good enough for me. I had trust in that. But, we'll see; they can't guarantee me anything and I can't guarantee anything to them, but we got on the same page."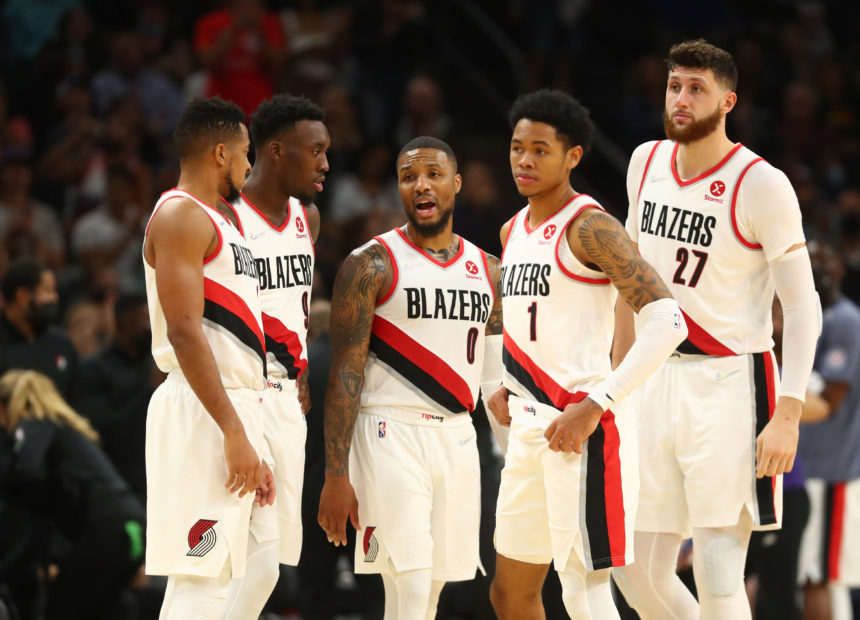 Making the postseason hasn't been a problem for the Blazers, as they've clinched a playoff spot in eight-straight seasons. However, they've had a hard time advancing deep into the playoffs (aside from their Western Conference Finals trip in 2019, when they were ultimately swept by the Golden State Warriors).
The Blazers are currently 6-8, which slots them at No. 9 in the West. Portland has the NBA's seventh-best offense (scoring 107.8 points per 100 possessions) and 18th-ranked defense (allowing 106.1 points per 100 possessions). While it's not the start that the team had hoped for, there's still plenty of time to turn things around.
"Look, I didn't come out here [to lose]," Larry Nance Jr. told BasketballNews.com before the season. "I had a comfortable, cushy situation in Cleveland; I lived close to my family, I was happy and it was all good. I did not come out here to half-ass this thing. I'm all in, and that means going for it all. Last year, we saw a few teams come out of nowhere; the Hawks came out of nowhere, the Suns came out of nowhere. There were teams that surprised some people, and that's fully what I'm planning on doing here."
The Hawks are an interesting comparison, especially since they struggled out of the gate last season. Like the Suns, the Hawks made a huge leap in 2020-21, going from a 20-win team to within two wins of the NBA Finals. And like Phoenix, Atlanta's turnaround was largely due to bringing in the right leaders (GM Travis Schlenk and head coach Nate McMillan), building a talented young core (Trae Young, John Collins, De'Andre Hunter, Kevin Huerter, Cam Reddish and Onyeka Okongwu), acquiring key veterans (such as Clint Capela, Bogdan Bogdanovic, Danilo Gallinari and Lou Williams) and getting hot at the right time.
For the Blazers to follow in the Suns' or Hawks' footsteps, Nance stresses that they'll need to make significant strides on the defensive end.
"Last year, the Blazers finished sixth in a loaded Western Conference and their defense was 28th. Their defense was 28th!" Nance told BasketballNews.com. "If we move that up to, say, 12th, that's a potent combination. Anytime you can surround guards like we have here with guys that are willing to grind on the defensive end behind them? Whew, that's a winning combo."
It remains to be seen whether the Blazers (or any team) can replicate what the Suns or Hawks did last season. After all, that kind of turnaround is extremely difficult to pull off — even if the blueprint is right in front of you.