Larry Nance Jr. Q&A: 'I did not come out here to half-ass this thing'
In arguably the most important offseason in Portland Trail Blazers' history (given what's at stake with Damian Lillard's future), the front office needed a marquee move. After re-signing Norman Powell and adding role players such as Cody Zeller, Tony Snell and Ben McLemore in free agency, Neil Olshey and Co. acquired one of the league's most underrated and versatile players: Larry Nance Jr.
The Blazers landed Nance in exchange for Derrick Jones Jr. and a protected first-round pick as part of a three-team trade with the Cleveland Cavaliers and Chicago Bulls. Last season, Nance averaged 9.3 points, 6.7 rebounds, 3.1 assists and 1.7 steals while shooting 47.1% from the field and 36.0% from three.
At one point in January, Nance ranked first among all NBA players in steal percentage (3.3%), steals per game (2.4), deflections per game (4.8) and loose-balls recovered (21), while also ranking second in defensive win shares (.9). While he only played 35 games due to injuries (including a fractured finger), he finished the season ranked fourth in steal percentage (2.8%), fourth in steals per game (1.7) and sixth in deflections per game (3.4).
Cleveland went from having the NBA's 30th-ranked defense in 2019-20 (allowing 113.6 points per 100 possessions) to climbing as high as No. 1 in the NBA (allowing 103.3 points per 100 possessions) before he was sidelined. Nance was a huge reason for this improvement, and now he'll try to help the Blazers' 29th-ranked defense undergo a similar turnaround.
BasketballNews.com caught up with Nance to discuss his recent trade request, his departure from his hometown Cavaliers, his excitement about joining Portland, his goals for the upcoming season, his fit with the Blazers, becoming a father and more.
In your Cleveland.com article, you explained that this trade was a collaboration with the Cavaliers' front office and that you had expressed a desire to join a win-now team. When did you decide that you wanted to move on from the Cavs and find a new home?
Larry Nance Jr.: "I kind of realized it midway through or toward the end of last year. It was a really tough year for me, individually, and for us as a team – with me having an injury-riddled season, unfortunately. But more so it kind of happened just throughout that year, just trying to get excited about the future of the team and where we were headed and all of that. That team has an unbelievably bright future and, like I said in the article, I think they're going to be really, really, really good – but just, unfortunately, not in the timeframe that I have. If I was 22, there might not be a better place in the world for me. But being 28, I've just been dying to get back to the playoffs, especially after watching some of these playoff series and seeing these guys who play the same position and do the same things as me; they are me to a T. So, I wanted to jump on the opportunity [to compete now], and Portland is an unbelievable spot for that."
You've said that watching Bobby Portis and P.J. Tucker step up for the Bucks during their championship run made you realize that you could do a lot of those same things for a contender. Do you feel like you could be that kind of presence that pushes a team over the top? And what exactly was going through your head when you watched those guys?
Nance: "First of all, Bobby is a good friend of mine, so I was happy as heck for him. He's the ultimate competitor. But also, seeing that was so much of, 'Oh man, those are plays that I make every single game in Cleveland, and it's just not really necessary,' or, 'They aren't ready for that kind of impact to be made…'"
Yeah, the stakes are different.
Nance: "Yeah, it's just different. So watching a guy like Bobby and watching a guy like P.J. and watching all of those guys who fit that mold around the league, they're kind of the unsung [heroes]. I don't need any plays run for me, just like P.J. doesn't need any plays run for him. And even if you look at the box score and [their impact] doesn't show up in terms of numbers, their coach can't take them off of the court because they're so important."
Knowing how much you love Cleveland, deciding to move on must have been really difficult and bittersweet.
Nance: "It was not easy. It was really difficult. My house in Cleveland is seven minutes from where I grew up, seven minutes from my parents, 10 minutes from my sister and five minutes from the high school that I went to, so it was a situation that I adored for so many reasons. That community has been so good to me, and it was a really hard decision to make. But at the end of the day, your career is so short. And especially when you get a chance to come to a team like this with a player like Dame [Lillard] and C.J. [McCollum], it's really hard to pass up."
Because this was a mutual thing, were you kept in the loop on what was happening as Cleveland weighed their options? How did you find out about the trade?
Nance: "I found out how you're supposed to find out: Koby [Altman] called me and my agent called me, so I got a chance to call my family and let them know before the news broke. Hats off to Koby and the entire front office for that because they handled it much better than previous situations I've been in... (laughs) It was great. I was actually on a plane to Miami and I found out via phone call, so it was easy. I got to call my wife. But the hardest call was definitely to my parents. I had gone to them before and kinda told them, 'Hey, you guys, just so you know, here's what I'm thinking. I just want to keep you guys in the loop.'"
We've talked about how you had a unique connection with Cavs fans since you grew up in Cleveland rooting for the Cavs and Browns. After this trade, there was an outpouring of love and support from fans who were sad to see you go. How did that feel?
Nance: "It was great. It means the world that my hometown thinks so highly of me and wanted me to stay, and that's something that I absolutely will not take for granted. I love them. That's my community; I am a Cavs [fan] – that was me at one point! It was great to see. But at the same time, I also wanted to put the article out there to let them know, 'Hey, this is not a time for you guys to be mad at the front office or do anything like that because, at the end of the day, this was my decision. You should be excited about your team.' And just because I'm not in Cleveland anymore and just because I'm playing for the Blazers doesn't mean I won't be keeping one eye on the Cavs and wishing Darius Garland and Collin Sexton and Isaac Okoro and all of the young guys well. I just don't want them to win two times a year. That's it!"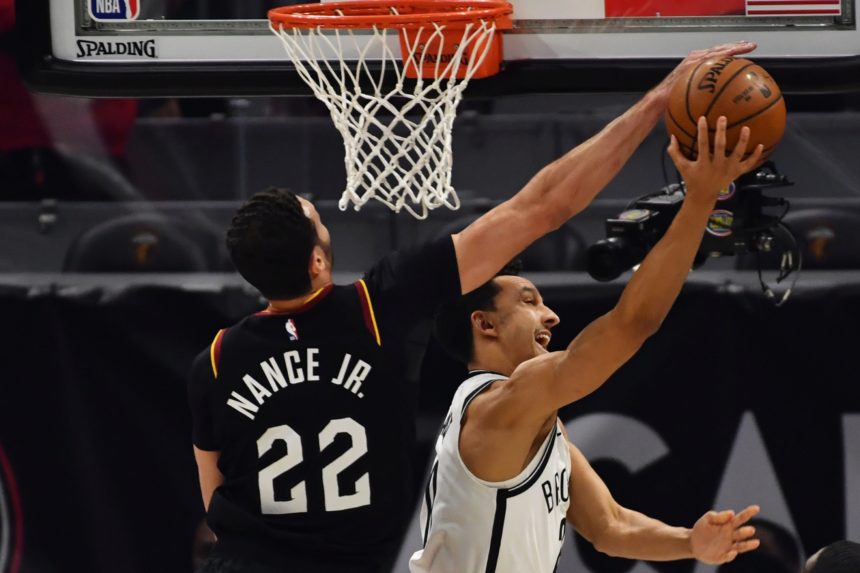 When you were on my podcast earlier this year, you talked about studying Draymond Green and trying to have a similar impact on games. After this trade was announced, you texted me that you want to be Portland's Draymond Green. Can you elaborate on that?
Nance: "When I say I want to 'play the Draymond role,' [it's important to note] that there's only one Draymond Green. You know what I mean? He's a ridiculous talent and, as we've talked about before, I think the world of him and his game. I try to model myself in that mold. But when I said that, I'm thinking more so about playing hand-off ball in Cleveland and I got to do a lot of that with the guys I played with there, but it's just a whole different layer of difficulty to guard when you've got Dame and C.J. flying off that thing. I'm just really excited to see how we work together. I'm going to be who I am defensively and that's a menace, and someone you need to watch out for in the passing lanes. That's who I am. But offensively, I'm excited for the DHOs, the handoffs and just being able to impact the game without being required to have the ball so much. Everybody has a skill set and that is not mine, so it's great to be around guys that do have that in their skill set."
(On The Alex Kennedy Podcast in January, Nance said: "I've always watched Draymond; I'm a massive Draymond Green fan. I think he's criminally underrated in terms of his impact on the game and impact on those championship teams. I think he's the definition of a winner. I watched his film and I studied how he talks to those guys on the defensive end and how he took charge of that [team]. I studied how he was an anchor, guarding three or four different positions at times. And there's none of that that I don't see in myself… I talked to JB [Bickerstaff] a lot over the summer about being versatile – guarding some bigger 2s, all 3s, all 4s and some smaller 5s and, defensively, trying to play that Draymond role.")
I feel like your game can fit on just about any team, but it feels like this fit in particular is perfect. One of our writers, Nekias Duncan, actually wrote a film-breakdown piece explaining why you're exactly what Portland was missing. How do you feel you fit with the Blazers?
Nance: "I think I fit like a glove, I really do. I couldn't pick a better situation. Last year, the Blazers finished sixth in a loaded Western Conference and their defense was 28th. Their defense was 28th! When JB [Bickerstaff] had just gotten the job in Cleveland, we finished 30th in defense for that year. Coming into this past year, I purposefully set [a goal in] my mind, like, 'That ain't happening again.' Before I broke my hand, we played the first 25 games of the season against good competition and we were a top-three defense in the NBA, and I was leading the league in deflections, leading in steals and doing all of that type of stuff. That's the type of thing that I'm planning on bringing here. Can you imagine? If they finished sixth last year while having the 28th-ranked defense, if we move that up to, say, 12th, that's a potent combination. Anytime you can surround guards like we have here with guys that are willing to grind on the defensive end behind them? Whew, that's a winning combo."
During that stretch, the Cavs' defense was ranked No. 1 at one point too. Since you've been part of a worst-to-first turnaround, you know what it takes to make that kind of drastic improvement. What are the keys to that, and what lessons will you try to pass on to your new teammates?
Nance: "It's all about activity. Your activity level is extremely important. When you're on defense, there should be no time when you're relaxed. There should be no time when you're relaxed – whether your man has the ball or not, whether you think you're involved in something or not. (And if you don't think you're involved in something, you're wrong; that's just kinda how this league works, there are counters to everything.) It's just activity. Keep your hands high. All of that type of stuff. But I'd say the biggest thing overall is just the level of care. You know what I mean? If you genuinely care about defense and getting stops and want to be good on that end, then you will be good on that end. I think the level of care is really what I'm going to be stressing."
C.J. McCollum is also from Ohio and he's a big Cleveland Browns fan, just like you. Did you guys already have a relationship or are you just now getting to know each other?
Nance: "C.J. is a great guy! I hadn't had a relationship with him before I got out here. Obviously, we knew of each other and every time we'd play each other, it was kinda like, 'O-H, I-O!' But we didn't have a personal relationship. But it's been good, getting to come out here and spend time with these guys. Of course, C.J. is such an impressive human being. He has his hands in a lot of different things, and he's just such an impressive human that, like, how could you not get along with a guy like that?! I'm excited about it; I'll have another Browns fan around. I think I was the only Browns fan on the entire Cavs team, so I'm glad I'm not alone. Now, the Blazers might have the only two Browns fans in the NBA. (laughs)"
We'll see if you two can convert some of your other teammates into Browns fans.
Nance: "Oh, I'm working on them. Absolutely."
You wanted to join a win-now team and you were involved in the trade discussions that landed you in Portland, so clearly you think the Blazers can compete right now. What are your expectations or goals for the team entering this season?
Nance: "For me, my biggest thing is: Look, I didn't come out here [to lose]. I had a comfortable, cushy situation in Cleveland; I lived close to my family, I was happy and it was all good. I did not come out here to half-ass this thing. I'm all in, and that means going for it all. Last year, we saw a few teams come out of nowhere; the Hawks came out of nowhere, the Suns came out of nowhere. There were teams that surprised some people, and that's fully what I'm planning on doing here. I know these guys are excited as well, because we've been busting our tails leading up to training camp. We should be ready to hit the ground running."
You recently became a father, and I'm so happy for you and your wife! You always hear people talk about how having a kid changed them; have you experienced that?
Nance: "So, it's funny… I was told the same thing and it was always a teammate or someone saying, 'No, man, you just want to go straight home and see your baby,' and all of that type of stuff. For me, of course she changed my life and everything for the better. But at the same time, I always wanted to be home anyway. (laugh) So now there's just that much more reason for me to go home and spend time there. I have an extra little treat [and reason] to be there. But it really is the greatest thing, and there's nothing I'd rather do than spend time with that kid."