It's May 21, 2015.
The Houston Rockets are dueling against the eventual champion Golden State Warriors. The Dubs are in the midst of a surprising-yet-dominant run, headlined by the impossible shot-making of Stephen Curry.
Curry and James Harden duke it out. Harden puts up a masterpiece: a game-high 38 points, 10 boards, nine dimes and three steals. Curry balls out as well, dropping a team-high 33 points and dishing out six assists while leading his team to a 99-98 victory.
In the wee hours of the next morning, the late, great Kobe Bryant sends out this tweet about Curry: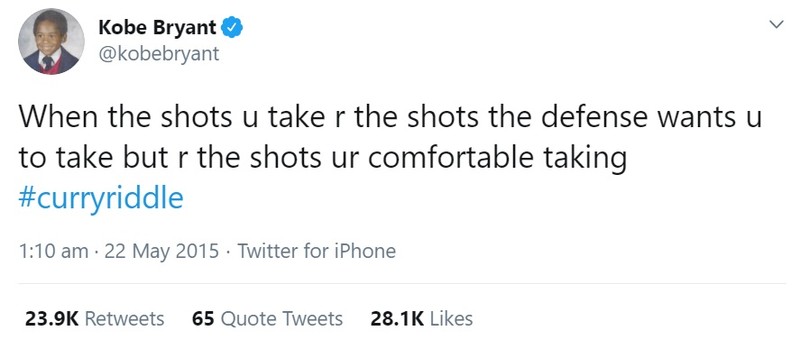 In short, Kobe felt (man, it sucks using past tense here) that the difficult thing about defending Curry was that he was good at making "bad" shots. That was one of the many things that made Bryant dangerous, and he appreciated that quality in Curry.
That quality centers around Curry's pull-up jumper, a shot he weaponized in a way nobody in basketball history had to that point.
On the WNBA side, we're starting to see Kobe's words manifest in the way of Dallas Wings star Arike Ogunbowale.
Ogunbowale has emerged as the league's preeminent scorer. That's statistically true -- her 22.2 points per contest give her a nearly two-point lead on second place to A'Ja Wilson of the Las Vegas Aces (20.3).
Ogunbowale doesn't just get buckets, she gets timely buckets. Only two players -- Minnesota Lynx guard Crystal Dangerfield (6.6) and Atlanta Dream guard Chennedy Carter (6.5) -- average more than Ogunbowale's 6.3 fourth-quarter points.
It's fitting to start with a Kobe quote. You have to start with a Kobe quote. There's no way to watch Ogunbowale -- heck, you can't even follow her on Twitter -- without seeing her idol's influence. She dons No. 24. She's rocked his shoes. Her dog is named after the Hall-of-Famer, and has signed merch from the Laker legend to boot.
Though the aesthetic connections are easy to make, it's the on-court similarities that drive the comparison home. I posed a simple question to Ogunbowale during a chat on Thursday: To those who haven't seen you play, how would you describe your game?
"I'm really aggressive," Ogunbowale begins. "I'm a pretty good one-on-one player, so I like to create. I like to shoot. I like to drive to the basket. I like to pull-up. I'm really a player that's always in attack mode and looking to create something."
Much like Kobe was, Ogunbowale is intentional about watching others. Learning from others. Incorporating bits and pieces of their games into her already-diverse bag of tricks.
"Anyone that knows me knows that I love Kobe," Ogunbowale says. "[But] I really like how Jayson Tatum and Shai Gilgeous-Alexander play. I like their pace of game. I'm a really fast player, but I like to slow things down."
Tatum, of course, famously worked out with Kobe after his rookie season. Gilgeous-Alexander has mentioned Kobe as a guy he looked up to growing up.
You could see elements of all of their games on display last Friday night. Ogunbowale lit up the reigning champion Washington Mystics to the tune of 39 points, a career-high for her.
It all started with her pick-and-roll work, an area she's become more manipulative in.
"The first thing I look at is how far the big is sagging off," Ogunbowale tells me. "Once I get the screen and I see the [big] is far back, they're really at my mercy. I can pull up, I can hesi and go to the basket, or I can probe a little bit and hit the player that set the screen."
The Mystics went the conservative route on their ball-screen coverage. If it wasn't a classic drop, they opted to switch in an effort to keep the ball in front. In either case, the big was at Ogunbowale's mercy.
She was merciless.
There isn't much Emma Meesseman (No. 33) can do when she's on Ogunbowale's playground.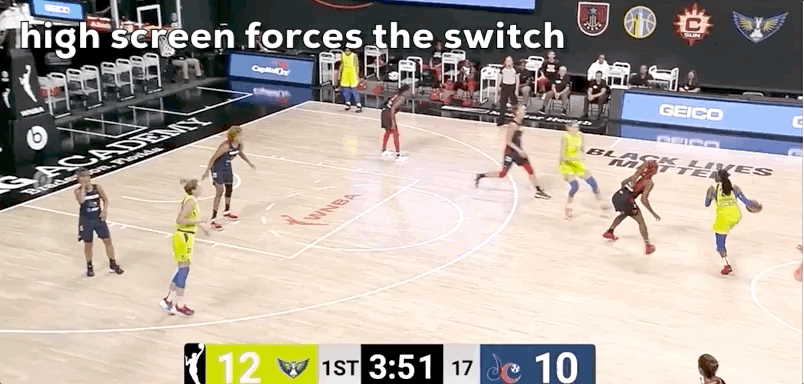 The Mystics are in a drop here as Ogunbowale comes off the dribble-handoff (DHO). She's able to turn the corner, and the contest doesn't matter once she builds a head of steam.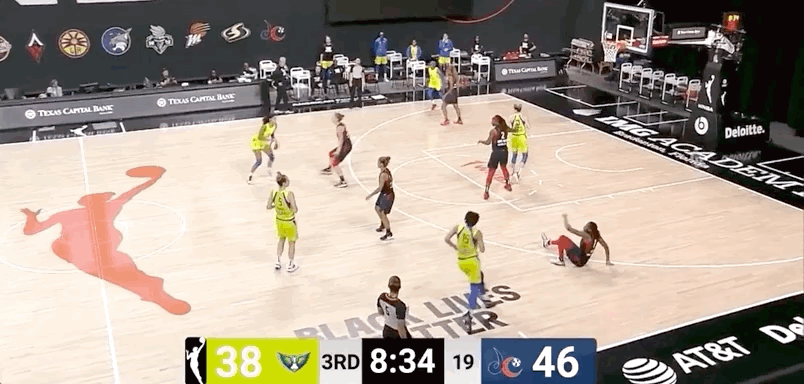 Nobody gets it off the bounce quite like Ogunbowale. She led the WNBA in points on shots off the dribble (5.2) last season, per Synergy. That mark has risen to 6.4 this season. Most of those come in pick-and-roll situations, where Boston Celtics star Kemba Walker has been an influence.
"[Kemba] kills it in pick-and-roll," Ogunbowale says. "He can stop on a dime or get to the basket easily. He's super shifty. He's not that big either. Obviously in the women's game, the guards are small too, so being able to get through those [picks] quicker than others is important and I feel like he does that well."
Of course, Ogunbowale doesn't need a screen to get busy. She can do bad all by herself. There's the perimeter creation, where she can use her filthy in-and-out dribble to freeze defenders and pull, or use a hard pound to flow into a side-step jumper like she does to send this game to overtime: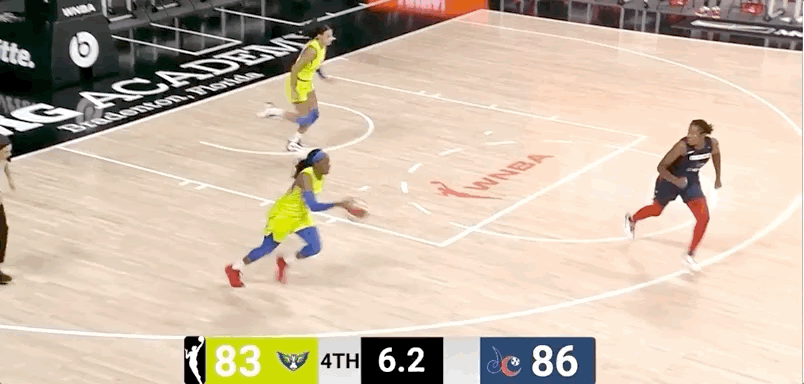 Or she can put defenders on her hip and manufacture points from the block.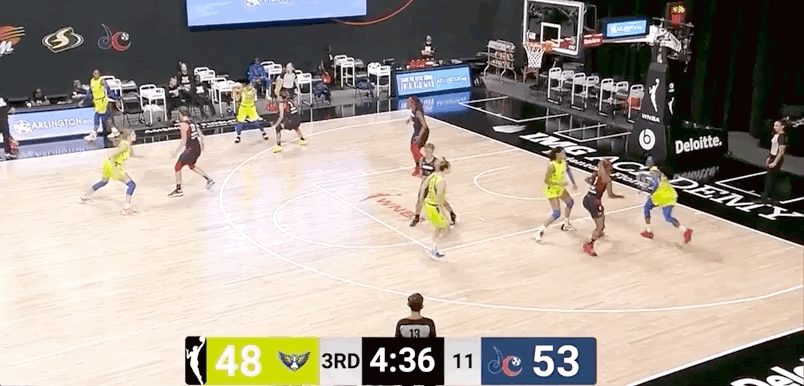 The next frontier, Ogunbowale says, is expanding her game off the ball.
"I can make stuff happen when the ball's in my hands, but obviously defenses don't want the ball in my hands. When I do get it, they're trapping and doing other things. So if the ball is on the other side, I need to move and get to spots so I can get open more quickly."
Beyond the numbers, there's something about the way Ogunbowale goes about scoring. There's inherent creativity and IQ on display during some of her attacks. In other instances, it's her predictability, as counterintuitive as that sounds.
It's demoralizing to force someone into tough shots, only for those shots to be drilled with ease. To see a move coming, but being rendered useless in defending it. Predictability turns to inevitability.
At her best, Ogunbowale is inevitable.