On this episode of The Posecast, James Posey and Jamieson Welsh are joined by two-time NBA champion, author, actor and all-time great Ray Allen! They discuss his Hall-of-Fame career, his intense battles with Kobe Bryant, his Jordan Brand deal, his various NBA stops, the differences between the 2008 Boston Celtics and the 2013 Miami Heat, how he'd fare in today's NBA, social injustice and more. Listen above or watch the video below. Here are the time-stamps:
1:05: Ray started playing basketball because he wanted to impress a girl. Then, he fell in love with the sport.
2:35: Eventually, Ray landed at UConn with head coach Jim Calhoun. He shares how he ended up with the Huskies (against all odds).
5:30: Who taught Ray how to shoot and perfect his form?
6:40: Ray is known for having a very specific pre-game workout and routine. Shane Battier once said that Ray is "almost OCD with his preparation." Ray discusses how he developed his regimen.
9:15: Some shooters try to make a certain number of shots each day. Ray disagrees with that approach.
11:10: Ray discusses his experience playing in the Big East, including his college match-ups against Allen Iverson and the late John Thompson.
15:15: The 1996 NBA Draft featured Ray, Kobe Bryant, Allen Iverson, Steve Nash, Jermaine O'Neal, Stephon Marbury, Antoine Walker, etc. Ray talks about the 1996 class.
17:00: Ray was one of the first players to sign with Jordan Brand. He talks about how his deal with Jordan Brand came together (and which companies he turned down).
19:35: Ray and James talk about the first time they played against Michael Jordan. Then, they discuss what they respect most about Jordan - on and off the court.
23:45: To this day, Jordan Brand sends Ray every new shoe and piece of apparel for free. He talks about what they sent him in the most-recent delivery.
25:50: Ray shares the rarest Jordan Brand shoes he owns and names his all-time favorite pair of Jordans.
27:35: In 1999, Ray negotiated his own $70.9 million contract with the Milwaukee Bucks after firing his agent. He discusses that situation and why he fired his agent.
32:40: Everyone thinks of Ray as one of the best shooters of all-time, but he's had quite a few poster dunks too. He talks about being more than just a shooter.
35:50: Ray discusses why he doesn't like to compare the 1996 NBA Draft to other great classes.
38:45: Ray looks back on his battles against Kobe Bryant and admits that they didn't like each other.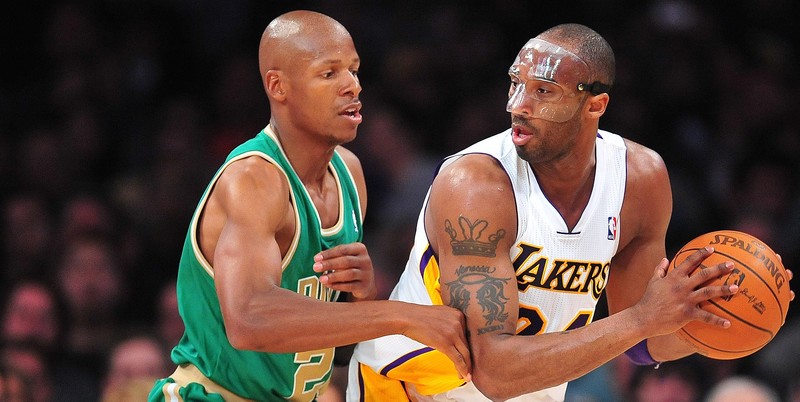 40:40: Ray talks about being traded from the Milwaukee Bucks to the Seattle SuperSonics. He also discusses his experience playing alongside a young Rashard Lewis in Seattle.
45:45: Former Bucks head coach George Karl has taken some shots at Allen in recent years. Ray discusses this and why it frustrates him.
47:40: Which current, up-and-coming shooters in the NBA impress Ray?
49:20: Ray discusses how he would fare in today's NBA, with so many three-point attempts. In this era, how many threes would he attempt and how many points per game would he average?
51:25: James and Ray talk about playing together in Boston. Ray praises James' game and work ethic.
53:55: Ray talks about his longevity and how he went from being known for his all-around scoring to being seen primarily as a three-point shooter.
56:20: Ray discusses how he got cast as Jesus Shuttlesworth in the movie "He Got Game" and what it was like acting alongside Denzel Washington.
60:00: Of all the cities that Ray played in throughout his NBA career, which was his favorite?
60:55: Ray talks about the SuperSonics' departure from Seattle and some of the issues that he had with ownership during his stint with the team.
64:30: Ray wrote a book called "From the Outside: My Journey Through Life and the Game I Love." He discusses his experience writing his book and why it was important to him.
1:10:45: How did the Boston Celtics' Big Three of Ray Allen, Kevin Garnett and Paul Pierce come together? Ray talks about how the trio was assembled and whether there was behind-the-scenes recruiting.
1:14:20: Ray hit one of the biggest shots in NBA history during Game 6 of the 2013 NBA Finals. Ray walks through what happened on that play and what he was thinking.
1:17:15: Ray and James look back on the 2008 Celtics and at what point they realized that winning a championship was realistic.
1:19:20: What were the biggest differences between the 2008 Boston Celtics and the 2013 Miami Heat (since Ray won a title with both teams)?
1:21:20: There were a lot of rumors that Ray might come out of retirement to join the Golden State Warriors or Cleveland Cavaliers around 2016. Was there any truth to those rumors?
1:22:55: Ray opens up about social-justice issues and how athletes are using their platform to speak out. He also discusses the lack of leadership in the United States.
89:45: Ray discusses what changes he would like to see going forward.
96:30: Ray shares his "Free Game."
This episode is sponsored by GreenSupply.com. Use promo code POSEY for 10% off at checkout.