The 2021 NBA Draft is approaching, rumors are flying and basketball fans are anxiously awaiting where the next generation of talent will land on Thursday night.
Draft week is underway. The New Orleans Pelicans and Memphis Grizzlies reportedly agreed on a layered trade that should only mark the beginning of a chaotic few days.
BasketballNews.com's Lead Draft Analyst Matt Babcock recently updated his 2021 NBA Mock Draft with some of his latest predictions and intel. Babcock and his draft team have been full-throttle in recent weeks, so in order to learn more about what went into his predictions, we dug a little deeper to get a pulse on the league ahead of Thursday night. Below are Babcock's latest insights:
Cade Cunningham has been the public favorite to go No. 1 to the Detroit Pistons since the lottery. While Detroit is surely doing its due diligence, is there any reason to doubt that Cunningham will be the first name we hear on Thursday night?
Matt Babcock: I expect Cade Cunningham to be the top overall pick in this draft, selected by the Detroit Pistons. However, I've been told that the Houston Rockets and Oklahoma City Thunder have been knocking the Pistons' door down. Rumor has it that the Thunder offered the No. 6 pick and Shai Gilgeous-Alexander in exchange for No. 1 -- the Pistons declined. If the Pistons receive an offer better than that one, they may need to seriously consider it.
Scottie Barnes has moved up to No. 4 in your latest mock draft, breaking through what is generally considered to be a four-player top tier of Cunningham, Evan Mobley, Jalen Green and Jalen Suggs. What inspired you to make that change?
Babcock: Scottie Barnes' draft stock seems to be at an all-time high. There's a lot of buzz swirling around that he'll be going to either the Toronto Raptors at No. 4 or Orlando Magic at No. 5. I'm not completely convinced that Barnes will end up in Toronto at No. 4; however, it's what I decided to go with for now.
Another thing worth noting is that I've heard Toronto is very high on Evan Mobley, who I do not think will be available at No. 4. I could see a trade between Toronto and either Houston or the Cleveland Cavaliers making sense.

Josh Giddey, Alperen Sengun and Usman Garuba headline the draft's international class. What do you see their respective ranges being?
Babcock: Josh Giddey from Australia seems to be a hot commodity right now. I have been told that Golden State likes him at No. 7, but that the Warriors are supposedly being assertive on the trade market.
I had heard that the Memphis Grizzlies and Houston were teams that could move into the lottery in an effort to select Giddey. Memphis just struck a deal with New Orleans, which now gives them the No. 10 pick. Subsequently, I do not see Giddey getting out of the top 10, much less the lottery.
Alperen Sengun seems to be in a very good situation. I've heard his name being suggested as an option for teams picking as high as No. 8, which is Orlando's pick. I've also heard his name linked to the Charlotte Hornets at No. 11, San Antonio Spurs at No. 12, and Oklahoma City Thunder at No. 16. It's looking as if Sengun's chances of being taken in the lottery are pretty high.
Although maybe not ranked quite as high as Sengun overall, Usman Garuba is also generating a lot of interest from teams. His name has been linked to the New York Knicks as well as Houston.
One interesting note with Garuba: I've been told that his buyout with Real Madrid is for $3 million, which is just ungodly. It doesn't sound as if it is going to limit teams from selecting him; however, a large bulk of that buyout will have to come out of Garuba's own pocket, which just doesn't seem fair.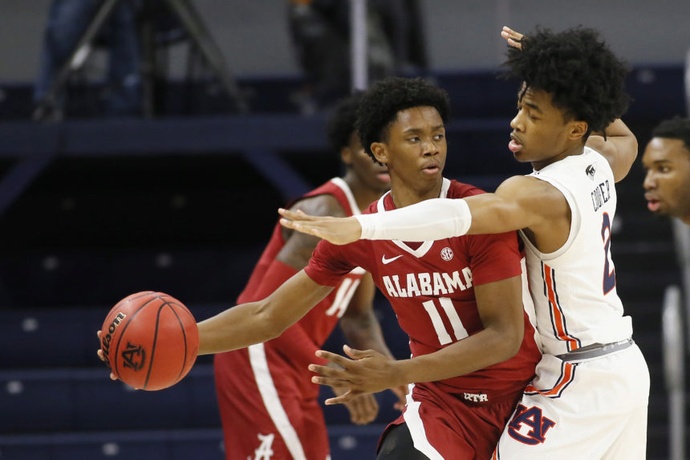 What prospects are elevating their status from the second round to the first round?
Babcock: The pre-draft process has been kind to both Josh Primo from Alabama and Nah'Shon Bones Hyland from VCU, as both have put themselves smack dab in the middle of discussions among teams selecting in the twenties. I would not be surprised to hear one or both of their names called by NBA Commissioner Adam Silver in the first round.
What prospects are seeing their draft stock slip in the closing weeks?
Babcock: Jonathan Kuminga was widely reported as a projected top-5 pick for most of the year; however, it's looking like there is a strong possibility that he goes either No. 7 or No. 8 overall now. Two other names that could potentially slip a little bit are Jalen Johnson from Duke and Sharife Cooper from Auburn.
Five teams (Oklahoma City, Orlando, Golden State, New York and Houston) currently own multiple first-round picks. Do you expect movement from any of these squads?
Babcock: There has been so much trade chatter this year among those teams, but most of the other teams, too. I fully expect there to be a ton of movement prior to, or during, this year's draft.
Baylor's Jared Butler was recently cleared by the NBA's Fitness-to-Play panel. Now that he has been cleared, what do you anticipate his range to be?
Babcock: One thing to keep in mind is that being cleared by the NBA's Fitness-to-Play panel is completely different from being cleared by each team's doctors. I'm absolutely hoping for the best for Butler, but I don't think he is completely out of the woods, as I still think it's more than possible that he could be medically red-flagged by some teams.
However, a rumor that I hope to be true, for Butler's sake, is that the Thunder have their eyes set on Butler with the No. 18 pick.
Have any franchises been particularly tough to get a read on in the pre-draft process?
Babcock: Typically, gathering information about the San Antonio Spurs' intentions is comparable to breaking into Fort Knox. This year is not any different.
Lastly, what remaining surprises could be in store as we watch this year's NBA Draft?
Babcock: That's all I have for you at the moment, but new information has been coming in at a rapid pace. We are set to do a live-stream show during the NBA Draft on Thursday, July 29, starting at 7:45 p.m. ET. My colleague, Derek Murray, and I will be providing analysis on each draft pick while also sharing the latest intel that we've gathered -- so be sure to tune in.
Be sure to follow along with Matt Babcock and BasketballNews.com for the latest on the draft and offseason. To see BasketballNews.com's latest 2021 NBA Mock Draft, click here.