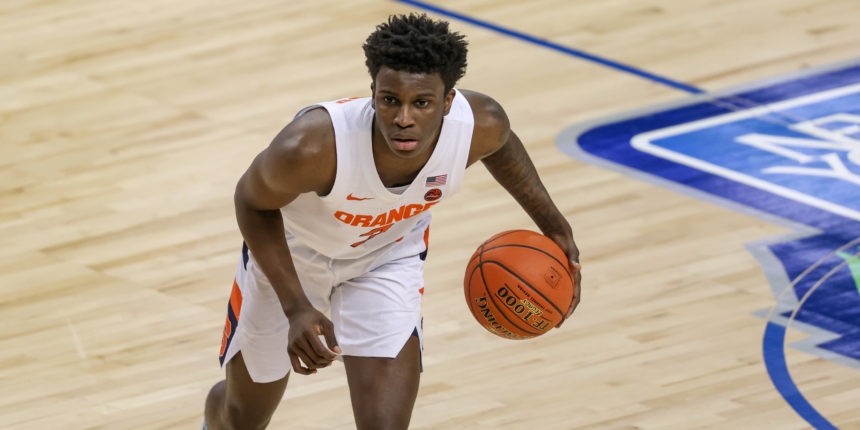 Losing Kadary Richmond is a tragedy for Syracuse University
Syracuse University's magical Sweet 16 run may have ended on Saturday night against the No. 2 seed Houston Cougars, but this is what March Madness is made of: the story of Jim and Buddy Boeheim, a coach and his son making a tournament push, warmed everyone's heart.
Interviewed on countless shows, laughing and joking, the duo was everywhere. The two talked about everything, from who was the better player to Buddy forgetting his electric shaver and having to run to Jim's room to borrow one before the game. It was March Dad-ness, and the world couldn't get enough of it.
Of course, this was a dramatic turnaround from the original reaction. Just two seasons ago, the consensus was that Buddy was only on the team because his daddy was the coach, but he definitely shut all of his critics up as he morphed into Buddy Buckets right before everyone's eyes.
However, when the dancing stopped, it really stopped. Coach Boeheim broke the news that he expected four-to-six players to transfer this season, and the Orange Nation took a collective gasp.
One by one, he's been absolutely right.
First, the news came about Bol Ajak, a freshman who only appeared in 10 games this season, entering the transfer portal. He was recruited as a forward and converted to the center spot, and was never able to crack the rotation.
Then came Robert Braswell, who saw his playing time really increase toward the end of the season. In fact, Braswell averaged 7.4 points per game over the last five games of the campaign (including the ACC and NCAA Tourney). He received endless praise from Coach Boeheim, although the praise did appear to be more of continuous jabs at Alan Griffin, who appeared to be in Jim's dog house and was never able to get out.
Griffin went from 30 minutes a game -- and at times carrying the offensive load almost single-handedly -- to being consistently yanked out of the game just minutes after tip-off. It was almost as if Coach Boeheim was waiting for him to make a mistake so he could snatch him out. It wouldn't be suprising to see Griffin as another player to enter his name into the transfer portal, but I'm sure he will do well wherever he goes. He's a very good player and handled a difficult situation with maturity and professionalism.
In an article on SI.com predicting who will stay and go, Mike McAllister said he expected freshman guard Kadary Richmond to continue his career with the Orange.
"Richmond is young, extremely talented and has an NBA ceiling," McAllister wrote. "Syracuse knows how good he is. My prediction is that the coaching staff communicates all of that during exit interviews, reiterating he will play a lot of minutes next season, and Richmond stays."
Unfortunately, that didn't happen. Tuesday morning, Richmond entered his name in the transfer portal, officially exiting Syracuse to join his former teammates in looking for a new direction.
How did we get here? How did a point guard who has shown the potential to be included in the upper echelon of Syracuse greats end up transferring after his freshman year? Well, let's take a look back at what transpired this season.
All season long, Syracuse fans screamed from the mountain tops for Richmond to receive more playing time. It's been kind of a rallying cry for one and all. (Along with "Free Jesse," but for the purpose of this article, we'll focus on Kadary.) Orange Nation would watch Richmond on the bench, puzzled.
Why would a person who is that much of a difference-maker not play more minutes?
Now, this is no knock on starting point guard Joseph Girard, who is capable of shooting the ball from Steph Curry land, as his endless range makes defenses extend their pressure. When he comes off of a screen, catches the ball and goes up to shoot, most onlookers expect it to go in. He has a James Harden-like sidestep or stepback that has proven extremely difficult to guard.
Girard is very good at what he is good at -- but on the flip side, the things that are not his strengths seem to all be Richmond's strengths.
For example, the end of the game against West Virginia seemed like it was headed for disaster. Syracuse was having trouble inbounding the ball (multiple times) under the opposing basket. They ran scheme after scheme: lined up all four guys across the front, had one person cut one way, had the other set a pick the opposite way, called a timeout to regroup. But each inbound attempt resulted in the team getting trapped in the corner and almost turning the ball over. It happened three or four times in a row in less than a minute.
Then, Coach Boeheim inserted Richmond to save the day. He casually cut open to receive the ball, and broke the press by himself. That play symbolized what happened the entire season. Kadary would be inserted almost when all other options ran out to save the day, and he would repeatedly deliver, yet never earned the starting position.
Richmond's ability to handle pressure was simply far beyond his years. Opposing teams would smell blood in the water when they would see Girard alone in the backcourt. Teams that didn't even typically press would all of a sudden start blitzing him because every scouting report on Girard read: "Doesn't handle ball pressure well." Even in the half-court, you would see teams bump him, apply pressure and make him put the ball on the floor, which more times than not would result in turnovers for Girard.
They couldn't do that with Richmond. He would almost invite the pressure, calmly crossing over from left to right a few times and knifing down the lane to effortlessly lay it in or find someone wide open for an assist. In fact, if you adjusted his playing time to 40 minutes per game, Richmond would almost lead the ACC in assists per game (trailing only Pittsburgh's Xavier Johnson).
Richmond got everyone involved. He is the type of point guard anyone, including myself, would've loved to play with. Players know that if they set a pick for him and roll hard to the basket, he will find them. If he drives and they get to an open spot and have their hands ready, the ball will just magically appear in their grasp. If they run the floor hard on a fastbreak, Richmond won't keep it to try to go 1-on-3 or Eurostep into traffic and force up a shot like so many players do today; he will make the right play and hit the open man. If you spot up behind the three-point line, he will find you. (I'm still not a big fan of all these threes, but I understand that's just the new age of basketball, and I have morphed into the grumpy old get-off-my-lawn former player in some sense, and I'm okay with that...but I digress).
The point is, what Richmond brings to the game is invaluable.
On the defensive end, Richmond was clearly the best perimeter defender on the team, and it wasn't even close. Multiple times, he would get back-to-back steals as soon as he was inserted into the game. The careless and lazy passes that the opposing team were able to get away with doing when he was on the bench would no longer work. Richmond's lengthy wingspan, physicality, lateral movement, mobility, basketball IQ, anticipation and ability to pick-off ball carriers would be on full display game after game. He would have an immediate impact on both ends of the floor.
Coach Boeheim then gave excuses to the media and writers, who were also wondering why Richmond wasn't seeing more playing time.
"He's learning. He has his conditioning. I'm not sure he can play any more minutes than 20. He could play a few (more) maybe," Boeheim said.
That statement left all of Syracuse Nation completely puzzled -- including myself.
I've said it before and I'm going to keep saying it, Kadary Richmond should play as many minutes as he can possibly play (and that's a lot more than 20) We are a completely different team with him on the floor. Offensively and defensively it's night and day#FreeWoodyNewton #Cuse pic.twitter.com/wgpbiW7PSO

— Etan Thomas (@etanthomas36) February 20, 2021
The point guard is the most important position on the floor. Yes, everyone knows he should've been playing more, but what needed to be communicated to him was that what he brings to this team is invaluable, appreciated, cherished, recognized and respected, and that he would not be hampered by remaining in a Syracuse uniform. I'm sure other teams have been whispering in his ear all season that he won't have these issues at their school, that he would flourish at their programs and that they would value him.
Coach Boeheim and the entire staff should have started recruiting him all over again, and all of that should have been communicated to him. Maybe it was, and Kadary was just didn't believe them because of what actually transpired this season. At any rate, it wasn't enough to convince him to stay.
And as the tragic reality settles in on Orange Nation that Kadary Richmond will no longer be with the Syracuse program, we have to come to grips with the fact that we have squandered away a special talent.