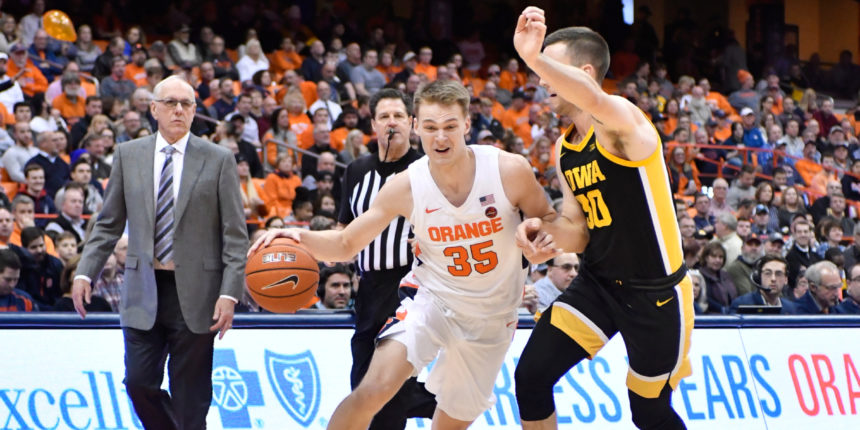 The pressure of being the coach's son: Q&A with Syracuse's Buddy Boeheim
Syracuse shooting guard Buddy Boeheim has answered all critics with his play, especially as of late in the season. He has added dimensions to his game every year and has shown exceptional growth in his overall game.
His freshman year, he was primarily a spot-up shooter. You didn't really want him to put it on the ground too much, and although he was streaky, it was very evident that he would grow into a lethal shooter with time.
His sophomore year, he added a one-dribble pull-up to his game that wasn't there the previous year. He also improved his defense, which was often a criticism of him his freshman year.
Then came his junior year, and Syracuse fans had the privilege of seeing Buddy grow into his own. He dominated games and looked unstoppable at times -- adding a new dimension of driving to the hole, getting and-one's, putting the team on his back at times and playing with confidence. No matter if he was struggling with his three-point shot at the beginning of the season when he was shooting as low as 27%, to when he was shooting 46% over an 11-game stretch. His confidence never visibly dwindled, and his patented smile made it hard not to be happy for him.
If there were fans in the Carrier Dome, they would have for sure been chanting "B-U-D-D-Y! B-U-D-D-Y!" as he caught fire multiple times. Breaking his previous career highs as his teammates continued looking to him as he had the obvious hot hand.
Buddy put on a show in the ACC Tournament and was nothing short of spectacular. His sharpshooting led Syracuse to a blowout romping of NC State and a near-upset of top-seeded Virginia, who barely escaped the loss. It took a slow five-second count while the Cavaliers looked to inbound the ball (yes it should've been five seconds, you can roll the tape) and a buzzer-beater to avoid the upset.
But Buddy's play was magnificent. He averaged a shade under 30 points per game in two ACC Tournament games while shooting 60.6% from the floor overall and 55% from three-point range. This earned him All-ACC Tournament First Team honors. For the season, Buddy led Syracuse in scoring at over 17 points per game.
But this wasn't an easy road for him. Playing for your dad can be a very difficult task, and accusations of preferential treatment have whirled around since he stepped foot on the Syracuse campus, so we discussed it in depth as Buddy opened up about how he has dealt with it all in this exclusive Q&A with Buddy Boeheim:
Etan: Is there extra pressure playing for your dad?
Buddy: I'd say, at first, there was definitely pressure being the coach's son. As a freshman, I wasn't ranked and didn't get noticed until the end of my junior year in high school. Coming in, I felt like I had a lot to prove -- and on top of it, I was the coach's son. For that reason, I knew if I had a bad game or wasn't playing well people would say I was only playing because of my dad. Over time, I've gotten more and more used to it and I feel like I've proven that I belong here.
Do you feel people criticize you more because your dad is the coach?
Buddy: I would say at times people criticize me more than usual because I am the coach's son. As a Hall-of-Fame coach, my dad is very well known, so I think a lot is expected of me right away. However, I'm hard on myself as it is, so after a bad game or stretch of games, I know that I have to be better and work harder in order to get through a slump.
Do you feel you have more to prove than other players because your dad is the coach?
Buddy: As the coach's son, there are times where I feel like I need to prove more because I know there are different expectations for me. For the first part of my freshman and sophomore years, everyone was saying I only played because of my dad, even if I had a pretty good game. At some point, I just realized that there will always be people saying that regardless of what happens, and I'm going to have my struggles since the ACC is one of the toughest conferences in all of college basketball. Also, my coaches and teammates have really helped me and always remind me that they believe in me and that I belong here. That has helped me persevere through a lot of doubts and questioning whether or not I should be playing here.
Is your dad harder on you than other players?

Buddy: One of the most important things for me, when I chose to play for my dad, was to be treated like every other player. When I make a mistake, I want him to yell at me because he would do the same to any other player that messes up. He's done a real good job with that, and I would say it's the best playing for him because he knows me so well as a player. He knows what motivates me and pushes me to get better and keep playing, even if I'm not making shots or losing confidence. I'd say he isn't as hard on me anymore because I know what he's looking for, and that's just to play as hard as I can and to not make the same mistake over and over again. It has been a great experience playing for him, and I've learned so much from him and all the wisdom he possesses.
Buddy Boeheim has not only proven that he belongs on the Syracuse men's basketball team, but he's also shown the entire basketball country that he can be a special player in one of the most competitive conferences in the NCAA.
Syracuse enters the NCAA tournament as an 11-seed to face the sixth-seeded San Diego State Aztecs at 9:40 p.m. in the Midwest Region on Friday in Indianapolis.