Ah, the Western Conference. Where there are very few "average" teams, much less a need to quantify that mediocrity by stating a team is "very average." Back in the East, "very average" was the quote of the night from a player from a certain team in Brooklyn that stunk for a third-straight game.
The West is better than the East once again, which is no longer can be explained away as a cyclical pattern (as former commissioner David Stern used to do). Only once in the past 12 seasons has there been an East team without LeBron James that won a title. And that team was not even located within the continental United States.
As this 72-game season plods forward with cabin fever being experienced at an epidemic level by NBA players in five-star hotels, there is nothing predictable on any given night unless the Jazz are playing. Utah has won 16 of 17, with that only loss coming in an afternoon game against Denver. Utah's last loss in a night game was way back on Jan. 6.
So Quin Snyder's team leads off our trimester report card for the West, coming off of yesterday's Eastern Conference report card in which the Pistons must have been upset about their D-minus-minus. Hey, the professor is tough, but nobody gets an "F" around here.
So, without further ado…
UTAH JAZZ (20-5): What sets this team apart from the other 29 is their three-point proficiency. They have taken and made more three than any team and they have converted them at a 40.2-percent rate, which is better than everyone except the Clippers. On any given night, it could be Donovan Mitchell (an MVP sleeper pick at 100-1), Joe Ingles, Mike Conley, Bojan Bogdanovic, Jordan Clarkson or Royce O'Neale. Then, they also have Rudy Gobert grabbing 13.5 rebounds and blocking nearly three shots per night, and there isn't much to pick apart here. They have a back-to-back against the Clippers next week. Advice: Watch both games.
GRADE: A
LOS ANGELES LAKERS (19-6): They have the league's best road record (10-2) and are currently on a five-game winning streak, as ageless LeBron James keeps putting up triple-doubles and Anthony Davis gets it done on both ends of the floor -- something that has made him to No. 1 name when discussing Defensive Player of the Year candidates. Dennis Schroeder and Montrezl Harrell are combining to give them almost 28 points per night, and they are so deep that their starting center, Marc Gasol, is 11th on the team in scoring. Six of their next 10 games are on ABC/ESPN, the best of the bunch being their Feb. 24 match-up at Utah.
GRADE: A
LOS ANGELES CLIPPERS (17-8): They go into tonight's game against Minnesota having lost two in a row for the first time this season, and Paul George (swollen right toe) is not on the trip. But Patrick Beverley could be back after missing eight games with right-knee soreness, and it'll be nice to have another look at one of the handful of current NBA players who can an effective perimeter defender night after night after night. Imagine if he was allowed to hand check? The Clippers are knocking down threes at an astronomical rate (41.9 percent), which is the best since the Charlotte Hornets shot 42.8 percent in 1996-97 when the league moved the three-point line closer (22 feet), a change that was abandoned after two seasons. Back to the Clippers: Kawhi is not getting worse. 'Nuff said.
GRADE: A
PHOENIX SUNS (14-9): Kaminsky? Really? OK, apologies for that, Devin Booker, but old Frank from UW is bringing it nightly lately, which is a testament to how this Phoenix team gets a lot more than expected from absolutely everyone, and last season's 8-0 unbeaten bubble run was no fluke. Adding Chris Paul has been huge for this team, as his veteran leadership has turned the Suns into a top-four team even though their primary offensive weapon in Booker has seen his scoring and shooting dip from where they've been the past three seasons (which is weird). The trend extends to Deandre Ayton, whose scoring is down 4.2 points per game. But the Suns are well-rounded, and Paul is Mr. Intangible, Mr. Leadership, Mr. Steady.
GRADE: A-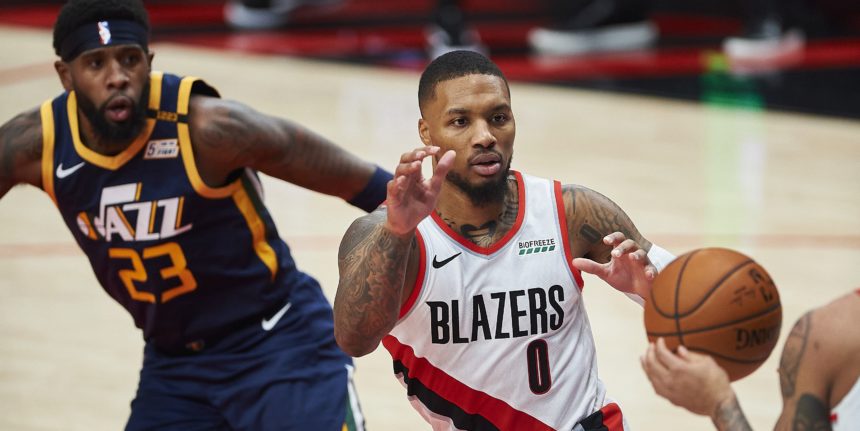 PORTLAND TRAIL BLAZERS (13-10): To have this record despite the injury absences of C.J. McCollum and Damian Lillard is quite impressive, and at a certain point 29 general managers (along with some former GMs) are going to be kicking themselves for not grabbing Enes Kanter when he was available, which has happened a number of times over the past half-decade. Lillard pretty much never has a bad night (only three sub 20-point games), and Carmelo Anthony continues to flash the form that made him a 10-time All-Star. Gary Trent Jr. is hitting threes at a 43-percent clip, and Terry Stotts has been adept at riding the secondary hot hand (aside from Lillard) from game to game.
GRADE: B+
SAN ANTONIO SPURS (14-11): All of the barber shops are apparently closed in San Antonio, but that did not stop Gregg Popovich from getting the coronavirus vaccine and having the NBA film it so that it could be used in a public service announcement. Props on that, Pop. Dejounte Murray and Patty Mills have been excellent alternating time at point guard, which makes one wonder whether Derrick White gives them too much of a good thing, and whether they will be active at the trade deadline. LaMarcus Aldridge has missed the past four games, and he can be considered an old 35 as he finishes up his contract along with DeMar DeRozan. No NBA team has less salary committed for next season, so the Spurs can take on long money if they so choose at the trade deadline.
GRADE: B+
DENVER NUGGETS (12-11): Perhaps Jamal Murray spoiled us in terms of expectations during the playoffs. For two weeks, he was all anybody wanted to talk about. But now he is shooting 44 percent and averaging just 16.8 points, and the rest of the sidekick by committee crew is not stepping up on any kind of a consistent basis. Michael Porter Jr. is pretty darned good now that we are getting an extended view of him, but the team needs more from Murray and their supporting cast. Asking Nikola Jokic to deliver career-best games night after night isn't sustainable.
GRADE: C
GOLDEN STATE WARRIORS (13-12): It was all "boo-hoo" and "the-end-of-the-world-is-here" back on draft night when we all learned that Klay Thompson would miss another season, but these guys have dusted themselves off and are getting big night after big night from Steph Curry. As head coach Steve Kerr recently said: "This is the best I've ever seen him, just from a confidence and strength standpoint, and that's saying something, obviously." When you are talking about a two-time MVP who was once a unanimous pick (the first ever), that is truly a mouthful. Draymond Green is piling up the assists, reaching double figures four times in five games this month after doing it just twice in all of January. Kelly Oubre has improved after a slow start to the season, and you have to wonder what James Wiseman will look like in the playoffs after having a full season (aside from his current injury absence – sprained wrist) under his belt.
GRADE: C+
SACRAMENTO KINGS (12-12): De'Aaron Fox has popped out four 30-point games in their last five, Harrison Barnes is as steady as they come and Richaun Holmes is second in the NBA in field goal percentage at 65.3 percent. If Buddy Hield could figure out how to shoot with consistency and Marvin Bagley III could realize his full potential, this could be a pretty decent team. Tyrese Haliburton has shown flashes in his rookie season, but he's no LaMelo Ball. The Kings were 5-10 but have won seven of their last nine, so keep an eye on them. They are the epitome of the sneaky, under-the-radar team.
GRADE: C
NEW ORLEANS PELICANS (11-12): Is it fair to say that the Zion fever we were all collectively experiencing entering his rookie season has gone away? Yes, he is a heck of a skilled player, but is he a guy you schedule your nightly TV viewing around? No. And Eric Bledsoe was supposed to be better than this. Same with Lonzo Ball and Steven Adams. They had the NBA's worst case of cabin fever after spending two consecutive weeks on the road right when the NBA tightened COVID protocols and banned players from leaving their hotels on the road. They have bounced back nicely recently with wins in six of their past eight, albeit against mediocre competition. A favorable schedule continues for another two weeks, after which David Griffin can decide what to do with this roster.
GRADE: C-
MEMPHIS GRIZZLIES (9-10): Looks like we will be seeing a lot of them and the Wizards during what was supposed to be a down week surrounding the All-Star break. All of their COVID-related postponements are going to make for a busy second half of the season, and they really don't even qualify for a trimester grade because they've only played 19 games. Aside from Ja Morant, who should continue to be a mainstay of Plays of the Day, there is not a whole lot for the casual fan to gravitate toward here.
GRADE: INCOMPLETE
HOUSTON ROCKETS (11-13): Everyone except Shaq had Christian Wood fever just a couple weeks back, and then he went down with a sprained ankle and the Most Improved Player race got thrown wide open (with Jerami Grant of the Pistons picking up steam). There is not a huge body of evidence to review concerning John Wall and Victor Oladipo playing alongside each other, as Houston has become the new home of load management. In hindsight, they probably should have traded James Harden before the season began. Distractions of that magnitude are not all that easy to shake off, and in this case, it set a negative tone for the franchise that seems to be bleeding into mid-February.
GRADE: C-
DALLAS MEVRICKS (11-14): Wasn't this supposed to be Luka Doncic's MVP season, the year when he and Kristaps Porzingis delivered a one-two Euro punch that the rest of the West would be unable to recover from? Well, so much for preordained storylines. This is the most disappointing team in the West, and you have to wonder how Rick Carlisle is going to solve this puzzle … or if he'll become the NBA's first head coaching fall guy. Not that we expect that, but somebody will eventually win the Fizdale Award. They are the NBA's worst three-point shooting team, and the NBA has sort of become three-point-centric, ya know?
GRADE: D
OKLAHOMA CITY THUNDER (10-13): After last year's overachieving season, we were all expecting them to take a major step backward while Sam Presti sent legions of scouts to the furthest reaches of the planet to find guys worthy of his horde of first-round draft picks. But scouts cannot travel overseas because of the pandemic, which makes you wonder exactly how Presti will find the next Aleksej Pokusevski. If not for Hamidou Diallo winning the slam dunk contest a couple years ago, these guys would be more anonymous than the Grizzlies. But they've overachieved here and there, so kudos for that.
GRADE: C
MINNESOTA TIMBERWOLVES (6-18): They were 2-0 the day after Christmas after beating the Jazz, but things have not really panned out since then, one might say. As a polar vortex covers a majority of the United States this week and you sit home shivering, be thankful that you are not in Minneapolis, and that your name is not Ricky Rubio. The forecast for Thursday is 1 degree in the Twin Cities and 58 degrees in El Masnou, Catalonia in Spain where Rubio is from. Did we mention that they actually beat the Jazz? Not much else positive to say about them.
GRADE: D-