The NBA is ultimately a pass-fail league. The postseason finishes with a champion, and everyone else fails.
OK, that's a little harsh. Failure is relative, and there are some teams that entered this season with their expectations managed. The Oklahoma City Thunder, for example, are passing the rebuilding test as they figure out what players such as Darius Bazley can do when given a chance. The 20-year-old went for 21 points and 16 rebounds last night against the Lakers, playing against a guy, LeBron James, that Bazley used to watch when he was still in diapers.
But you get the point. The regular season is a journey to the postseason for 20 teams this year instead of 16, and a journey to the lottery for the other 10. Today, we will give out team-by-team trimester grades for the 15 Eastern Conference teams, and we'll circle back tomorrow with the West teams. After the next third of the season is complete, we shall do this again.
So, without further ado…
PHILADELPHIA 76ers (17-7) – Doc Rivers has them atop the Eastern Conference and has Joel Embiid at the center of the MVP discussion, and Embiid is taking to social media to scold those who cannot quite comprehend how Ben Simmons is contributing to victories on nights when his box-score line leaves something to be desired. When Embiid has played, the Sixers are 14-4, and he clearly spent a bunch of his pandemic isolation time working on his conditioning. Philly has the NBA's best fourth-quarter offense, outscoring opponents by 112.4 points per 100 possessions. Shake Milton is contributing along with imports Danny Green and Seth Curry, and the Sixers have the league's best home record (11-2).
GRADE A-
MILWAUKEE BUCKS (16-8) – Let's face it, they spoiled us last season. After 24 games a year ago, they were 21-3. What's important to note with this year's team is that there was going to be a learning curve with Jrue Holiday taking over from Eric Bledsoe at the point, because chemistry takes time to build. Khris Middleton continues to do what Khris Middleton always does. Bobby Portis has been a very good free-agent addition (11 points, 7.4 rebounds), as noted in this recent profile by colleague Spencer Davies, and Donte DiVincenzo is doing a bit of everything as a full-time starter, shooting above 40 percent from three-point range.
GRADE: B+
BROOKLYN NETS (14-11) – Well, they have certainly been intriguing. The James Harden trade may have provided us with the most signature moment of the season, and Kyrie Irving has kept things interesting while being polarizing. The Kevin Durant situation last Friday gave everyone a better idea of how hard the NBA is working to contain the spread of the coronavirus, and although the league's methods can sometimes be maddening and isolating, we are not seeing the number of infections that we were seeing a month ago. A backup big man remains a need, and we shall see beginning tonight if Noah Vonleh is the answer. They are all-in on offense, but we all know that defense wins championships, so Sean Marks' roster remains a work in progress.
GRADE: B
BOSTON CELTICS (12-10) – Danny Ainge has been quiet… too quiet. And the Celtics have been too mediocre. Part of that is caused by Kemba Walker being unavailable for 13 of the 22 games, and Marcus Smart's injury hurts more than some may realize. In a league where elite on-the-ball defenders are hard to come by, Smart is one of the best in the business. He will be back by the end of the month, and his absence is providing everyone with a longer look at rookie Payton Pritchard. Jayson Tatum remains a stud player, but one has to wonder whether big men Tristan Thompson and Daniel Theis are championship material. Let's not forget that Andre Drummond is on an expiring contract in Cleveland, and Boston might be a perfect fit. Stay tuned.
GRADE: B-
INDIANA PACERS (12-12) – The acquisition of Caris LeVert did not exactly go as expected, but the Pacers saved the kid's life. He is expected back on the court in March. Myles Turner's broken hand was a setback, but Domantas Sabonis is having his best season statistically and is a lock to be an All-Star, and the Malcolm Brogdon-T.J. McConnell point guard duo may be the East's best. (Both are among the league's Top 15 in assist-to-turnover ratio). There is no official timetable on T.J. Warren's return from surgery for a stress fracture in his left foot. New coach Nate Bjorkgren has had to mix and match lineups, but if all goes well health-wise, he could have his full roster playing together over the final third of the season.
GRADE: C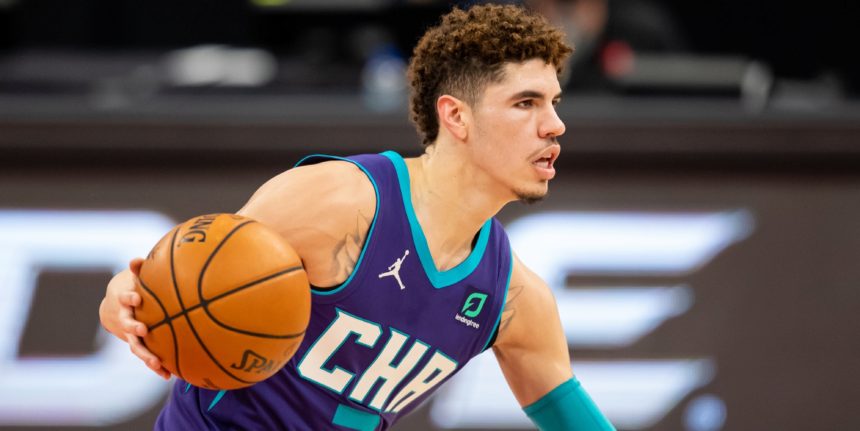 CHARLOTTE HORNETS (12-13): LaMelo Ball is starting to run away with the Rookie of the Year award, and Michael Jordan's team has quietly won five of seven, a stretch that began with victories over the Pacers, Bucks and Heat. These guys have spent exactly two days over .500, but they seem like a sort of sneaky good team when at full strength (Devonte' Graham is currently out, and Cody Zeller has missed half of their games.) Sixth place in the conference is not a bad place to be, and let's see what a full season of Gordon Hayward acclimating to his teammates leads to. Lest we forget, it's still somewhat early in the season.
GRADE: C+
ATLANTA HAWKS: (11-12): Trae Young is an All-Star and Clint Capela is leading the league in rebounding, and you can't help but wonder what that record might look like if Bogdan Bogdanovic had not fractured his knee. They have seven guys averaging double figures in points, and come playoff time, Danilo Gallinari and Rajon Rondo will provide them with what they've been missing in seasons past. They are the East's biggest sleeper team.
GRADE: C+
TORONTO RAPTORS (11-13): Nick Nurse's ejection last night gave him the league-lead among coaches in technical fouls, and Kyle Lowry leads the league in flagrant fouls. So, that's really not a bunch of great stuff to write home about from Tampa. Fred VanVleet and Pascal Siakam have had their moments, as has Chris Boucher, and they are working their way back from a 2-8 start with wins in four of their past five games. They get a lot of sympathy points here for playing an entire season on the road, for all intents and purposes. But sympathy points mean nothing in the standings.
GRADE: C-
NEW YORK KNICKS (11-14): Tonight, we get to see whether Derrick Rose reuniting with Tom Thibodeau is the secret sauce, and the roster is a work in progress as we discussed yesterday in exploring the possibility of a J.J. Redick acquisition. After 25 games a season ago, they were 5-20 and beginning the Mike Miller era, back when Leon Rose was still an agent and Thibs was wondering where his next paycheck would come from. This particular rebuild should allow for a playoff spot that ends a seven-year drought, and progress at MSG will take years, not months. Their cap flexibility going forward is huge.
GRADE: B-
CLEVELAND CAVALIERS (10-15): Getting Jarrett Allen from the Nets gives them a third young player to build around, joining Darius Garland and Collin Sexton (AKA the NBA's speediest backcourt). Can they get anything out of Kevin Love, either on the court or in the trade market? That is a major question. They have (what one would think is) a solid trade asset in Andre Drummond, although we were saying that about the Pistons a year ago when they had Drummond and they got very little back for him. It's too harsh to say they are two years away from being two years away, but you get the picture.
GRADE: C
CHICAGO BULLS (9-14): On the bright side, they have the same record as Miami. If you predicted that particular fact in the preseason, please provide MegaMillions advice. Not having Lauri Markkanen, Otto Porter and Wendell Carter has crippled them, but Thaddeus Young has stepped up (trade asset at deadline?). Coby White and Patrick Williams are getting trial by fire, and Billy Donovan is figuring out which of the young fellas are keepers moving forward. One would think Tomas Satoransky has some trade value.
GRADE: D+
MIAMI HEAT (9-14): The NBA's biggest mystery team. What the heck happened to the guys who went to the NBA Finals last season? Duncan Robinson and Precious Achiuwa are the only players who have appeared in all 23 games, so you cannot really say that this has been a collective failure. But the "next man up" thing has not produced anyone who is manning up in a major way, and no matter how miserable you may feel on any given day, Pat Riley has you beat.
GRADE: D-
ORLANDO MAGIC (9-15): Losing Markelle Fultz two weeks into the season was a kick in the head after they started 6-2, but Fultz then joined Jonathan Isaac on the out-for-the-season list. Over the past two weeks, they have been getting routinely trounced, and their point differential of -7.2 is the East's worst and the second-worst in the entire NBA thanks to the Timberwolves. Nikola Vucevic may still get an All-Star spot, but that is not as much of a lock as it seemed back in mid-January. This was a playoff team last season.
GRADE: D
WASHINGTON WIZARDS (6-15): Russell Westbrook sat out last night's back-to-back, which is frustrating. Basketball players get paid to play basketball, and once upon a time there was a commissioner, David Stern, who insisted that basketball players play basketball. At least these guys have Bradley Beal to make them watchable.
GRADE: D-
DETROIT PISTONS (5-18). The crazy thing is that they beat the Lakers once and almost beat them twice, losing last weekend in a double-overtime game in which the Pistons climbed back from a 17-point deficit. They also defeated the Sixers for one of their five victories, so go figure. It should not go unnoted that rookie Deividas Sirvydis has a PER of -26.69, which Hollinger himself cannot explain.
GRADE: D-