Jerami Grant had quite the week: A victory over the Los Angeles Lakers on Thursday night, a 26-point outing the previous night against Cleveland, and a 25-point, 8-rebound, 5-assist performance Monday in the Detroit Pistons' 119-104 road victory over the Joel Embiid-less Philadelphia 76ers.
Pistons general manager Troy Weaver got himself a winner when he signed Grant away from the Denver Nuggets shortly after taking over Detroit's franchise. Like Houston Rockets big man Christian Wood, Grant has emerged as a legitimate contender for the NBA's Most Improved Player award.
Grant is currently +150 (or 3/2) at DraftKingsSportsBook, while Wood -- the player he ironically replaced at power forward for the Pistons -- is +130. Behind those two is Jaylen Brown of the Boston Celtics (who was already pretty good), and Chris Boucher of the Toronto Raptors. Brown is 6-1 and Boucher is 10-1.
At PointsBet.com, which recently signed Shaquille O'Neal to an endorsement deal for the Australian market, Wood and Grant are co-favorites at 3/2, Boucher is 10-1 and Collin Sexton is 13-1. At FanDuel.com (the site that Charles Barkley always references when making his picks on TNT), the order is Wood, Grant, Boucher, Collin Sexton and Brown, and then there is a big odds drop to Shai Gilgeous-Alexander of the Oklahoma City Thunder and Michael Porter Jr. of the Denver Nuggets at +3600.
And at BetMGM, which just signed a content deal with The Athletic, the order is pretty much the same – although Julius Randle of the New York Knicks is 25-1 there, whereas he is 49-1 at FanDuel and 33-1 at DraftKings.
That is one of the interesting things about sports gambling in the United States, which has been legal since the U.S. Supreme Court overturned the Professional and Amateur Sports Protection Act (PASPA) on May 14, 2018. There is no national gambling law, and 26 states plus the District of Columbia have legalized it. New York and Connecticut are considering legalized gambling laws, and eventually there will be 49 laws in 49 different states (hey, we will always have Utah).
The Jazz, by the way, are still at 25-1 odds to win the title despite their current 10-game winning streak, one that is on the line tonight against the Dallas Mavericks in a late-night ESPN doubleheader. Nobody in the gambling world ever gives Utah any respect, as the major sportsbooks in the United States have taken a bulk of the championship futures market money on the Los Angeles Lakers, Brooklyn Nets and Philadelphia Sixers.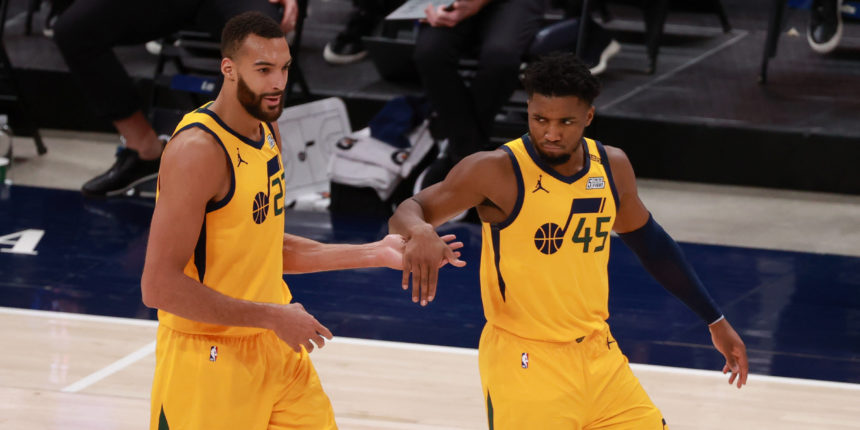 But the Jazz are the hottest team in the league (as Spencer Haywood pointed out in yesterday's feature story about his recovery from COVID-19), and their odds vary from gambling site to gambling site. FanDuel has them at 18-1 and BetMGM has them at 20-1.
But back to the Most Improved Player race.
Wood has been terrific for the Rockets, who have won four in a row as their roster has stabilized following the trade of James Harden. Wood has scored 20 points or more in all but one of their games this season, and he has reached double-figures in rebounds in four of the last five games.
His scoring average has risen from 13.1 last season with the Pistons to 23.4 for the Rockets, and he is sixth in the league in blocks (1.6) and 11th in rebounding (10.8) per game.
Grant, a key role player for the Nuggets last season, is leading the Pistons in scoring at 23.8 points per game after averaging 12.0 points for the Nuggets last year and 13.6 for the Thunder the previous season.
But a guy to keep an eye on is Randle, the Knicks power forward who has led the team to a surprising 8-11 record, although they slumped recently by losing the final three games of a Western Conference road trip. Still, they are playing 11 of their next 16 games at home and have shown vast improvement from where they were a year ago at this time when David Fizdale was getting fired.
Tom Thibodeau has them allowing just 103.8 points per game, which leads the NBA. Yes, leads the NBA. Knicks fans are excused if they just spit up their coffee reading that sentence.
Randle's points-per-game average has risen from 19.5 to 22.5, his assists have nearly doubled from 3.1 to 6.0, and his rebounds per game have boosted from 9.7 to 11.3. And while those numbers do not show the same level of improvement regarding Wood and Grant, one mitigating factor that could work in his favor is whether New York qualifies for the playoffs and the Rockets and Pistons do not.
NBA award voters can be a fickle bunch, and Most Improved is quite subjective (years ago they changed it from Comeback Player of the Year because it went annually to a player who had come back strong from an injury).
The same goes for Coach of the Year, where Frank Vogel of the Lakers is the 5-1 leader and Thibodeau is 12-1. Terry Stotts is sitting at 40-1 for the Portland Trail Blazers, who are 9-8 but have survived the loss of CJ McCollum and Jusuf Nurkic thanks in large part to the play of Gary Trent Jr. and Enes Kanter.
The NBA gambling world is a strange universe that the public at large is still learning about. That is certain to change as more and more states legalize the practice.