A few weeks ago, on an idyllic afternoon in Northern California, Tom Konchalski crossed my mind.
I hadn't spoken with Tom in a year, but the air was crisp, the sun was shining and the tree branches were vibrating in the breeze. I was holding my young son's hand as we walked to a local pond to see the ducks. The serenity made me think of Tom. Without hesitation, I took out my phone and called him.
Tom Konchalski, the rail-thin 6-foot-6 patron saint of basketball, a lifelong native of Queens, New York and a devout Catholic who attended mass daily, is regarded as the most respected evaluator of high school basketball talent in history. He nurtured countless New York City ball-players and helped change countless lives through basketball. My dad, Ernie, was one of the first New York City kids Tom discovered. He was like family to us. He looked after me as a young player just like he had looked after my dad.
Last week, Tom was transitioned to hospice care as he privately battled cancer. The basketball community was rocked by the news. On Monday, amidst an outpouring of prayers, Tom passed away, leaving the basketball world heartbroken and leaving behind one of basketball's holiest legacies.
Since Tom's death, condolences have poured in from every corner of the globe. Friends and admirers have shared stories of Tom's kindness, grace and humanity. He's been affectionately referred to by his nickname, "The Glider," a moniker given by college coaches for how quietly Tom moved in and out of gyms. Tom's quirks have been described with love – that he didn't own a cell phone or answering machine, that he never learned to drive, that he didn't use a computer, that he produced his iconic scouting newsletter on a typewriter, that he had a photographic memory and a legendary handshake.
When the Naismith Basketball Memorial Hall of Fame Class of 2021's eligible candidates were announced in December, Tom Konchalski's name was on the list. He was a first-time nominee eligible to be inducted as a contributor to the game of basketball. Tom Konchalski may be a first-time nominee, but he belongs in the Naismith Memorial Basketball Hall of Fame, period.
He is deserving both for what he did for the game and for how he did it. Tom's greatness as a basketball scout is unquestioned, but more importantly, his goodness as a human being was unparalleled. It is the latter – the supreme quality of his character – that made Tom the most beloved man in basketball. I've never known someone as universally respected and adored. I've never known someone whose opinion of players was so widely esteemed. I've never known a contributor to the game more worthy of sanctification in the Hall.
I'm fortunate to belong to a family that has experienced firsthand the sacred standard that Tom set in the world of basketball for the last five decades.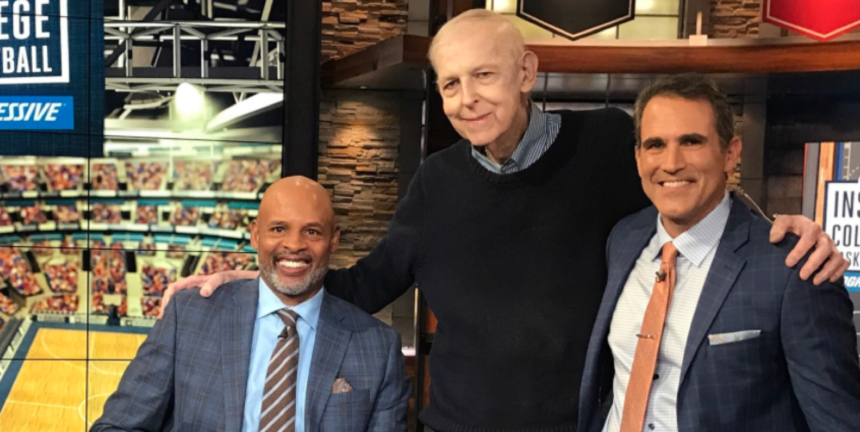 Tom first saw my dad play basketball in the mid-1960s during a local CYO game at The Church of the Ascension on Grant Avenue in Queens. Tom had been an altar boy at the church and was by then a hoops-obsessed college student at Fordham. My dad was in sixth grade, a Jewish immigrant who had just fled Communist Romania for New York City. He was still learning English and had just started playing basketball.
As would become Tom's custom, he saw talent in a New York ball-player when no one else was looking. Tom became my dad's guardian angel -- a confidante, mentor and friend, a constant source of guidance for navigating the perils of big-city basketball. He'd put my dad on teams to play against top players across the boroughs, he'd attend his junior high games and give pointers on his jump shot, he'd help him with recruiting once colleges descended. My dad would turn into an All-American at Forest Hills High School in Queens, an All-American at the University of Tennessee and a top NBA draft pick in 1977. Tom was the first person to sense it was possible. He was there every step of the way.
There are thousands of basketball players in New York City who, like my dad, have had their lives changed by Tom's presence. He had a special eye for basketball ability, but that's not enough to make a permanent impact on a person's life. Tom did that by getting to know the players he evaluated, by asking them questions, by talking to their families, by investing his time in them, by caring about them. Tom not only supported my dad, but he also became one of my grandpa's best friends. Even after my dad was out of the house, Tom and my grandpa would travel around New York together watching high school basketball, whether at Archbishop Molloy High School, at Forest Hills High School or at Long Island Lutheran High School.
In an impersonal world, Tom created real interpersonal connections. In a world without time to waste, Tom never treated people like a waste of his time. Tom sat at the top of the bleachers with a yellow legal pad during games so he could concentrate on the action, but there was never anything transactional about his approach. When my dad's jersey was retired at the University of Tennessee in 2008, Tom was one of the only non-family members invited as a guest. That's how much he's meant to the players he's touched.
Everyone who knew Tom has a story about his memory – he remembered the starting lineup of my dad's junior high team, he remembered how many points my dad scored against Bryant High his senior year, he remembered the name of my dad's freshman year Math teacher in college – but it was not merely a feat of extraordinary mental acuity. More than anything, Tom's recall was a further demonstration of his commitment to other people. His incredible recollections were almost never about himself. He was always focused on others. He had programmed himself to listen, to absorb and to serve. He was giving of his energy and helpful to anyone who needed it.

Though my grandpa passed away in 1986, Tom still called my grandma several times a year. In fact, he had called her every Yom Kippur for the last 50 years. Not every other Yom Kippur and not 48 out of 50 Yom Kippurs. He called her on that day every single year for half of a century. It's telling that, as a true man of God, Tom made a point to check in on my Holocaust-surviving grandmother on the year's most important Jewish holiday. It's also telling that, over such a long period of time, he did not once miss an opportunity to do so.
Tom's love for the game of basketball, its people and its places was divine. He was basketball's heart. His positive spirit was the lifeforce that bound together a complex system of players, coaches, fans, media, scouts and so many others. He is a man the world needs to honor. He is a man who belongs in basketball's most hallowed hall for eternity. He is a Hall-of-Famer in every sense of the word.
When Tom answered my call a few weeks ago while I was out walking with my son, it was as if we'd spoken yesterday. Our chat lasted 20 minutes. He asked if my wife was still enjoying her job. He was able to conjure up the addresses of my dad's childhood apartment in Queens and my grandparent's old fabric store in the Bronx. He casually mentioned some health issues he was having, but said he was doing what he could.
When we hung up, I had no idea he'd soon be in hospice care and that I'd have no way to get in touch with him. I would not have believed that, in a matter of weeks, he'd be gone.
Looking back, I wish I would have told him that I love and appreciate him. I wish I would have told him that I admire him. I wish I would have told him that his memory will always be a blessing, far beyond the game of basketball, and that the rightful last stop of his remarkable journey here on earth should be the Naismith Memorial Basketball Hall of Fame.