When Michael Frazier II was 12 years old, he tried out for the middle school basketball team.
After the tryout, the coaches told his father, Michael Frazier Sr., that his son wasn't good enough to make the team. When young Mike heard the news, he wanted to quit right there. He was going to focus his efforts on playing football, a sport he felt he was better at in the first place. But Frazier Sr., a strict military man, wouldn't let his son fold.
"Nah, we don't quit," his father said. "That's not something you're gonna do."
For the next year, the two woke up at 6 a.m. every day -- before Frazier's classes, on weekends and even during summer vacation. When tryouts came up the following season, not only did he make the team, he was the best player on the squad.
Little did Frazier know, that would be a turning point in his life -- when he learned what an intense work ethic could achieve.
"Since then, it's just been through the roof. I outwork everybody that I come in contact with. That's just my mentality because my dad instilled that in me," Frazier told BasketballNews.com over the phone. "That's something that I've taken ownership of as I've gotten older and I've matured and I've had my own experiences. That's something that I really draw from. That's something else that always adds to my fire."
Such a lesson has proven to be paramount throughout his life, one that's seen the highest peaks and the deepest valleys.
At 19 years old, during his post-freshman year at the University of Florida, Frazier earned a spot on Team USA's U-19 World Cup team in 2013 that featured a roster full of future household NBA names. Led by his college coach Billy Donovan and his staff, including assistant Mark Daigneault, Team USA went 9-0 and won the FIBA U-19 men's world championship.
Frazier's success would carry over with the Gators under Donovan and Daigneault's guidance, setting a school record for threes made in a single game (11) and ultimately reaching the Final Four on a 36-3 team in his sophomore campaign. Frazier declared early for the 2015 NBA Draft when his injury-hampered junior year concluded; he ended up going undrafted. After a stint with the Golden State Warriors' summer league team, he signed a deal with the Los Angeles Lakers and appeared in four preseason games with the purple and gold before being waived prior to the regular season.
Frazier went on to spend the next stops of his journey in the then-D-League, playing in Los Angeles, Iowa and Fort Wayne all in the same season. In the summer of 2016, stemming from a five-game stint with the Orlando Magic's summer league squad, he decided to head overseas. Frazier's international career started with a one-year stint in Italy, where he played well on Scaligera Verona (with a scoring average of 17.8 points per game). The next summer, he signed a deal in Germany with MHP Riesen Ludwigsburg to capitalize on his momentum, until he suffered a debilitating setback before the schedule even tipped off. Frazier partially tore his quadriceps, and it led to his release in the fall of 2017.
"I was actually going up for a dunk, and I felt like this weird almost burning or popping sensation," Frazier recalled. "When I came down, my whole leg was just... it almost felt numb. I couldn't bend it. I didn't know how bad it was at the time, but once I learned how bad it was, that was like a major blow to my mental. I felt like I had worked so hard to get to where I was at that point, and to have it all just ripped out from underneath my feet, it was devastating."
Frazier came to grips with how gruesome the injury really was when he had muscular atrophy in his leg as a result. He couldn't move his hamstring, his quad or his calves. Some doctors that he met with told him that his career was over just like that.
"At 22, 23 years old, I'm having to contemplate retiring and that idea's in the back of my head. No kid wants to hear that at that point in time in your career," Frazier said. "I felt like I was just getting started."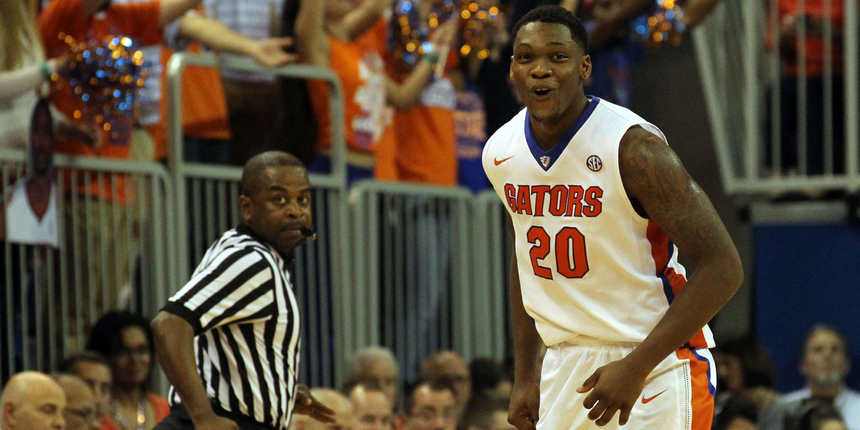 In spite of the improbability, he wouldn't allow it to stop him from fulfilling his dream. Frazier returned to his home state to begin a grueling rehabilitation process. The trainers and coaches at Florida took him back in as one of their own with open arms. He believes most other colleges wouldn't have extended this gesture to an alumnus who had been out of school for years. He feels indebted to the university for such generosity because, without them, he wouldn't be where he is now.
Over that year-and-a-half, they nursed Frazier back to health and got him back on his feet. Frazier didn't miss a single day or appointment. He stayed positive and remained focused on what he could control, banking on a support system that kept his eyes forward.
"My family was very supportive during that time, so I was very grateful to have them in my corner. I saw a lot of people change up on me," Frazier said. "People that I thought were in my corner, I learned that they weren't really there for me; they were just there for what I could do for them or what I was providing. I mean, in a sense, it kinda helped me make my circle smaller."
When the process was finally over and rehab finished, Frazier got clearance to play again. That following year, he reunited with Donovan and Daigneault -- both in Oklahoma City at the time -- to work out with the Thunder players and coaching staff. Frazier planned on playing for the OKC Blue, the team's G League affiliate, but was rusty. Though he was shooting the ball at a decent clip in drills, live play wasn't going as well. Having not played in a game setting for nearly two years, he struggled mightily. He couldn't perform to the level he was used to. In Oct. 2018, OKC traded his rights to the Rio Grande Valley Vipers, the Houston Rockets' developmental team.
For some reason that he can't put a finger on, Frazier's arrival to RGV flipped a switch.
"As soon as I got there, the first day of training camp, I was like, 'Wow, okay.' And then I came back the next day and did it again, and then I did it again and I did it again," Frazier said. "Then in our preseason game, I had like 22 points off the bench and everybody was looking around like, 'Hold on,' because I wasn't any Exhibit 10 guy, I wasn't a training camp guy. I came in as a G League tryout guy, as a matter of fact, which is the lowest of the low. So I could've been cut with another guy and that would've probably been it."
If the team hadn't waived the fee, Frazier would've had to pay $500 for the tryout.
"To come in the way that I did and play as well as I did... it was such a short time that I was removed from OKC for not playing well and not being able to make a shot, to like the next week, I can't miss," Frazier said. "Maybe it was the change of scenery or what, but when I got there, I kinda just took that momentum and rolled with it and stayed in the gym. The rest was history."
For the first time in quite a while, he had some things go his way. He didn't know what an opportunity would look like once it presented itself, but he stayed ready for when that time came. When his teammates got called up or dealt with injuries, Frazier received more playing time and more touches as a starter. He also played a huge role during Team USA's World Cup Qualifiers that February; the team went 2-0 and he had the highest scoring average in that short span.
The Vipers' staff took notice of his dedication and believed in him, as did his teammates, and Frazier worked his way back to a successful year (averaging 16.9 points, 5.6 rebounds, 3.3 assists and 1.5 steals over 45 games). He knocked down 38 percent of his shots from beyond the arc, attempting over seven threes per contest. Those contributions helped lead Rio Grande Valley to the playoffs.
The captivating comeback story culminated with Frazier earning the G League's Most Improved Player Award. Prior to the team's first postseason game against the Memphis Hustle on Mar. 29, 2019, the league presented him with the prize. After the Vipers' 135-118 semifinal victory and a 33-point night, Frazier gave his father the trophy as the two shared an unforgettable moment together.
"I cried and I was just like, 'Man, you see how far we came?' Because he was there with me every step of the way," Frazier said, holding back tears while reminiscing. "He's always been right there with me. Just to see that look on his face and have him tell me that he was proud of me [for how] I overcame these things that I did and to be able to do all that... it was unreal, man."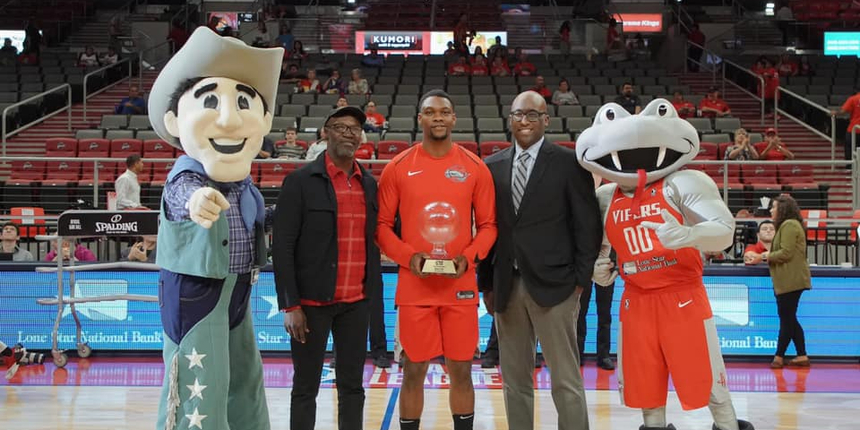 Frazier didn't stop there. In five playoff games, he averaged 21 points and shot a career-high 49 percent clip from distance. Rio Grande Valley made it to the G League Finals, and before the series started, the Rockets signed him to a contract. The Vipers went on to win the G League title over the Long Island Nets. Before the champagne could even dry up, it was Frazier's time to receive an NBA promotion to Houston.
"To see all of that come to fruition and have the success that I did and have some of the big games that I did, and for us to go on and win the championship, it was like a fairytale ending to that phase of my life," Frazier said. "I felt like I had made it through something that some players might not've made it through because it was so mentally draining and mentally exhausting.
"It was incredible. That year, honestly was just like something out of a book. Coming off of an injury like what I had and not playing up to my standards while I was in OKC that whole time I was there to then be traded to RGV -- if you would've told me at the beginning of that, 'You're gonna be an NBA G League champion, the Most Improved Player and get a call-up,' I would laugh. I would've been like, 'Man, you're crazy.' I just put my head down and I worked my tail off and I didn't come up for air. That's the thing -- I completely immersed myself in getting better and in the gym. I was just a gym rat that entire season 'cause I was so hungry. I was just so hungry to prove to myself that I could get back to a level that I know I'm supposed to be at."
In the fall of 2019, the Rockets waived Frazier and restructured his deal into a two-way contract. From the jump in training camp, Frazier had been dealing with injuries once again -- a hurt tendon in his right foot -- which led to an up-and-down season where he missed the first three months of action.
As soon as he got cleared, he made his NBA debut and scored his first points in the league this past January in Oklahoma City, ironically with Donovan and Daigneault on the opposing bench. His former coaches congratulated him when the game ended, another moment Frazier refers to as "crazy." To him, it wasn't truly indicative of his capabilities, though. Frazier was a little behind, having only played 10 games with Rio Grande Valley that season prior to receiving the okay to take on those old friends from Florida on the big stage.
About three weeks later, with James Harden and Russell Westbrook out, Frazier ran into another chance to show what he was made of. In a game vs. Utah on Jan. 27, he played a career-high 20 minutes for the Rockets en route to a win over the Jazz. It was the first time he knew that he'd made a true impact in an NBA game. His teammates took notice and gave him props. Frazier got the validation he wanted and proved that he belonged.
However, it's the game that followed that really stuck in his head.
"We played in Portland and I didn't play, so I just kinda held on to that feeling, and that continued to add motivation and keep my focus level very high," Frazier said. "That feeling was something that I had been chasing since I was a kid, and then to finally get that was something very special. It made me want more."
Ahead of the NBA's shutdown in March, Frazier broke his arm. He spent the majority of quarantine rehabbing for whatever came next for Houston to ensure he was prepared. His next stop turned out to be inside the bubble down in Orlando, FL.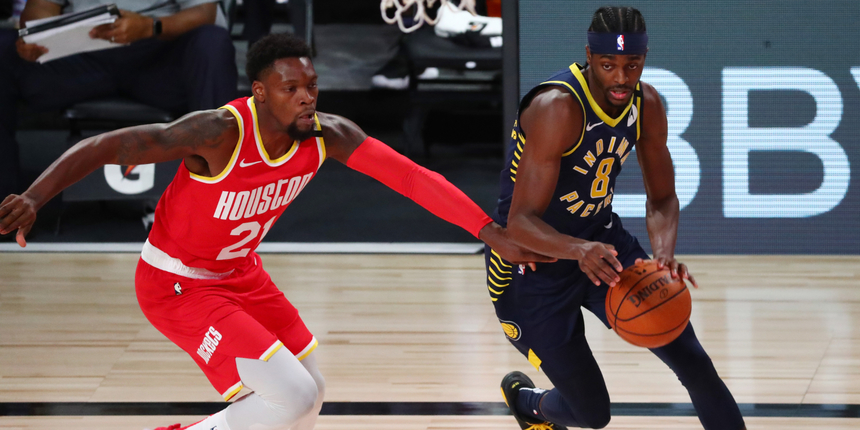 Although Frazier didn't feel like himself when he competed for the Rockets this past summer, he took the opportunity to reconnect with some familiar faces on campus, including conversations with Donovan. He hung out with Dorian Finney-Smith, his friend and former Gator teammate, soaking up words of wisdom from the Dallas Mavericks forward.
"DoDo reached out to me and just told me I gotta just keep grinding and that it's gon' work out," Frazier said. "He was just like, 'Yeah, it's tough, man. I had a bunch of great veterans that were playing ahead of me, and sometimes that's just the situation,' so I just gotta focus on what I can control. I've seen him do it, and he's had a great few years with Dallas and I don't expect anything to change there. I expect him to continue to get better and continue to improve his game and add value to that organization. Anytime I can get advice from somebody that I see is doing exactly what he always wanted to do, that's very encouraging."
Frazier keeps tabs on his former teammates Finney-Smith and Chris Chiozza. The same goes for Donovan, whom he congratulated after he got the Chicago Bulls' head-coaching job. Meanwhile, Daigneault is now the Thunder's head coach. Frazier is thrilled for each of them and celebrates their well-deserved successes.
It's Frazier's turn to join that list. During this offseason in Tampa, Frazier has been locked in on getting better, focusing on his game and improving in all aspects. Working with A.J. Williams, his trainer for the last five years, he's been in the gym twice a day. The two came up with a plan of how to attack Frazier's goals, and Williams helps by utilizing film study.
Hitting the weight room four times a week, Frazier has teamed up with Mr. Infinity, a strength coach that he's worked with for the past couple of years. It's a different style of training, as the workouts center around Frazier's base -- sled work, single-leg strengthening drills and exercises, plyometrics -- to help him regain the athleticism he lost from injuries. Frazier is dead set on getting his "pop" back.
"I'm really happy with my progress," Frazier said. "The amount of work that I've been able to put in with those two guys and the level of focus that they've had and I've had myself... I've been fortunate to have a very good team and very fortunate to have [YouFirst agent] Darrell [Comer] representing me, just people in my corner that make it easy to just go out there and not worry about the things that I can't control. I think that's really important and having good energy and guys that want to see me win, that it's so much easier to do what I'm doing right now.
"This offseason's been really important and really good for me mentally just to feel like I'm back to myself again. I'm healthy and I'm confident and my game feels right and feels tight. I think I'm in a good spot."
In wait-and-see mode, Frazier is excited to see what's in store for his future. Some teams have shown interest and he believes if he continues to grind and stay ready, one will come calling. After all, what club couldn't use a sharpshooter that defends and offers a different type of experienced presence in the locker room?
Not many people in Frazier's shoes would keep going. He's 26 years old with only 13 games in the NBA on his resume. He's had obstacle after obstacle put in his way. He is as hard-headed as they come (to a fault at times, he admits).
But getting a taste isn't enough for Frazier. He wants to keep eating, no matter what it takes, or how long it takes. When asked why he continues to be this ambitious and persistent against all odds when most people would quit, Frazier delivered an impassioned response.
"Because I'm not most people," Frazier said. "My whole mentality is, 'Why not?' Why not go for it all? I've been at the bottom of the bottom. I've been below the bottom. And to see where I am now, why not go for everything? Why not continue to chase my dream? Why not want more? Why not be hungry for more? This is no time to quit. I could've quit three years ago, and I didn't. I didn't come this far just to be like, 'Okay, I'm done, that's it.' Nah, this is just the beginning. For me, that's what wakes me up every day. That's what keeps me going. That's what makes me go to the gym when my body's hurting, when I don't feel like going and lifting weights, when I don't feel like doing it. That's my inspiration. That's my fire. I don't know if many people have something like that to draw from or to pull from, you know what I mean? That's a different type of motivation when you've come so far and dealt with everything that I've dealt with -- even recently and in the past. I don't have a quitter's mentality. I don't quit. That's not something that exists in me.
"All I know is to continue to work and continue to chase whatever I want. Every time that I've been knocked down, I've stood right back up and kept pushing. Anytime I hit a wall, I'mma find a way to either go through it, go over it, go around it, go under it -- but I'm not gonna stop. I'm never gonna just give in. My dad, my family didn't raise me that way. That's not [how] I want people to remember me. When people talk about me, I want them to talk about how good of a man that I am, how good of a teammate that I am, how hard I work, how coachable I am and how good of a basketball player I am. That's what I want people to remember me by. I don't want them to remember, 'Oh, he quit when he had a major injury.' That's not something that I want attached to Michael Frazier's name. I don't know if too many people know that 'cause I'm very low-key and I like to stay to myself and just stick to my routine, but I feel like I was just built different. My mentality is just different. Even guys that I've come across that are solid NBA guys, they'd look at me like, 'Man, what?' To be where I am right now after partially tearing a quad... that's not an easy thing to do, man. You've got to have a different level of mental toughness to do it 'cause it wasn't easy."
Frazier may draw motivation from all kinds of places, but the main reason always comes back to who molded him into the man he is today.
"It's not about me. It's not about me being this basketball player. I want to make my family proud," Frazier said. "To know all the sacrifices that they made for me to get here, I just want to show them that I'm grateful for that, and I do that by working as hard as I do every single day. To me, that's how I show them that their sacrifices weren't for nothing. That's why I feel like I can never quit 'cause I can't quit on them, 'cause they didn't quit on me when they could've.
"That's something that I hold very dear to my heart. It just keeps me going. That's one of the major reasons why that injury couldn't hold me down, and any injury really. Being cut didn't hold me back and not being signed right now, it's not gonna hold me back. I don't feel like anything can stop me. As long as I have my health and I have the right circumstances to get better, that's exactly what I'mma do."
With his circle in his corner, Frazier refuses to give in.
And for that, he is appreciative.
"It's kinda getting me a little bit emotional about how far I've come and all the people that have helped me along the way. I really have nothing to complain about. Even though I'm not in the ideal situation right now, I still have so much to be thankful for and so many people that have helped me when they didn't have to," Frazier said. "That just brings me back to a sense of being grateful and just understanding that everything comes in its own time, and as long as you're doing your part, you're putting the work in and staying focused and staying out of trouble, what's for you is for you. I'm just so grateful that I was able to make it out of that situation."