The 2019-20 campaign -- bubble escapades and all -- has finally concluded. As such, it's time to shift to the most hectic time of the year: transaction season.
We're not exactly sure what the financial climate will be like this offseason; the impacts of COVID and, to a lesser extent, one particularly controversial tweet, are still being sorted out. We do have some reasonable projections via Keith Smith that show six teams with significant cap space in the coming months.
This offseason, in particular, is an interesting one. On top of a handful of teams having meaningful space to navigate (if they so choose), there's also the balancing act teams are executing: trying to improve while maintaining financial flexibility for the vaunted 2021 free agency class that could include Giannis Antetokounmpo, Kawhi Leonard and Paul George.
Another player on that list is Victor Oladipo, whose presence could alter quite a bit over the next 12 months. He's set to test the market next offseason, but there are indications that he may want out of Indiana sooner than that.
The jury is out on Oladipo. At his best, he's an All-NBA-caliber talent who can give you 25 and snatch cookies on the other end. His 2017-18 campaign saw him slap up a 23-5-4-2-1 line while nearly leading his Pacers to a first-round upset over the LeBron-led Cleveland Cavaliers. Unfortunately, we're two years -- and a few injuries -- away from that campaign.
Our last sighting of Oladipo came in this year's postseason. He looked fine tracking guys like Duncan Robinson around screens and shot north of 36 percent from three on a heavy diet of pull-ups. He also struggled to get to the rim, and struggled to finish when he got there.
The shooting will likely be the swing skill for Oladipo. He has converted 33.4 percent of his threes over the past two seasons, though that comes on 1) a "meh" sample size (55 games, 320 total attempts) and 2) a steady diet of pull-ups as he worked his way back.
Very quietly, Oladipo shot 37 percent on catch-and-shoots over that span, and has converted at that same clip over 849 attempts since 2015-16, per NBA.com's tracking data. There's enough evidence present to suggest Oladipo can space the floor and attack in a secondary role.
Maybe Oladipo isn't a number-one option on a good playoff team, but he's someone that can inject a contender with a boost of secondary offense (with potential for more) and perimeter defense. If he is going to be moved, here are some teams that should come calling.
(Keep in mind that Oladipo's injury concerns and one-year rental status would impact his trade value. All trades have been tested via tradenba.com.)
Miami Heat
The Heat are fresh off a miracle run to the Finals, though you can't tell them this was anything but planned. Jimmy Butler and Bam Adebayo (when relatively healthy) led the way with two-way brilliance, while the Heat's feisty hodgepodge of role players filled the gaps. They've gone from an annoying second-round-ish team to a legitimate contender overnight, and expectations have risen as such. They're still primed to strike in 2021, but there's more incentive to make a win-now move if it doesn't cost them too much in the future.
It's easy to see the fit with Oladipo defensively. While the Heat can and should be lauded for the way they shifted between defensive schemes all season, it's only fair to point out that a not-insignificant portion of that decision was forced by their personnel. They struggled to contain shifty guards all season long. Their point guard stable -- Kendrick Nunn and Goran Dragic -- struggled to fight over screens, which would put the rest of the defense in rotation to compensate.
Adding Oladipo is an easy way to alleviate that concern, and would allow the Heat to go back to their traditional drop defense. Oladipo's ability to read passes also makes him prime to operate at the top or edge of Miami's match-up zone, and can hang with some power wings in a pinch whenever the Heat go switch-heavy.
The offensive fit is more of a concern, though there's room for optimism thanks to his ability to spot up. His shooting could help open some driving lanes for Butler and Adebayo. The presence of those two could take the pressure off of Oladipo to create against set defenses.
Starter Offer: Kelly Olynyk, Kendrick Nunn, KZ Okpala, 20th pick of the 2020 NBA draft
Salary relief and cost-controlled assets are the name of the game for this package.
Olynyk is a serviceable big man who can operate as a first-unit spacer, or a second-unit high-post hub. His role will likely depend on how real the noise around Myles Turner is. If Turner isn't moved, you'd be hard pressed to find a better third big option.
Before a nightmarish slump in the bubble, Nunn was one of the NBA's better rookies, ranking third among first-timers in scoring (15.3 points). There were hints of a three-level scorer shown, though he relies on his pull-up to set up the rest of his game. In theory, his spacing could provide a nice complement to the no-nonsense driving of Malcolm Brogdon.
Okpala is the real wildcard. His rookie campaign was halted with an Achilles injury, but he showed real flashes as an off-ball defender and slasher in the G-League and in limited minutes on the parent club.
This is an underwhelming package for someone of Oladipo's peak talent. Once you factor in injury concerns, Oladipo's expiring deal and the flexibility the Heat want to maintain for 2021, it wouldn't be a shock for them to start the negotiations pretty low.
Last Ditch Offer: Duncan Robinson, Kelly Olynyk, Kendrick Nunn
The Heat would obviously love to make a deal without including any of their top four assets: Adebayo, Butler, Tyler Herro and Duncan Robinson.
Of the four, though, Robinson seems to be the most expendable. He's one of the NBA's most dangerous movement shooters; his partnership with Adebayo in dribble handoffs is one of the deadliest dances in the sport right now. Potentially moving him for a rental can be seen as malpractice.
The counter: Much of the actions Robinson thrived in -- traditional handoffs, quick pitch-backs in semi transition, Chicago action -- can be run with Herro, with more on-ball creation upside. Including Robinson in a deal could allow the Heat to keep their draft picks, which could be used to replace Nunn (hello, Tyrese Maxey!), Robinson (hello, Desmond Bane!), or as a sweetener in a different deal.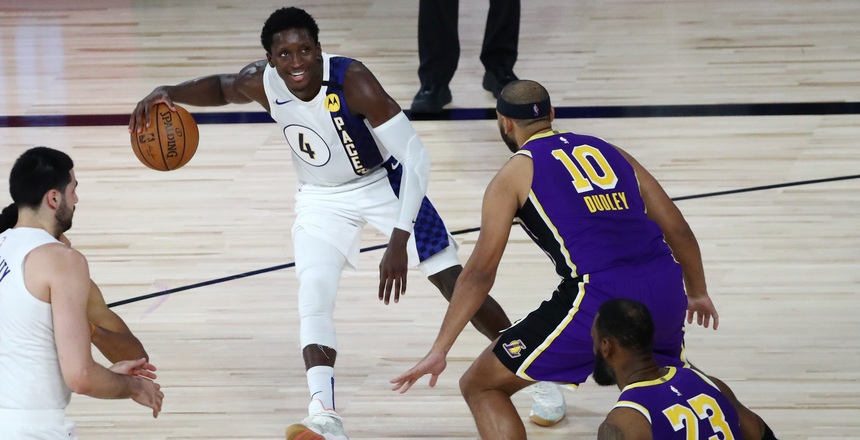 Los Angeles Lakers
The "We Believe" Lakers are fresh off of their first title since … [checks notes] … 2010? Seriously? Wow.
Anyway.
The Lakers were able to win behind their Big Two of LeBron James and Anthony Davis, conservatively regarded as two of the six or so best players in the NBA right now. The human carousel affectionately known as "the Lakers' third best player" changed about as often as the weather. Solidifying that distinction could go a long way to strengthening their repeat chances.
Oladipo would certainly fit the bill.
Starter Offer: Danny Green, Kyle Kuzma
Green remains one of the better team defenders in the NBA, as well as someone who can defend either wing spot credibly. His three-point shooting fell from his career-high mark last season, but he's still a tremendous spot-up shooter and an even more dangerous relocation threat.
Kuzma was (almost predictably) inconsistent as he adjusted from a moderately high-usage guy to a role player getting in wherever he could fit in. There was growth as a perimeter defender, particularly in the postseason. There is a 2.5-level scorer in Kuzma if you look closely enough; he is a strong finisher and has comfort operating in the midpost. His three-point stroke just hasn't gotten back to his rookie-year levels, which complicates his long-term potential.
If the shot does come around or at least settles in at average, Kuzma is an intriguing scoring prospect with better-than-advertised defensive acumen. He can be slotted in as a 3 or 4, depending on whatever frontcourt moves the Pacers make this offseason, and flourish moving forward.
Last Ditch Offer: Danny Green, Kyle Kuzma, Talen Horton-Tucker, 28th pick of the 2020 draft
There's a little more in the treasure chest for the Lakers to offer. Their first-rounder could net the Pacers one of the many "he'll-be-good-if-he-just" wing prospects in this year's class. Horton-Tucker is one of the more unique youngsters in the league already; a chiseled 6'4 guard with a massive 7'1 wingspan who's equipped with enough ball skills to make you go, "Hmmm…"
Unfortunately for the Lakers, they're still behind the 8-ball in terms of assets and would likely be outbid by more serious suitors.
Dallas Mavericks
The Luka Doncic-led Mavericks made their return to the postseason behind, statistically, the greatest offense in NBA history. Doncic pick-and-rolled his way into rim forays and stepback jimmies; Kristaps Porzingis pick-and-popped his way into triple after triple. Gunners like Tim Hardaway Jr. and Seth Curry thrived off of the open looks created by the Doncic-Porzingis tango.
The next step for Dallas is finding someone to take some on-ball pressure off of Doncic, and to improve their perimeter defense as a whole. This is where Oladipo can come into play.
Starter Offer: Delon Wright, Dwight Powell, 18th pick of the 2020 draft
Wright had a smaller role than anticipated in his first year in Dallas, only starting five games and averaging a shade under 22 minutes a night. Still, he provided solid perimeter defense across multiple positions, and showcased some improved craft in pick-and-roll. Wright pick-and-rolls (including passes) generated a little over 1.08 points per possession, per Synergy. Wright can slot in nicely alongside Malcolm Brogdon, and there's enough size between the two of them to throw out three-guard lineups with those two plus Aaron Holiday.
Powell is one of the more underrated bench bigs in the league, an elite roll option in ball screens and solid positional defender. There may be some hesitancy in taking on the remainder of his contract, especially with him coming off an Achilles injury, but that concern can be somewhat alleviated by the acquisition of the 18th pick.
Last Ditch Offer: Jalen Brunson, Tim Hardaway Jr., 31st pick of the 2020 draft
Upping the ante would be going with a more cost-controlled option in Brunson, a former Naismith Player of the Year award winner, and Hardaway Jr. Brunson is a shifty pick-and-roll guard with legit scoring chops. Hardaway Jr. is coming off his most efficient season as a pro, posting career highs in three-point percentage (39.8) and True Shooting percentage (58.1).
It would hurt to lose the playmaking of Brunson, the shooting of Hardaway Jr, and what amounts to a late first, but there's enough shooting and playmaking on the roster as is. Being able to keep the 18th pick would allow the Mavericks to replace one of the guards being lost, while also adding Oladipo's two-way prowess to the fray.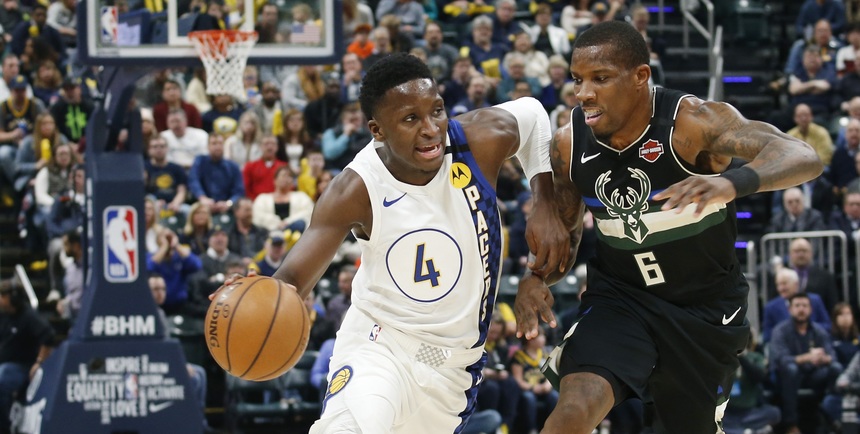 Milwaukee Bucks
Another year, another disappointing second-round exit for the Milwaukee Bucks.
Once again, the Bucks had the best record in the league behind an MVP campaign from Giannis Antetokounmpo. And once again, a versatile, well-coached group was able to capitalize on the Bucks' inflexibility and lack of supporting on-ball juice.
This is a big offseason for rather obvious reasons. Giannis is up for a supermax extension. The Bucks will offer it, because of course they will. It's fair to assume that Giannis will turn it down, forcing the Bucks' hands in a way. They need to show him they're serious about making a big splash to improve the roster, especially since they're a year removed from losing Brogdon.
Oladipo may not be Chris Paul, but he would be a nice consolation prize, one that could take much-needed pressure off of Giannis and Khris Middleton.
Starter Offer: Eric Bledsoe, DJ Wilson, 24th pick of the 2020 draft
Bledsoe is a polarizing figure. On one hand, he's legitimately one of the best defenders in the league. There aren't many, if any, players who can avoid screens the way he can. He's also one of the NBA's best drivers, able to slither into the lane almost at will, then use his strong base to dislodge off-balance defenders.
On the other, Bledsoe has wilted in each of the past three postseasons. His inconsistent jumper leaves him at the wrong times, and his decision making comes and goes like his jumper does. He's objectively a good player on a fine contract, and there's a fit (and familiarity) alongside Brogdon in a potential Pacers backcourt.
Wilson is an interesting big who's been buried on the bench for … well, your guess is as good as mine. It's worth exploring how real his three-point stroke is, and how switchable he can be defensively. If either of those skills stick, there's a useful role player there for the taking. If both hit, Wilson projects as an ideal frontcourt partner alongside Turner or Domantas Sabonis moving forward. Adding a first-rounder would allow the Pacers to go wing hunting for cheap.
Last Ditch Offer: George Hill, Donte DiVincezo, Ersan Ilyasova
If the Pacers aren't keen on potentially three years of Bledsoe, they could ask for Hill back. An elite spot-up shooter, solid defender across both guard spots and good decision-maker, Hill could flourish in an off-ball role alongside Brogdon.
DiVincezo has equity as a driver, and has already proven to be one of the better screen-avoiders in the league on the other end. The jumper is his swing skill, but he has the skill-set and size to float between three positions in a pinch. Ilyasova serves as cap filler here, but his shooting makes him a solid option as a back-up 4, flanking either Turner or Sabonis as a stretch option.