I'm not sure if I could play in today's NBA.
When I watch NBA games now and see some of the calls -- and some of the non-calls that these guys complain about -- I'm blown away. I always tell people, "I never could've played in this generation." I didn't know how to flop or how to not play defense. I never backed down from anyone and I played hard defense on every possession of every game.
I probably would've adapted to the shooting and stuff, but as far as my style of play, this is who I am. I'm not compromising that for nobody. People always told me that I was in the wrong generation, that I would've fit right in if I played in the '80s or '90s.
When I first got the league, I had to learn how to concede two points to my opponent (like if I picked up an early foul or was in foul trouble). I had a hard time with that; that was something I had to learn. Now, a lot of these guys don't seem to care very much on the defensive end. They see a certain guy coming toward the basket and they move out of the way. Now, refs will call a flagrant foul for something that would've just been a foul 10-15 years ago. If I played in today's NBA, I would probably lead the league in ejections!
I witnessed this shift during the last three years of my NBA career. During my two seasons with the New York Knicks and my cup of coffee with the Milwaukee Bucks, there were a few instances where I committed (what I thought were) hard fouls, but they would walk over to the scorer's table and announce that it was a Flagrant 1. After that happened a few times, I remember thinking, "Where did this come from?! Things are changing."
As my career was coming to an end, that's when they started emphasizing a scorer's "freedom of movement" and implementing those rules. Honestly, I understand it (to a certain degree) because you want the game to be free-flowing and you don't want it too gunked up. But physicality is a part of the game too.
There's more flopping nowadays than physical play. At times, it's tough to watch. These are really good players -- they have better skill sets than we did -- but they resort to trying to get a call. Every time these guys drive, they're looking for a call. If they get hit a certain way, they're looking for a flagrant. They want every play to be reviewed. When there's a hard foul, these guys act like they just got shot (when, in reality, the defender tapped their lip). The league has allowed it. They wanted more flow, more offense (which I get), but you shouldn't compromise every aspect of the game for that. Being physical should be allowed, especially in the post. That's part of the game.
I had to play physical in order to succeed in the NBA. Remember, I was very undersized for my position. I was playing at 6-foot-9 and 225-to-230 pounds throughout my whole career. Most guys I played against were taller than me and damn near everybody weighed more than me, so I had to beat them up. I didn't have a choice. I had to meet Tim Duncan early at the free-throw line and be physical, forcing him to the spots where I wanted him to go. Same thing with Kevin Garnett, Elton Brand, David West and all of the bigs that I faced. Getting switched out, I guarded Shaquille O'Neal on the block. I don't stand a chance in hell against Shaq unless I'm physical!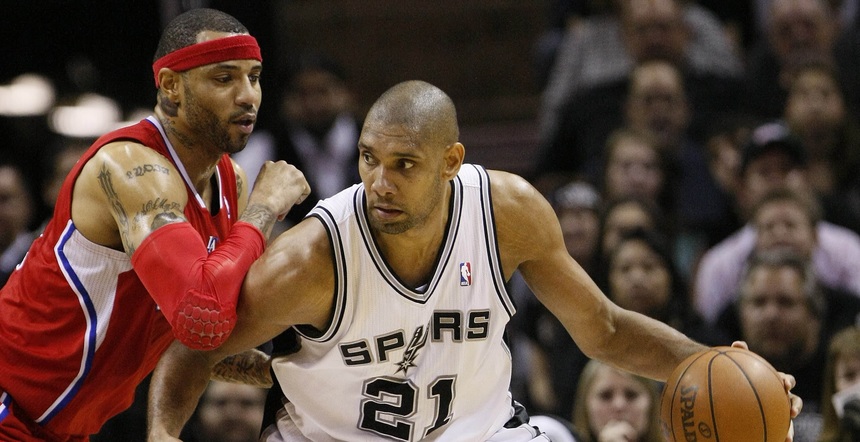 I saw what David West said recently about how Andrea Bargnani would be dominant in today's NBA, and I totally agree. We used to beat the sh*t out of Bargnani and he wanted no part of it. In today's NBA, he'd be fine. Nobody could get physical with him, so he'd be a superstar these days. In today's NBA, Bargnani would be Joel Embiid.
A lot of Europeans are having success in today's NBA as stretch-4s and stretch-5s, but the reason many of those players didn't succeed before is because the game was too physical for them (aside from Dirk Nowitzki, who had no problem banging and getting physical for 20 years). When I was playing, you'd see these guys with great skill sets, but they wouldn't succeed because they wanted no part of the physicality. They'd struggle in the NBA and go back home and star in the overseas leagues that weren't as physical.
I understand that it's important for the game to evolve. But I think there's a way for the game to evolve without compromising so much. Maybe I'm naive, but I still think there's room for dominant traditional bigs in today's NBA. I know that shooting is important, but I think both things can be true. If another Shaquille O'Neal showed up today with that same ability to dominate the block, are you telling me that there's no place for that player in today's NBA? That's really hard for me to believe. I think in the future, we'll see the league shift back to using big men more -- those bigs will just have a jump shot in their arsenal, too.
In today's NBA, there are no enforcers. You can't be an enforcer these days; the league won't allow it. You'll just get ejected. Also, there aren't really hard fouls anymore and nobody is fighting, so you don't need an enforcer to run in and stand up for your guys. The NBA's evolution made the enforcer go extinct. They simply aren't needed.
Today's players don't want to fight. They bark and get face-to-face, but they're all just hoping that someone comes over to break it up. I see a whole lot of guys acting tough and getting face-to-face, but never throwing any punches. A lot of these dudes have never been in a fight. They've been in the spotlight since they were a kid and not many people are going to pick a fight with a dude their size. These guys don't want to fight because they can't fight. They don't know what they're doing (and they sure as hell don't want their first fight to be on national TV). Also, so many of today's players are friends, so they aren't about to beat each other up.
There are a few guys who seem like they can actually fight and who want the smoke. James Johnson is a maniac and he's a black belt! He's out there looking for a reason to fight! I was watching him play one time and he got into it with someone; the guy pushed him. I'm sitting there thinking, "Man, that's the wrong guy to mess with! Leave that boy alone!" The Morris twins are the same way -- they're from Philly, they're ignorant and they're always looking for problems. They want a reason to fight!
I played against guys who were physical and who really wanted the smoke. Derrick Coleman didn't take sh*t from nobody. I faced guys like Zach Randolph, David West, Antonio Davis, Dale Davis and Kurt Thomas. They didn't back down and I had a lot of respect for those guys.
You can't turn a porch dog into a guard dog, and there are a lot of poodles in the NBA right now.
There were some guys like that back when I played, too. Kevin Garnett was a porch puppy -- a miniature chihuahua in a Dobermann's body. I told him to his face, "You're a porch puppy. All you do is bark." He never wanted smoke from me. I told him straight up, "You better take your ass back to your huddle before I get mad." Dahntay Jones heard it; you can ask him.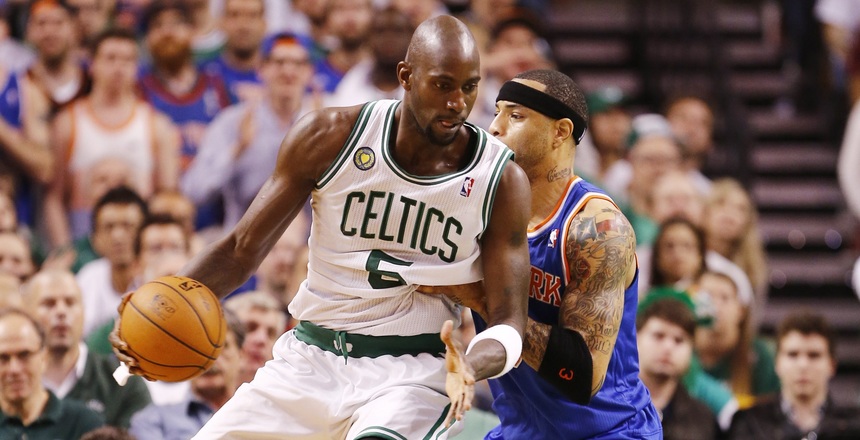 My approach to fighting was this: I'm not going to start something, but I'll definitely finish it. It's just like my approach to alley-oops. If you just let me be, we won't have a problem. But don't take it there because I'll finish it. Your mad don't equal my mad.
I would tell people on the court, "Don't get disrespectful." Here's the difference between you and me -- I don't mind getting suspended. Been there, done that. If you get out of line and start being disrespectful, I'm gonna be on your ass. There were plenty of times where I pointed at a guy and told the ref, "If he says or does one more thing, I'm going to lose it." And they'd say, "Who, Kenyon?" And I'd point to the dude. And they'd say, "Okay, we'll watch him. But just let us handle it. Please." They knew that I was reasonable and there to hoop, but they also knew that I had no problem taking it there.
If we're just playing basketball and getting physical, that's fine. When I was on the Clippers, we faced Zach Randolph and the Grizzlies in the playoffs and it was very physical, but there was mutual respect and no bad blood after each game. But if someone is being disrespectful, at the drop of a dime, I'll slap the sh*t out of them. Then, I'll deal with the three- or four-game suspension, whatever the consequence is. Years from now, I'll forget about those three games I missed due to suspension, but you're going to remember the time Kenyon Martin slapped the sh*t out of you.
I don't tolerate disrespect. And I'm kinda fu**ing crazy.
I'm not a big talker. I'm not here for the lip boxing. But if someone walks up on me and I feel threatened, I'm going to punch. Bottom line. Simple as that. If you're going to disrespect me and piss me off, you better not be within arm's reach because I'll start swinging. Here's the beauty of it: Once everyone knew that I was down to fight and didn't take any sh*t, I didn't have to fight anyone. The threat alone was enough to stop people from trying to start sh*t with me. And I would warn them too. If I am warning you, take heed. It's just like a rattlesnake. If you see a rattlesnake rattling, go the other way! The rattle is your warning to get out of there. If I warn you, go the other way, bruh. Because I'm willing to take things left.
I haven't won every fight that I've been in. I'm not going to lie and say that I have. But unlike a lot of basketball players: I'm always willing to go there. A lot of these dudes ain't.
Now don't get it twisted, I don't want the NBA to be a wrestling match. I played in the BIG3 and they tried to implement rules to encourage a physical style of play, but they went too far with it. Dudes were basically tackling each other. It felt like we were wrestling at times. Al Harrington was on my team and nobody could stop him, so they just tackled him. I think there's a happy medium between the BIG3's extremely physical style of play and the NBA's soft style of play.
Unfortunately, I think the game is only going to get softer and less physical going forward because the next generation -- the up-and-coming players -- are watching the league now and seeing this style of play and how the games are called, so they'll learn from that and adjust accordingly.
I'm just glad this shift didn't happen during my playing days. I was looked at as a defender, a tough guy, an enforcer type, so who knows how my career goes if I'm playing in this era.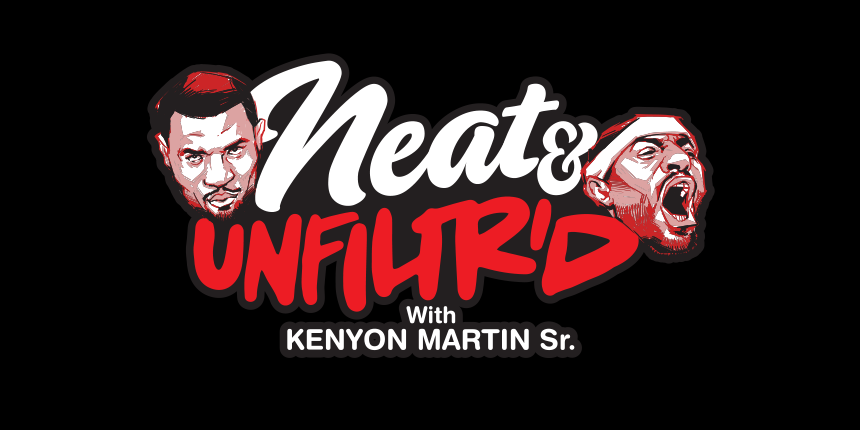 Kenyon Martin is launching a new podcast called "Neat & Unfiltered" on the Basketball News Podcast Network! This is a weekly podcast that drops every Friday. The first episode drops on 11/27. Kenyon will talk hoops and be joined by high-profile guests such as athletes and entertainers. You can listen on BasketballNews.com, Apple Podcasts, Spotify or wherever you listen to podcasts.