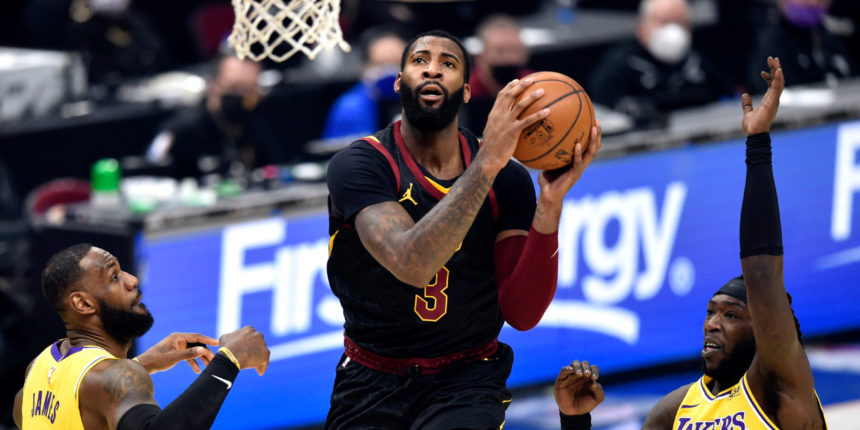 Where could Andre Drummond land? Here are possible destinations
The Cleveland Cavaliers and Andre Drummond have come to a mutual decision to keep the All-Star center inactive until the team finds a trade for him, league sources confirmed to BasketballNews.com. The news was first reported this morning by The Athletic and ESPN.
"Nothing is imminent on the trade front, though," the source told BasketballNews.com.
According to the source, a buyout is off the table between the Cavs and Drummond, as Cleveland searches for a landing spot for the 27-year-old big man prior to the NBA trade deadline on March 25.
Per Cleveland.com's Chris Fedor, the situation hasn't been easy on the veteran, who's in the prime of his career. Drummond reportedly didn't want to move on, but the team envisioned a different future after bringing Jarrett Allen into the fold.
The Cavs view Allen as one of their cornerstones moving forward and they are prioritizing his growth and chemistry with his new teammates. Cleveland is set on Allen as the long-term answer at the five, so splitting minutes between he and Drummond wasn't going to benefit either party.
Drummond will still be with the team, and the decision to move forward in this manner was a mutual agreement. Constructing a trade will not be easy, as Drummond makes roughly $28.7 million. The Cavaliers will need to take back at least $23 million in salary in order to execute a deal.
We also have to remember that the Cavaliers acquired Drummond at last season's trade deadline for little-used Brandon Knight and John Henson, plus a future second-round pick. A potential trade involving Drummond likely won't be focused on the haul back, but more about opening more minutes for Allen and getting something in return for the impending free agent.
So as he watches from the sidelines until Cleveland finds him a new home, let's take a look at potential fits and possible deals that could work.
Toronto Raptors
According to Shams Charania of The Athletic, the Cavaliers have engaged in trade talks with the Toronto Raptors about Drummond. It makes sense considering the defensive woes that have plagued the Raptors, who have begun climbing out of the Eastern Conference basement and back into the postseason hunt. Drummond's rim protection and activity on defense this season have been arguably the best of his career to this point, something that's been missing for Nick Nurse and his crew.
To match salaries, Toronto would have to include Norman Powell, Aron Baynes and Patrick McCaw, plus one more player (Matt Thomas, Terence Davis or Paul Watson could work). With the resurgence of Stanley Johnson and the role DeAndre' Bembry has carved out, it's unlikely the Raptors would give them up. Knowing Masai Ujiri and Bobby Webster, it's possible that the Raptors will try to get a third team involved, which could help from a salary-matching standpoint.
We also have to keep in mind that Cleveland would have to get creative with its roster. By waiving Dean Wade prior to his Feb. 24 guarantee date, it would allow the Cavs to take back three players for one (Drummond). Fitting a fourth would take some roster tinkering.
Dallas Mavericks
The Mavs were recently mentioned as a possible suitor on our Keepin' It 94 podcast. Beyond missing shots (although they're finding a rhythm now), Dallas' problem is that there's absolutely zero resistance in the paint for their opponents. Watch how Damian Lillard waltzed right to the cup in this possession. (It's not pretty).
DAME DUNK @dame_lillard | #NBAAllStar pic.twitter.com/3V8glwkmz7

— Portland Trail Blazers (@trailblazers) February 15, 2021
The Mavs have the contracts to get a trade done, but are they really willing to give up a starter? James Johnson has an expiring $15.7 million salary. Include Willie Cauley-Stein and Trey Burke and it almost gets you there, which would probably be very suitable. Substitute Dorian Finney-Smith, one of the hearts of that team, for Burke and it does work. Tim Hardaway Jr. has a sizable salary, but would the Mavs be open to either of those things? Another option: Cleveland deals Drummond and JaVale McGee for Johnson and Dwight Powell in a bigs-for-bigs swap? Otherwise, again, there'd probably have to be a four-player deal. Just thinking out loud here.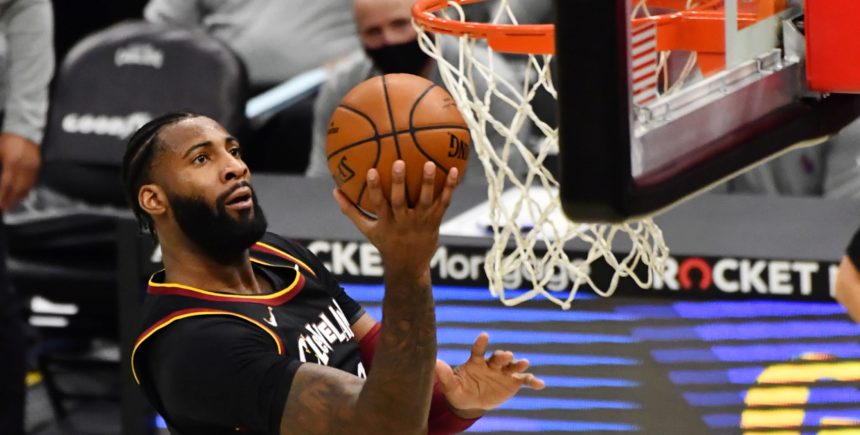 Brooklyn Nets
While there's a feasible way for the Nets to trade for Andre Drummond, it would come at a price. Spencer Dinwiddie, the face of the one of the most beloved franchise turnarounds we've seen in the NBA in recent years and an amazing talent, would have to be included in the deal along with DeAndre Jordan. Let's not forget that DJ came to town with Kyrie Irving and Kevin Durant at the latter's request. If you toss in Tyler Johnson with those two, the framework checks out.
Joe Harris cannot be traded until March 3 because he re-signed with Brooklyn and got a raise using his Bird Rights, but a Dinwiddie-and-Harris-for-Drummond trade would work as well when the time comes -- although, who in the world would give up a 50-percent three-baller on a team that thrives off drive-and-kicks? They're better off waiting to see if the Cavs can't find a trade partner and buy him out post-deadline. If Drummond hits the buyout market, Brooklyn has to be considered the frontrunner to land him.
Sacramento Kings
Here's an idea that hasn't been mentioned yet. The Kings are in the hunt for the playoffs in the Western Conference. Yes, Richaun Holmes has been busting his tail off at the 5 and it shouldn't be necessary to fix something that's not broken. However, who knows what Kings general manager Monte McNair is thinking. Is it possible he wants to strike while the iron's hot?
A potential framework that could get Drummond in a Kings uniform is simple. There are two guys out of the rotation in Nemanja Bjelica (who wants out) and Jabari Parker (who hasn't played a game yet). Throw in Cory Joseph and have Cleveland send back Damyean Dotson, who's had spotty minutes since the team's primary guards returned from injury. I don't think this idea is that far-fetched, but again, Holmes is playing out of his mind this year.
New York Knicks
With $15 million in cap room, the Knicks don't have to match salaries exactly to acquire Drummond. With Mitchell Robinson out for the next month or so due to a broken hand, they could try to strike a deal while still in contention for the postseason.
A package of Nerlens Noel and out-of-rotation reclamation projects Frank Ntilikina and Kevin Knox would make a ton of sense for Cleveland and it would keep New York in the hunt. Before we talk about Robinson's effectiveness, we know how much Tom Thibodeau loves his veterans. The Knicks just traded for Derrick Rose and seem interested in win-now moves. Also, by acquiring him now, the Knicks would have Drummond's Bird rights, which would make it easier to re-sign him this offseason if they are interested in him as more than a rental.
Boston Celtics
We'll see if Celtics president Danny Ainge has any interest in Drummond. Boston holds a massive $28.5 million trade exception from this past offseason's Gordon Hayward sign-and-trade, but here's the caveat: Drummond's $28,751,774 salary is still too much for the Celtics to flat-out absorb.
The only chance they'd have at a deal is one that includes Marcus Smart, which is not going to happen. A Drummond-for-Kemba-Walker deal would work too, but that also isn't happening. It has been reported that Boston is looking for upgrades, but unless a third team gets involved, it'll be very difficult for the Celtics and Cavs to figure out a trade for Drummond. Perhaps Boston is an option if he is bought out.
Charlotte Hornets
There's a way for Cleveland to get a four-player return for Drummond and Wade from Charlotte, but it involves the Hornets dealing Cody Zeller, Malik Monk and Bismack Biyombo. Aside from that, any other deal would require Charlotte to move All-Star candidate Terry Rozier or PJ Washington and that isn't going to happen. Unless the Cavs want even more centers in the locker room, this isn't a great fit (unless they can find a third team).
Oklahoma City Thunder
Sam Presti is a patient man who is trusting his rebuilding process, so this is nothing more than an idea. But if the Thunder sent Trevor Ariza, Darius Miller and Mike Muscala to Cleveland, they could theoretically bring in Drummond.
As you can plainly see, there a number of possibilities when it comes to trade partners for Cleveland. However, it's going to take some creativity to get a deal done with Drummond's massive contract.