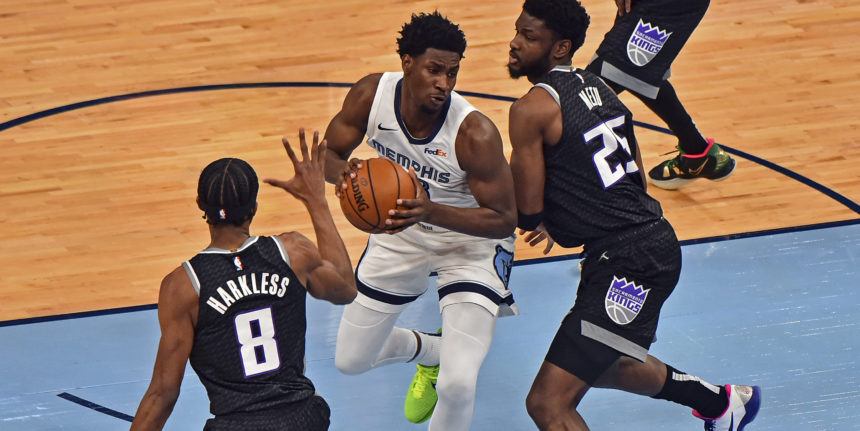 NBA GMs believe Jaren Jackson Jr. is poised for a breakout year
Every year, NBA.com surveys the league's general managers to compile their thoughts and predictions ahead of the new season. One section of the wide-ranging survey asked: Which player is most likely to have a breakout season in 2021-22?
Interestingly, Memphis Grizzlies big man Jaren Jackson Jr. received the most votes (17%) for this year's breakout player. The other leading vote-getters were Anthony Edwards (13%), Michael Porter Jr. (10%), Darius Garland (7%), Keldon Johnson (7%), Ja Morant (7%) and Kevin Porter Jr. (7%).
The 22-year-old big man is an excellent bounce-back candidate since he was sidelined for much of the 2020-21 season after tearing the meniscus in his left knee during the NBA Bubble in August of 2020. The Grizzlies decided to ease Jackson back into action last year, playing him in just 11 regular-season games (with just four starts).
Over those 11 games, Jackson averaged 14.4 points, 5.6 rebounds, 1.6 blocks and 1.1 steals in just 23.5 minutes per game (while shooting 42.4% from the field, 28.3% from three and 83.3% from the free throw line). In the Grizzlies' first-round series against the Utah Jazz, he chipped in 13.6 points, 5.6 rebounds, 1.2 blocks and a steal in 27.4 minutes per game (while shooting 42.6% from the field, 28.6% from three and 87.5% from the free-throw line).
While it was just an 11-game sample size, Jackson showed plenty of flashes. Despite playing five fewer minutes per game, he averaged career-highs in blocks (1.6), steals (1.1), rebounds (5.6), free throws (3.2), free-throw percentage (83.3%), total rebound percentage (12.7%), defensive rebound percentage (18.7%), offensive rebound percentage (6.9%), steal percentage (2.2%) and block percentage (6.3%). His per-36 numbers — 22.0 points, 8.7 rebounds, 1.7 assists, 2.5 blocks, 1.7 steals — were career-highs across the board.
These flashes, coupled with Jackson's impressive play in 2019-20 (when he put up 17.4 points, 4.6 rebounds, 1.6 blocks and 0.7 steals on 46.9/39.4/74.7 shooting splits), are likely why executives expect him to make big strides in his fourth year.
If Jackson wants to take the next step in his development, he needs to be more efficient and improve his shooting percentages (getting them closer to his 2019-20 numbers). He also needs to work on fouling less, as he recorded at least four fouls in 13 of his 17 games last season (including the playoffs). In seven of those games, he committed five fouls.
It's important to note that he was in a tough position, as he was thrown into the fire amidst Memphis' playoff push while trying to shake off nine months worth of rust. Now that he's back to 100% after having a full offseason to get right, he should be able to improve his efficiency and limit his fouls.
Jackson is an incredibly versatile, two-way threat who can dominate inside and out; there's a reason the "unicorn" label has been tossed around when discussing his potential. It's very possible that this is the year he puts it all together and forms an incredible one-two punch with Ja Morant.
Nekias Duncan recently broke down Jaren Jackson Jr.'s film and wrote about what he needs to do to take a leap forward, including playing more minutes at center.