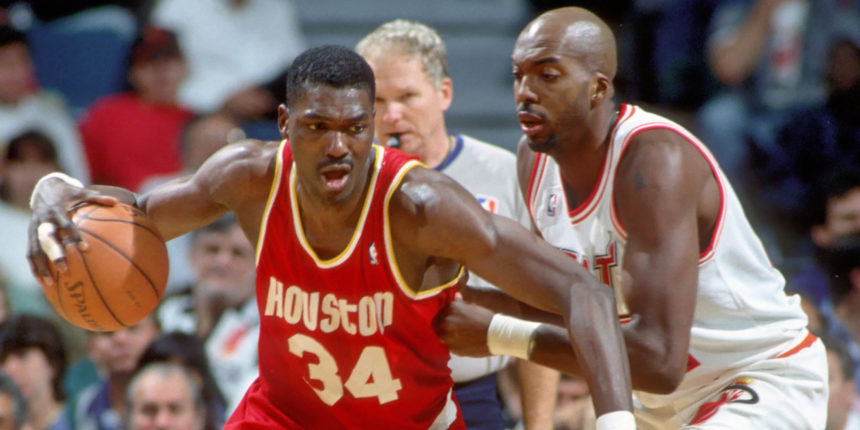 Sam Cassell shares why Hakeem Olajuwon never took preseason seriously
The following article first appeared on BasketballNetwork.net:
Former NBA player and current Philadelphia 76ers assistant Sam Cassell recently made a guest appearance on "Point God," a podcast with Baron Davis where he talked about numerous experiences in his NBA career. Since the preseason in the NBA is starting as we speak, it was interesting to hear what Cassell had to say about Hakeem Olajuwon and how he didn't take preseason games seriously, especially in the late stages of his career.
Cassell came into the NBA in the 1993-94 season, a time by which Hakeem was already a seasoned veteran with plenty of minutes under his belt. The necessity to perform well in the preseason wasn't a concern of Hakeem, though, and Cassell details a story where the Houston Rockets lost every game in the preseason with Hakeem playing unbelievably poorly in almost every contest.
"In my rookie year, we go 0-7 in the preseason... we lose by 40 to GP (Gary Payton) and Seattle," Cassell told Baron Davis on Point God. "I remember calling my boy and saying, 'Man, Hakeem Olajuwon sorry as sh**. He was 3-for-12 and only got 3 rebounds in 15 minutes. He got 3 rebounds, not knowing veterans didn't take preseason serious; they used the preseason to get in shape. Back then, the preseason was a full month."
Veteran players tend to manage their efforts on the court really well in the preseason setting, taking some time to see where they are in terms of fitness and preparation before the regular season starts. That is what happened with Hakeem as well. Cassell recalls one of the first regular-season games in which Hakeem dominated on both ends of the floor, showcasing that he was ready to play and be an MVP candidate. That came as a big surprise for young Cassell, who initially thought Hakeem was washed up because of his poor performance in the preseason.
"Opening night comes, we play the Golden State Warriors; Hakeem Olajuwon is out there handling his business! I'm sitting back, saying, where did this come from? Why didn't he do this in the preseason?" Cassell said. "I mean he gave those boys the business. He comes out of the game, I say, 'Way to work Dream.' He says, 'Son, preseason don't count, the popcorn is popping now. Preseason stat sheets, they don't send [them] to New York. These stats sheets, they send to New York.' He put on a show. He had like 37 and 15 in three quarters."
Cassell witnessed the best version of Hakeem that year, one in which he won the regular-season MVP and Defensive Player of the Year awards and later on, a Finals MVP and an NBA championship. Hakeem really came to play during those '93-94 playoffs, completely dismantling every team that stood in his way and leading the Rockets to their first title. Hakeem displayed an incredibly competitive spirit from the first regular-season game and on. (The following season, Houston repeated as champions behind his greatness as well.)
However, he knew that timing and preparation were everything, so he didn't care how he played in the preseason; instead, he turned his focus tp the regular season and the playoffs. Hakeem understood the season was long, and likely felt that he had a great chance to win a title in the '93-94 campaign — the year Michael Jordan was out of the league. Cassell helped the Hall-of-Famer along the way, and learned quite a bit about winning and being a true professional from one of the best centers to ever play the game.
Check out more articles from BasketballNetwork.net here.