The Los Angeles Lakers are your 2019-20 NBA champions.
They made a gamble, flipping virtually all of their young assets and picks for Anthony Davis, and it paid off with a mostly dominant playoff run. Davis was as good as advertised -- probably a little more than advertised considering his jump-shooting hot streak. LeBron James proved once again that he's the NBA's most dangerous playoff weapon. Role players continuously stepped up, even if it became a bit of a revolving door.
Now, the fun part begins.
The Lakers' goal will shift to repeating, which means they'll need to improve around the margins to maintain their place at the top. They won't have cap space; they'll have to do a bit of a tax-avoidance dance, if anything. The always-informative Keith Smith has a more thorough breakdown of their cap situation, which you can find here.
Let's take a look at some guys they'll look to bring back, as well as some targets that could help them come back stronger than ever.
Key In-House Decisions
Rajon Rondo (Player Option): Bring Him Back
Playoff Rondo may very well be a thing. Teams kept daring him to shoot, and he kept making them pay to the tune of a 40 percent clip on a playoff career-high three attempts. That, combined with his playmaking and suddenly-fine-again defense, made him one of the Lakers' more valuable role players during the title run. It shouldn't cost too much to bring him back. BasketballNews.com's Chris Sheridan reported that Rondo is expected to turn down his $2.7 million player option to cash in during the offseason to look for a pay day.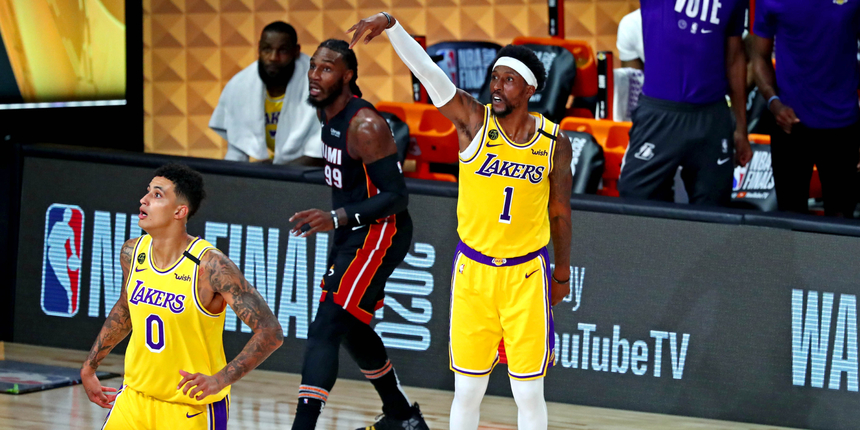 Kentavious Caldwell-Pope (Player Option): Bring Him Back
After re-signing Davis, Caldwell-Pope should be the Lakers' top priority. He provided solid on-ball defense across three positions and posted a career-high percentage in three-point shooting (38.5 percent). His three-point volume rose to nearly six attempts per contest in the playoffs, while maintaining his efficiency (37.8 percent). A strong argument could be made that he was the Lakers' third-best player throughout the postseason. Utilize those Bird Rights and bring him back. According to Shams Charania of The Athletic, Caldwell-Pope is expected to turn down his $8.5 million player option for a new deal.

Markieff Morris: Bring Him Back
Morris got off to a rough start after joining the Lakers, shooting a little over 33 percent from deep during 14 regular season appearances. He would eventually settle in, drilling 42 percent of his triples during the postseason while seeing his role grow as the Lakers went smaller against the Rockets and Heat, respectively.
Morris in theory has always been a little better than Morris in practice; he isn't quite as versatile defensively as his tools would indicate, and offensive flow can sputter when Morris is on the court. With that said, there's a solid-enough fit next to Davis or as a bench spark in general to warrant his return.
Dwight Howard: Bring Him Back
Howard was a Comeback Player of the Year candidate if there ever was one. For the first time since, well, ever, Howard settled into a role that almost completely excised post-ups. He finally committed to being a clean-up artist: set hard screens or slip them hard, catch lobs and eat off the glass if a shot is missed.
He came off the bench and produced, averaging 7.5 points on a career-high 72.9 percent from the field, while also grabbing 7.3 boards per game in a shade under 19 minutes. It's easy to pinpoint where the boost in efficiency came from: only 11.4 percent of his offensive possessions came from post-ups, via Synergy; during his last full-season stint two years ago with the Charlotte Hornets, that figure was 36.4 percent -- his most frequent playtype by a wide margin.

Howard has clear value as a vertical spacer and offensive rebounder, while also providing impact as an interior defender. He fouls way too much (6.1 fouls per 36 minutes last season), but still has the pop to alter shots at the rim and the brute strength to bang with post scorers. The Lakers would be smart to bring him back on the low.
JaVale McGee (Player Option): Circle Back Later
McGee remains one of the best lob threats in the NBA and can swat shots with little effort thanks to his length and leaping ability. Foul issues remain, and decision-making away from the rim makes him a postseason target for enemy offenses. It should come as no surprise that Howard eventually usurped him in the starting lineup last postseason. It's hard to imagine him getting much more than a minimum deal if he doesn't exercise his $4.2 million player option. Howard should be higher on the totem pole, and there are better centers in the free agent pool that could command similar money.
Free Agent Guards
Mid-Tier: Jordan Clarkson
Clarkson is coming off of, by far, the most efficient season of his career. He gave the Utah Jazz a much-needed scoring punch once he arrived, averaging 15.6 points with a 56.9 True Shooting percentage during the regular season. Both of those marks increased (16.7, 57.7) during Utah's first-round showdown with the Denver Nuggets.
Clarkson trading out some of his pull-up long twos for threes went a long way to making him a more efficient option. The Lakers are still lacking in the guard creation department; Clarkson could definitely help.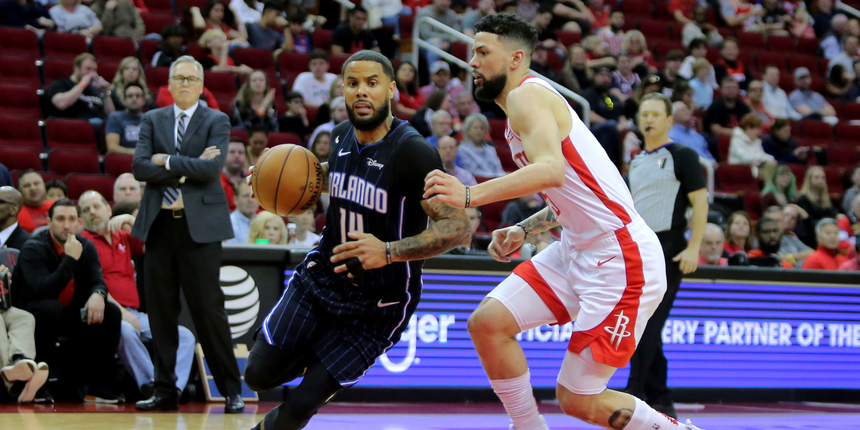 Bargains: Austin Rivers, D.J. Augustin
Rivers brings a particular brand of energy offensively. He's one of the NBA's underrated drivers, utilizing a quick first step and channeled aggression to generate looks at the rim. He isn't much more than a rudimentary playmaker, but his north-south style would be a welcome addition to the Lakers' bench. He's also a reliable spot-up threat, drilling nearly 38 percent of his catch-and-shoot threes over the past three seasons, according to a source with access to Second Spectrum tracking data.
In the event that Rondo goes elsewhere, Augustin would be a nice consolation prize. He's a traditional table setter that provides more off-ball value than Rondo. Augustin is a career 37.9 percent three-point shooter, and he would likely see a boost in shot quality with a lighter load than the one he had to carry in Orlando.
Free Agent Wings
Mid-Tier: Wesley Matthews
There's a case to be made that Matthews could accept another minimum deal from a contender, either remaining with the Milwaukee Bucks or going elsewhere. There's an even stronger case to be made that he's earned himself a pay day.
Matthews routinely took on the most demanding perimeter defensive assignments throughout the regular season, while knocking down over 36 percent of his threes on decent volume. He then upped the ante in the postseason, most notably putting the clamps on Jimmy Butler during Milwaukee's second-round series against the Miami Heat. The Bucks would lose in five, but it wasn't because Matthews didn't hold up his end of the bargain.
Bargains: Kent Bazemore, Garrett Temple*
Bazemore has been a Laker before and has played off of stars before. It's easy to slot him in as a 3-and-D option with a smidge of secondary creation ability coming off the bench.
The asterisk is present on Temple's name because the Nets hold a $5 million team option on him, though it'd come as no surprise if they let Temple walk to free up tax room to bring back Joe Harris. Temple would give the Lakers a plus, multi-positional defender with a solid three-point stroke (35.3 percent over the past five seasons).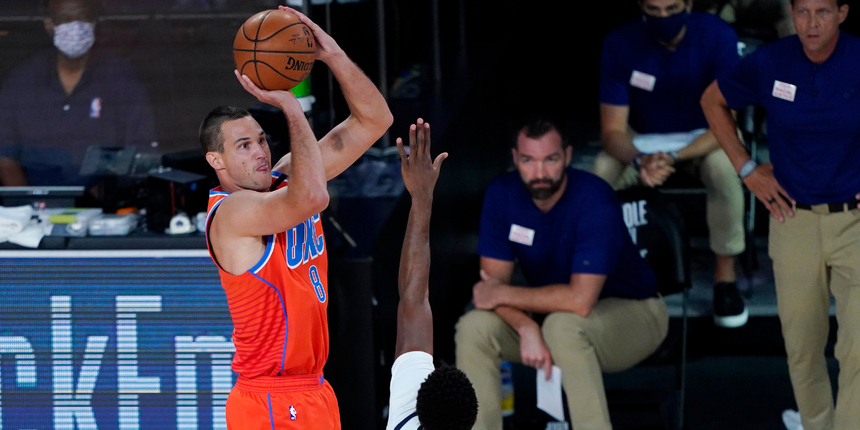 Free Agent Forwards
Mid-Tier: Danilo Gallinari
Gallinari is one of the most underrated scorers in the league, a true three-level threat that can get busy in a multitude of areas. Normally, he'd be one of the few players commanding a near-max pay day in a weak-at-the-top free agency class. However, Gallinari has hinted at prioritizing a winning situation over a paycheck.
Now, players say that and fold when presented with offers, so it's fair to take that sentiment with a grain of salt. Remember, we aren't that far removed from Gallinari-to-Miami talks breaking down in (large) part to Gallinari wanting more financial security.
If his desires have shifted, though, this could be an opportunity for the Lakers to strike and add to their offense. Half-court creation was a non-strength at best, weakness at worst last season. Having a guy that can shoot off the bounce and get to the free-throw line almost at will could be devastating, especially when you consider he'd likely be feasting on a team's second or third-best defender.
Bargains: Carmelo Anthony
I don't have to spend much time on Melo-to-LA. He loves LeBron, LeBron loves him. Melo doesn't have a ring. He isn't quite as washed as critics (hi, hello!) made him out to be, though it's important not to lose sight of the context that was necessary for him to perform the way that he did.
Anyway, with Melo hitting free agency, this possibility isn't going to die unless he re-signs with the Portland Trail Blazers or goes elsewhere.
Free Agent Bigs
Mid-Tier: Tristan Thompson, Aron Baynes, Hassan Whiteside
Thompson may prove to be out of the Lakers' price range, but he's worth mentioning as a former LeBron teammate and fellow "Klutchian." The early bet is that the Cleveland Cavaliers lock him up for one last deal, but if Thompson wants to go title-hunting, taking the full mid-level exception may appeal to him. If so, it's hard to think of a better landing spot for him than in Los Angeles.
Factoring in money, it's hard to argue against Baynes being one of the most valuable centers in basketball last season. He did the usual grunt work: setting bone-crushing screens as a roller or handoff partner, protected the rim with superb positioning and boxed out well enough to help end possessions or grab the board himself. The new, somewhat surprising twist is that he became a legitimate three-point option (35.1 percent on 4 attempts per game). Stretch-ish fives are hard to find; the fit next to Davis is pretty darn seamless.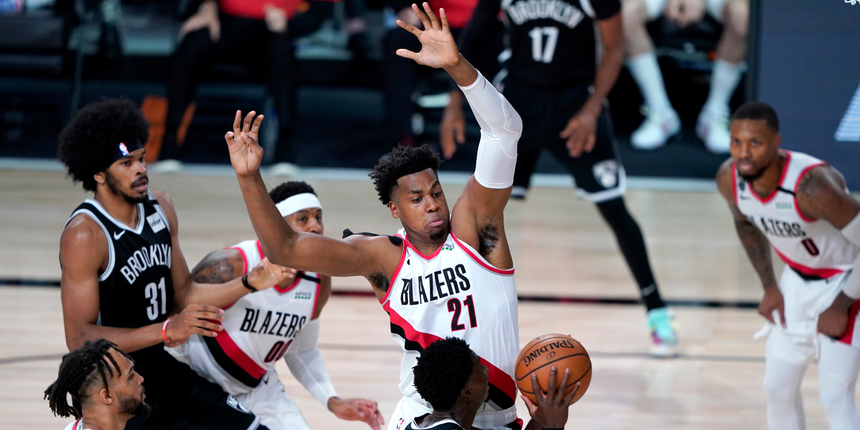 Whiteside is the real wildcard. His base numbers and on-court impact have never really matched, which makes guesstimating his free agent value a chore. He certainly isn't worth the max deal he signed in 2016; there are far too many holes in his game -- passing, defending in space, processing speed as a whole -- to warrant that price tag.
Yet, despite how frustrating Whiteside can be to watch on both ends, someone with his intersection of rim protection, rebounding and decent-enough touch is worth more than a minimum deal. There's certainly "prove it deal" potential here. The Lakers have proven they're comfortable running a more traditional drop scheme; Whiteside can thrive around the rim with Davis and LeBron roaming as extra helpers.
Bargains: Nerlens Noel, Harry Giles
Noel is your classic toolsy big whose reputation precedes him a bit. He is talented, of course; he's able to sky for lobs, can knock down the occasional jumper (though you don't want him taking many of them), has wing-like mobility in space and can send shots into orbit. The issue with Noel, aside from help, has been his propensity to go for the home-run on defense, which often leaves him out of position when those gambles fail.
He was a bit more under control in Oklahoma City last season; shockingly, he had his most efficient year to date. There's room for him to command a portion of some team's mid-level exception, but it wouldn't shock me to see him take another prove-it type deal for a contender to set himself up for a pay day in 2021.
Giles also has a bit of an injury history, dating back to his high school days. Multiple lower body injuries have sapped some of his athleticism, and he's still a fluid, jumpy big that can feast in transition. The intrigue lies in his on-ball skill; he's quietly one of the better passing big men in the league already. There's some serious "throw it to him in the high post and let him do stuff" potential waiting to be untapped. Giles would be a smart buy-low candidate to look into.