Over six months removed from their final game of the 2019-20 season, the Cleveland Cavaliers are raring to go. This week, they'll finally return to the court, as the franchise prepares to conduct its first organized team activity since the pandemic.
Currently, the Cavaliers' players and staff are quarantining in their own hotel rooms downtown before their first scheduled group workout on Wednesday at Rocket Mortgage FieldHouse. Abiding by the same protocols as the NBA teams in Orlando, everybody must test negative for COVID-19 twice in order to attend. There will be six, two-and-a-half-hour late-morning programs and optional nightly shooting and workout sessions from Sept. 23 through Sept. 30.
According to a Cavaliers team source, the organization fought hard for this opportunity. It was anything but the perfect solution; Cleveland and the seven other teams left out of the NBA bubble in Orlando would've loved to participate in the restart. These eight franchises lost a lot of footing compared to the teams that were able to continue their season in Orlando.
Despite missing the playoffs, the Phoenix Suns went 8-0 in the seeding games and built toward next season. The Sacramento Kings and New Orleans Pelicans had the chance to fight for a playoff spot. Perhaps the closest team to Cleveland process-wise is the Washington Wizards and, with Bradley Beal on the sidelines, they saw their future cornerstone pieces such as Rui Hachimura and Troy Brown Jr. improve and get reps versus other teams. The Cavaliers source described being left out of the Orlando bubble as an "extreme disadvantage." Each team in Orlando played a total of eight games and had three scrimmages.
While it seems minor, that type of progression is important and Cleveland had no way to replicate that. Instead, the Cavaliers will have to settle for this in-region, internal bubble of their own -- scrimmaging five-on-five and practicing within a team setting. Again, it isn't perfect, but it's better than nothing, even without the likes of Andre Drummond (personal matter), Cedi Osman (overseas), Tristan Thompson (unrestricted free agent) and Matthew Dellavedova (unrestricted free agent).
"First of all, it's going to be some semblance of normalcy, which is great," the Cavs team source said. "I think, more than anything, the team bonding and being together and enjoying each other and our presence is going to be awesome. I think that's going to be a big, big positive for us. It's going to be like a really cool retreat, if you will, with basketball. I think it's going to be a major plus and then Coach (J.B. Bickerstaff) getting to reaffirm some of the stuff he wants to put in from a defensive standpoint will be great. And just getting to play [is important]. We'll just continue to move forward, onward and upward, hopefully make some real strides during these next few days in our bubble, and then continue on to what's next."
Bickerstaff will return as head coach after his 11-game showing last season; it's the first time the Cavs have had the same coach in consecutive years since Tyronn Lue in 2018. That continuity is essential for a franchise that's focused on turning into a consistent winner. According to the team source, Bickerstaff was always going to be the coach to lead Cleveland into the future; it just so happened that former head coach John Beilein didn't make it through the year, so Bickerstaff got to grab the reins a bit earlier than anticipated.
The Cavaliers are thrilled to see how Bickerstaff can push their team forward. He's been in the NBA for 17 years, starting under his father, Bernie, as an assistant with the Charlotte Bobcats. He also had stints coaching the Minnesota Timberwolves, Houston Rockets and Memphis Grizzlies. His head coaching experience with the Rockets and Grizzlies is a huge reason why Cleveland believed in him as its long-term solution, per the team source.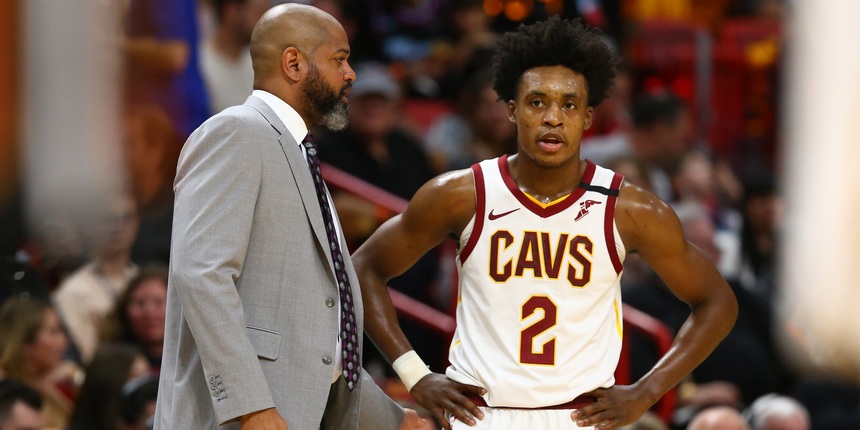 Bickerstaff has a unique ability to develop relationships with his players, on and off the floor. He's not afraid to be honest, he grinds and he's "magnetic" as a teacher.
"He's the right guy for what we're doing right now," the team source said. "We have our head coach of the future. And we have some continuity moving forward."
Consistency is the next step for these Cavaliers. For that to happen, there has to be widespread improvement from top to bottom. That includes the front office providing the right pieces to the puzzle, players committing to get better in-house and coaches continuing to adapt their schemes to the roster. Bickerstaff's short takeover stint was a taste of what that looks like.
"It has to be a multi-prong approach. There's not one solution to becoming better at that," the team source said. "Post All-Star break, we were competing, we were playing hard. And the results show that; it's a small sample size, but [it was] 11 games against some real teams. We know we can do it."
Cleveland went 5-6 after the All-Star break, but there were plenty of positive takeaways from that stretch. There was a double-digit comeback win against the Miami Heat, a grind-it-out victory over the San Antonio Spurs, a 14-point win over the Philadelphia 76ers and a tough victory over the Denver Nuggets. Even in losses, there was a competitive spirit that had been missing.
Cavaliers general manager Koby Altman and his front-office staff have the chance to bolster the roster in multiple ways. First, there's the upcoming NBA Draft on Nov. 18. The Cavaliers currently hold the No. 5 overall pick. According to Chris Fedor of Cleveland.com, the team will be active in trade conversations and could use the selection as bait -- if the right short- or long-term piece is available. That is contingent on how the draft shakes out, though.
The 2020 NBA Draft is wide open in terms of where players are projected to land. Altman and his front office are still mulling things over. With plenty of time to do their due diligence, there have been debates over certain prospects; Cleveland.com reported Deni Avdija, Isaac Okoro and Devin Vassell as the three top wings in consideration.
Per the Cavs source, this pre-draft process has been more difficult than usual considering teams can't meet any of the prospects in person to get a feel for their personality and establish a rapport. Also, there's less data available than in a typical year, so the team is just trying to watch as much game film as possible and hold virtual meetings with prospects. If Cleveland chooses to hang on to the fifth pick, the organization has an opportunity to add a good player who fits into the culture that's being established. Ideally, they'll find someone with the right attitude, a strong work ethic, toughness and a desire to be there.
Another way Altman and Co. can help Bickerstaff is through free agency. Much of their plan is hinges on Andre Drummond and whether he'll opt out. According to the team source, all signs suggest that Drummond "probably will" exercise his $28,751,774 player option. Drummond said as much during an appearance on ESPN's Le Batard & Friends Network podcast.
"Yeah, that's going to be pretty hard to give up, so you can count on me being in Cleveland still," Drummond said in June. Later in the interview, he added: "I definitely will be in Cleveland."
Since they're no longer a luxury tax-payer, the Cavaliers will have the $9,258,000 mid-level exception on their hands; this can be used entirely on one free agent or split between multiple players. The Cavs source said that the team will be looking for "defensive-minded players" while also looking to add "length and athleticism."
It is important to note that the franchise does hold Tristan Thompson's Bird rights, meaning if the Cavaliers decide to bring him back into the fold, they can go over the salary cap to sign him and still have their MLE. With that said, they're likely not going to spend a ton of money to the point of dipping back into the luxury tax, especially since they did all that work to clear up their cap sheet in the previous two years. At this stage, it's about hitting singles and adding those positives up -- Alfonzo McKinnie and his team-friendly contract is a perfect example of that.
The team source said that there's "a lot of mutual interest" between Cleveland and Thompson. In a sense, who the team drafts could play a significant role in that free-agency decision. Would it make sense for Thompson to return if Onyeka Okongwu is the selection at five? Though unlikely, if James Wiseman were to surprisingly slide to the Cavaliers and they nabbed him, re-signing Thompson may no longer be a priority.
The Cavs could also try to improve the roster via trades, although league sources say that most trade talks around the NBA are on hold at the moment. Not many conversations were taking place while teams were in the bubble and everyone is waiting to see what the 2020-21 salary cap will be set at before making moves.
As for the cornerstone pieces already on the roster, Cleveland feels great.
Collin Sexton found his niche and, specifically under Bickerstaff, thrived. Over his five games in March, the second-year guard averaged 30 points, 4.6 assists and 3.6 rebounds in 40 minutes per contest. His true shooting percentage during that stretch was a career-best 66.4 percent. If you want a slightly larger sample size, look at his post All-Star break numbers when Bickerstaff slid into his head coaching role: 25.5 points and 4.2 assists with a 43.1 three-point percentage. Playing both as a ball-handler and off the ball, Sexton was as efficient as he's ever been, had the highest usage rate on the team and made teams pay.
The team source described Sexton as "looking monstrous" and "huge" after working on his body. The Cavaliers are excited to see where Sexton goes next in his development.
"He's our cultural backbone and what we want to be about," the Cavs source said. "He just puts his head down and goes. He got left off the initial team for Rising Stars, which is insane. He's an incredible kid in that way [that he keeps working]."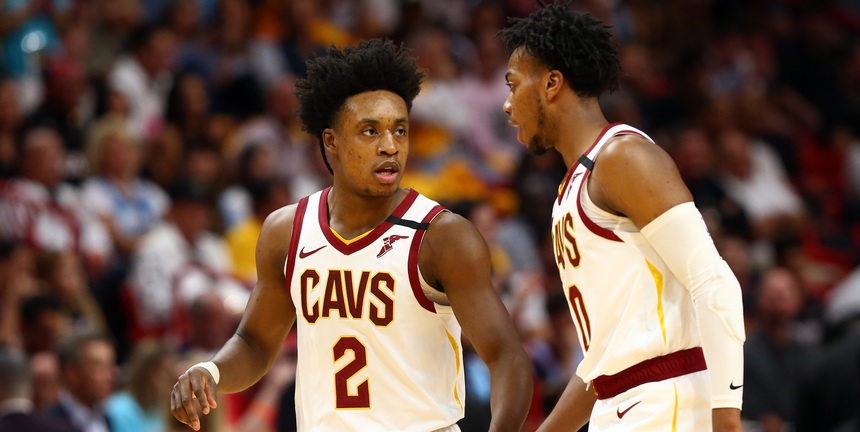 Last year's draft saw the franchise bring in three different talents: Darius Garland, Kevin Porter Jr. and Dylan Windler.
Garland had a case of the ups and downs, but the ups gave us a glimpse of his ceiling. Among rookie point guards, he ranked second in total assists (229) behind only Ja Morant. Despite his streaky shooting nights, he still knocked down 35.5 percent of his five triples per game. Coming off just four games of collegiate experience, reps at the professional level were paramount for Garland from the standpoint of running the marathon, so to speak.
According to the source, Garland's been throwing down alley-oops in 1-on-0 workouts, asserting the fact that he's healthy and has his legs under him without any limitations. He's also come back to Cleveland with a better physical frame.
"We know there's so much more left, we know there's so much more there," the team source said of Garland's development. "He's also been super locked in because he feels like he has so much more potential, so much more to offer. He also feels snubbed and disrespected by that All-Rookie team, which was absurd in a lot of regards. He's a wonderful kid, too. Great worker. We're excited about him and his potential. I think his best basketball is yet to come."
Can Sexton and Garland work in the same backcourt, particularly on the defensive end? That's a question the Cavaliers are hoping to get answered too. The source concedes that the two would benefit from a bigger and longer froncourt; however, they'll also have to get tougher, slide their feet better, power through screens and genuinely take charge of that side of the court as a duo.
They could always just talk to Larry Nance Jr. An unsung hero for the team, last season was the best of his career. He's a Swiss Army knife who offers the versatility that coaches dream of, both as an offensive weapon and defensive stalwart. Most notably for Bickerstaff, he was even used as a three in some lineups when the Cavaliers went bigger. Remember the double-digit comeback against the Miami Heat at home? That all started with Nance's tenacity on defense.
Of course, Porter might've shown the most flashes as an individual defender among the young guards, and he showed much more than just that. Bouncing between the second unit and the starting lineup, the rookie swingman provided highlight-reel playmaking, impressive shooting and infectious energy. Though there's been curiosity about when he'll start at the three or supplant one of Sexton or Garland as a starting guard, the Cavs source has an inkling that Porter will continue to pack his powerful punch off the bench. Maybe that's because the organization would like to see what Year 2 looks like for its young pairing, and it's been reported that Cleveland views Porter more as a shooting guard rather than a forward.
Regardless of positional opinions and who's in the starting five, you're going to see all three of them playing together at the same time under Bickerstaff. You might see different combinations of those players alongside Windler, too.
The 24-year-old missed the entirety of his rookie season with a stress reaction in his lower left leg. The Cavaliers tried to bring him back slowly via a couple of stints with the team's G League affiliate, the Canton Charge, but it was to no avail. Since the January surgery, however, he has recovered fully. According to the team source, Windler is going to be 100 percent, full-go in the upcoming team workouts.
"These next couple weeks are going to be just awesome for him, to get back to playing basketball again," the Cavs source said. "We're excited to see what that looks like. But talk about a great fit along with the guards -- size, shooting, basketball IQ, cutting, really good rebounder for his position. We're pretty pumped about the possibilities, but we have to see it first."
A healthy, fresh Kevin Love will go a long way too. His gravity on the perimeter, effectiveness on the block and aggressiveness on the glass are game-changers. Cedi Osman has steadily improved as one of the team's all-around forwards. The length of the second unit with Dante Exum and McKinnie was one of the more intriguing parts of the latter half of the season.
The Cavaliers also converted Dean Wade's two-way contract into a standard deal and took a flyer on versatile big man Jordan Bell, so we'll see how they look in the next week.
The Cavs source said that the mood around the team is an eager one. Being on pause for this long has Cleveland wanting to get going. It hasn't been easy to sit at home and watch as much of the league continues without you.
Come 11 a.m. on Wednesday morning, they won't have to anymore.