Rajon Rondo will opt out of his contract with the Los Angeles Lakers to become an unrestricted free agent, BasketballNews.com learned on Thursday.
"He's definitely opting out," a league source said.
Rondo, who played a key role in the Lakers' Game 6 victory and helped the organization win their 17th championship, has a player option worth $2.69 million for the 2020-21 season. By opting out, he will enter the market as the most experienced point guard available in terms of championship pedigree. Even though he isn't opting in, Rondo could still re-sign with the Lakers.
In addition to his most recent title with the Lakers, Rondo won a ring with the Boston Celtics in 2008 when he played alongside Kevin Garnett, Paul Pierce and Ray Allen. He is the second player in NBA history to win a title with both the Celtics and the Lakers (Clyde Lovellette was the first).
The 15-year veteran has spent the past two seasons with the Lakers, joining the franchise after LeBron James signed there as a free agent. He spent his first nine seasons with the Celtics and has bounced around since then, playing for the Dallas Mavericks, Sacramento Kings, Chicago Bulls and New Orleans Pelicans.
Rondo has appeared in 121 career postseason games, including these most-recent 16 playoff contests with the Lakers. He was a crucial component in the second-quarter surge that propelled Los Angeles to a 28-point halftime lead in the clinching Game 6 of the NBA Finals, going 6-for-6 from the field in the quarter and finishing with 19 points in 30 minutes on 8-for-11 shooting.
His first championship came during his second season in the NBA, so this one was quite different.
"To be able to come back and redeem myself and play a big part in this championship is definitely a hell of a feeling and something I'll remember for the rest of my life," Rondo said, adding that he was additionally thrilled that his son, Rajon Jr., was able to join him in the NBA bubble for this one.
"I'm very blessed to do it while he's able to understand, at nine years old, that his dad is a champ," Rondo continued. "Twelve years ago, he wasn't born yet, so for him to be here, and my daughter at home watching, it's definitely a surreal feeling."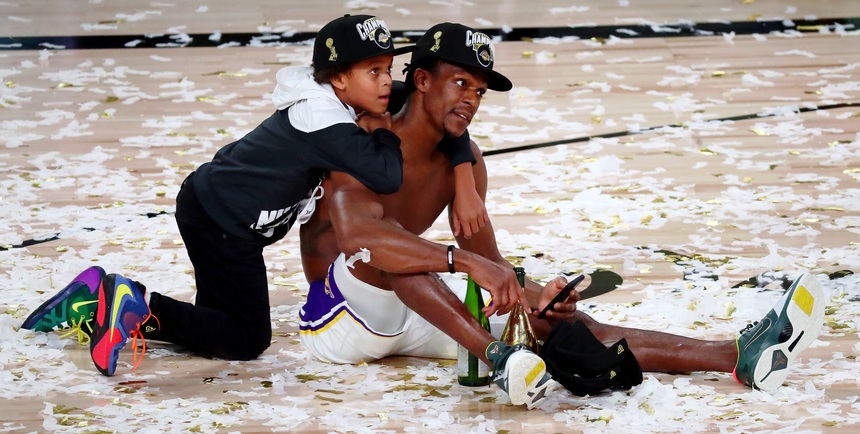 Rondo finished the playoffs with 105 assists off the bench, which set a new NBA record for the most by a player off the bench since they started tracking this stat during the 1970-71 season, according to the Elias Sports Bureau.
On ESPN's First Take on Tuesday morning, Rondo, 34, was asked about his future and what he thought his career held moving forward. Rondo didn't shut down the idea of leaving the Lakers.
"I'm definitely going to entertain it," Rondo said of free agency. "Obviously, always thinking about running it back with a great group of guys and coaching staff. I can't thank those guys enough for giving me a shot the last couple of years. It's been amazing playing for this organization.
"My agent and I will sit down and talk, but right now, I'm just kind of enjoying the moment, continuing to ride this high out. I don't want to think about free agency right now; I've got a couple of months to do that as well. Right now, I'm going to enjoy the time with my family, friends, take a lot of great vacations and keep enjoying life."
A league source said things have moved quickly since that TV appearance, and Rondo's plans are set.
He will arguably become one of the top free-agent point guards on the market, joining Toronto's Fred VanVleet, Utah's Mike Conley (who has an Early Termination Option) and Miami's Goran Dragic among others.
Our Spencer Davies recently ranked all the free-agent point guards available this offseason, and it is fair to say that Rondo, because of his experience, will be a more sought-after veteran than other free-agent point guards such as the Clippers' Reggie Jackson, Atlanta's Jeff Teague, Orlando's D.J. Augustin and Michael Carter-Williams, and Washington's Shabazz Napier.
It is anyone's guess as to where he might end up, but Toronto could be a fit if VanVleet leaves, as would Milwaukee if Eric Bledsoe is traded. Ironically, he also would seem to be a great fit for the runner-up Miami Heat, who struggled in the NBA Finals after Goran Dragic went down with a foot injury in Game 1 and didn't return until Game 5.